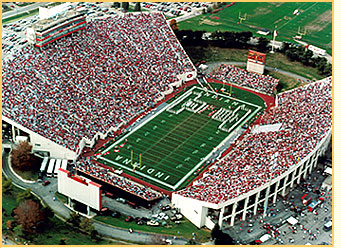 It's difficult to say which challenge will be more daunting for Indiana University's athletic department—the king-size sinkhole in the school's football field or the self-inflicted wound to the image of its men's basketball program.
It will cost between $750,000 to $1 million to fix the football field. The tab will be much more if the artificial playing surface is a total loss. And IU officials aren't sure the repairs can be made in time for the Aug. 30 season opener. 
If Memorial Stadium can't be fixed in time for next season, that will lead to greater losses in ticket and other ancillary revenue that comes with each home game. IU has eight home football games set for 2008.
There's no word on where the games will be played if Memorial Stadium can't be fixed. A likely alternative is to move them to the opponent's field. There's also no word on where the money will come from to fix the problem.
The damages caused by recent storms and flooding in Bloomington come at a time when IU is ramping up its ticket-sales efforts. It also comes at a time when the school's football program is making significant contributions to the overall athletic department and non revenue-generating sports.
Last year, for the first time in many years, IU's football team outscored the university's storied basketball program in revenue generation. The school's football revenue grew from $10.5 million in 2005 to $17 million in 2007. The men's basketball team revenue rose from $11.9 million to $12.3 million during that same period.
The football team accounted for almost 40 percent of the $44.7 million that IU's athletic department generated during 2007, up from only 28 percent in 2005. Both programs keep the IU athletic department's head above water.
So which is a more pressing challenge: the basketball program's public relations nightmare or the football stadium's fall into a money pit?
Please enable JavaScript to view this content.