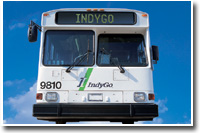 Congestion getting to the Indianapolis Colts games is as much a problem as congestion once fans are in the new Lucas Oil Stadium. It appears that traffic flow and parking are real issues around the facility on the south edge of downtown.
Despite pleas for an express bus service from Hamilton County to the new stadium on game days, IndyGo won't be playing ball with that initiative, even though transportation experts said such a service could be profitable for the public transit system.
The reason? Simple, said Indy spokeswoman Ronnetta Spalding. A regulation recently forwarded by the Federal Transit Administration doesn't allow public transit systems to compete with privately-owned charter bus services. Huh? Doesn't every bus and subway service nationwide already compete with taxi cab companies. Don't government supported railroads compete with private trucking firms. There must be thousands of such examples.
And what about those IndyGo express shuttles from downtown to Speedway for the Indianapolis 500? Well, according to Spalding, after more than 20 years, those too are history. IndyGo got a special waiver from the FTA to continue the service this year. But next year, a waiver won't likely be granted.
"We can't just take a bus off-line to do an express route for a special event," Spalding said. "That's considered a charter service, and the FTA thinks that should be left to the private sector. We are encouraging people to use one of our regular routes."
Please enable JavaScript to view this content.