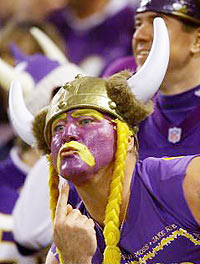 Before the Indianapolis Colts beat the Minnesota Vikings on the field Sept. 14, they were schooling them off the field.
Vikings owner Zygi Wilf and his top lieutenants spent two days the week before the game with the Colts' top brass talking strategy about obtaining legislative approval and financing for a new stadium. They also toured Lucas Oil Stadium. Vikings officials said they came away with a plan to finance their own new stadium involving hotel, car rental, a multi-county restaurant tax and a sports event admission tax. If that sounds familiar, that's because it's the formula local city and state officials used to fund LOS.
With their lease expiring in 2011, the Vikings hope to move into a new stadium for the 2012 season. Colts owner Jim Irsay said he would support awarding Minnesota its second Super Bowl if the new stadium gets built. The timing is right to for the Vikings to pursue a new stadium deal, and without it they won't stay financially viable, Irsay said.
"Any negotiation is about leverage and I think this is a good situation because the Wilfs and the Vikings have tremendous leverage with the lease expiring," Irsay told the Minneapolis-St. Paul Star Tribune. "At the end of the day, it needs to get done here."
Without a new stadium, Irsay fears the Vikings will be forced to move. "The thing we have here in Minnesota, we have a great tradition, and I'm a traditionalist," he told the Star Tribune. "I wish we never had to leave Baltimore. I grew up there as a kid and it's a tough thing when a team leaves."
Please enable JavaScript to view this content.