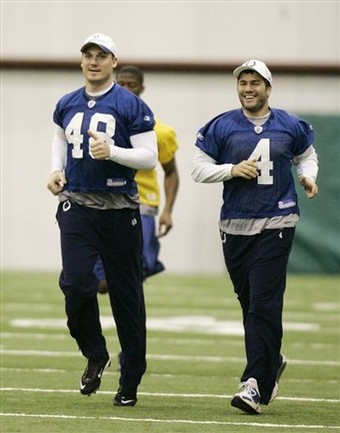 Indianapolis Colts tight end Justin Snow recently opened a family fun center—Snapperz Family Fun and Sports—at 6002 Sunnyside Road in Lawrence.
The 33,000-square-foot facility features a 24-foot climbing tower, bungee trampoline, laser tag, bowling and other games and food. Snapperz is open Sunday through Thursday noon to 8 p.m. and is open until 9 p.m. on Fridays and Saturdays. The facility is also available for private parties and other special events. For a virtual tour, go to www.Snapperzfun.com.
Snow, who is in his ninth year with the Colts, said the business is going so well, he is already considering opening a second location. He began meeting with a real estate agent recently to explore possible sites.
"We had a soft opening and did 50-plus birthday parties in the first three weeks," said Snapperz General Manager Jason Justice. "We think there's a significant untapped demand here."
Snow, 31, began contemplating opening Snapperz more than two years ago, and put the wheels in motion on the business enterprise once he signed a six-year contract extension with the Colts following the team's 2007 Super Bowl victory.
"My wife and I have two young children and every winter the kids go stir crazy," Snow said. "In Texas, where I'm from, we have family fun centers where the whole family can go for food, entertainment and exercise."
Snow, who has bachelor's and master's degrees in speech pathology from Baylor University, is an active volunteer with Special Olympics and other local charities. He said Snapperz is one more way to give back. Snapperz also allows Snow to prepare for life after football.
"Football is not going to last forever, and you want to be ready for tomorrow," Snow said. "This business has allowed me to focus my efforts on something that will last after football is over. With this venture, it's just the beginning."
Please enable JavaScript to view this content.