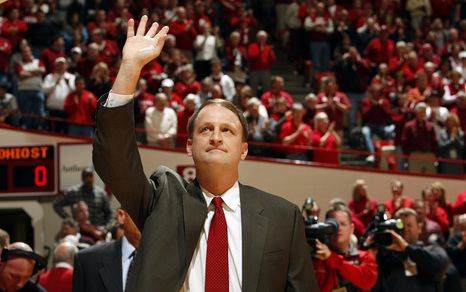 On Oct. 6, Dan Dakich will begin a new career as a radio talk show host. The former Indiana University basketball player and coach will host a sports talk show from 10 a.m. to 1 p.m. on WFNI-AM 1070.
That doesn't mean Dakich, who also formerly coached at Bowling Green, is walking away from coaching. Far from it.
"At this point, for me to say no to coaching would be premature, but I'm interested to see where this [radio job] takes me," Dakich told IBJ. "I'm going to put everything I have into this show. I love all sports and will talk about a wide variety of issues."
Dakich, who maintains a residence in Bloomington and will commute to Indianapolis each weekday to do his show from WFNI's Monument Circle headquarters, said he will look at coaching options in the spring. But he isn't waiting to resume his coaching career.
Dakich is currently coaching his 14-year-old son's football team, and will coach his son and 11-year-old daughter's later this year in basketball.
"This is the first year I've ever coached my own kids, I've just never had the time," Dakich said. "And I've never coached a girls team, so that will be a challenge. But so far, I've really enjoyed the time I have been able to spend with my kids. It's been very special. It's been one of the highlights of my life."
In his radio job, don't expect Dakich, who was passed over to become the permanent IU coach for Tom Crean, to go easy on his alma matter. "I have no problem being honest about what I see," Dakich said. "It's not sour grapes. I just plan to be extremely honest about the good and the bad about all the IU sports programs."
Please enable JavaScript to view this content.