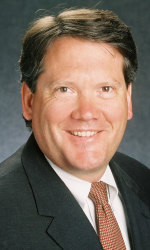 Indianapolis attorney Fred Glass demonstrated a keen sense of humor during a press conference held this morning to introduce him as the next Indiana University athletic director. Given the expected sanctions on the men's basketball program and the fading fortunes of the football team, Glass' sense of humor could serve him well.
After IU President Michael McRobbie listed Glass' long list of accomplishments with city and state government, Glass took the podium and said, "I'm also a notary public. So I've got that going for me."
The jokes didn't stop there. He said his two youngest children were not able to attend the press conference because they were in school in Indianapolis. Looking over his shoulder at McRobbie he quipped, "Because academics always comes first."
He joked that while hitchhiking around Bloomington as a student in the early 1980s, he was once picked up by athletic director Ralph Floyd. "He said I'll take you anywhere you want to go, but first we're stopping by the ticket office and you're buying a season football ticket," Glass said. "And so I did. So if you're hitchiking around Bloomington … I might try that same tactic myself."
Glass recalled skipping classes at Brebeuf to meet the 1976 men's basketball team at the airport after IU won the national championship. He also recalled former IU basketball star Randy Wittman visiting his Bloomington house for a party or two during the 1980s. Glass earned an IU undergraduate degree in 1981, the year Wittman led the Hoosiers to the NCAA title. Glass also explained how IU sports played into his marriage.
"I met my wife at an IU football game, and I proposed to my wife after an IU football game. It wasn't the same game," Glass said to laughter. "I don't operate that fast."
Maybe that's good news for IU's football coach, Bill Lynch. He might be afforded another year to prove himself.
Glass told me during an April, 2007, interview that he never takes himself too seriously, but takes the job he is faced with very seriously. Once the laughter died down at his press conference, Glass steeled his face and made his point again.
"This isn't about a trip down memory lane," Glass said. "This is about the future and ensuring the excellence of Indiana University."
For more on today's press conference click here.
Please enable JavaScript to view this content.