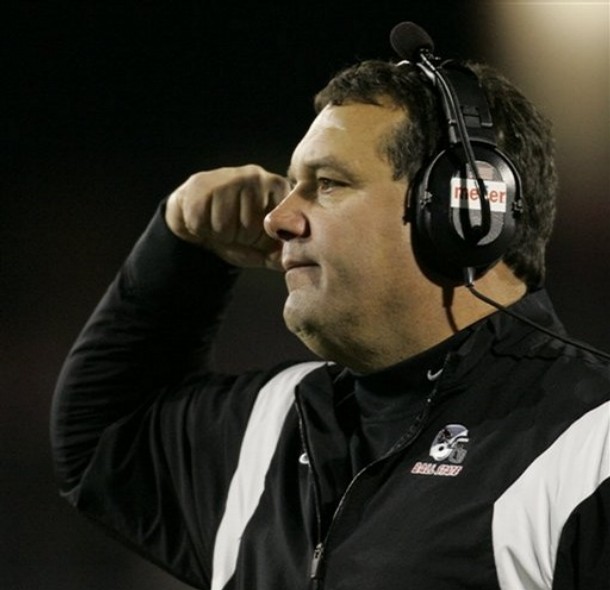 I'm sure soon-to-be new Indiana University athletics director Fred Glass took notice of what San Diego State paid to lure football coach Brady Hoke away from Ball State. The cost of luring a top Mid-American Conference coach sure has gone up since IU hired Terry Hoeppner away from Miami of Ohio in late 2004.
SDSU will pay Hoke $3.5 million over five years. That's $700,000 per year. Quite a bit more than IU paid Hoeppner to move from Miami of Ohio after 13 years there. And it's certainly more than the $250,000 base salary Bill Lynch is currently making in Bloomington.
I'm not saying that Hoke was a good candidate to replace Lynch, although others have. But it's clear that getting a coach of his caliber—or better—is going to take a far bigger commitment than the one the school is currently making to Lynch. With a litany of incentives longer than Santa Clause's naughty and nice list, Lynch can boost his salary considerably, but it's still no where near the $3 million Iowa pays Kirk Ferentz, the $2.6 million Ohio State pays Jim Tressel or the $2.5 million Michigan pays Rich Rodriguez.
I understand Lynch has been given another year to prove himself, but any time you go 3-9 and lose by 52 points to your arch rival, speculation about your future will follow. And I know, it's silly to compare IU to Michigan and Ohio State. Well, how about this: Northwestern pays Pat Fitzgerald $750,000 annually and Minnesota pays Tim Brewster $1 million. In case you were wondering, Purdue paid Joe Tiller $1.8 million annually.
I'm not here to argue that these guys deserve their salaries. I'm just stating what it takes to compete in the Big Ten these days. And IU—at least with respect to its football team—is way off the mark. Until they are closer to the mark, they won't win consistently, they'll continue to drive fans off in droves, and the task of balancing the athletic department budget will be as daunting as visioning IU football players clenching roses in their teeth any time soon.
Please enable JavaScript to view this content.