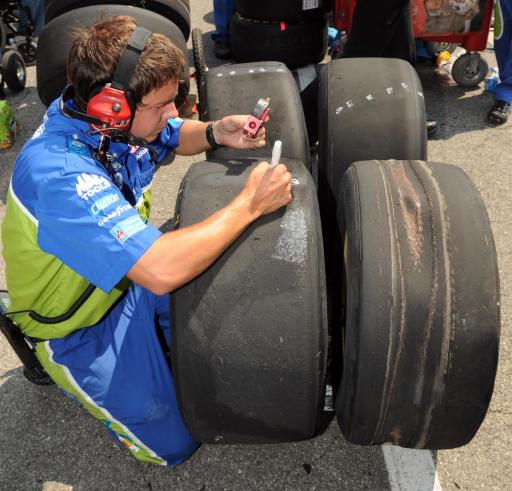 Goodyear officials in town today for a NASCAR tire test at the Indianapolis Motor Speedway said they have fixed problems that plagued the company's tires at last year's Brickyard 400.
NASCAR officials last year had to throw a yellow flag every nine or so laps to keep the shredding tires from blowing out.
Goodyear officials, who will be in town testing through Wednesday, said they believe they have developed a rubber compound which will hold up to the IMS track for 33 to 35 laps. The track will not be open to the public or press during testing.
"We have a lot to do, and we wanted to keep everyone focused on that," said Greg Stucker, Goodyear director of race tire sales. "We'll have another test June 15 and 16, which will basically serve as a dress rehearsal to the race, and that will be open to the media."
Goodyear tested at the Speedway three times last fall and twice in April. "This test we hope will help us determine the final recommendation for the rubber compound we use," Stucker said. "Our goal is to make a tire that will last a full fuel stop."
Goodyear officials in a conversation with IBJ said the combination of the track's condition and new car set up last year contributed to the problems.
"We've done a lot to understand that surface," Stucker said. "Ever since the surface was ground, we've seen aggressive wear. What happened last year, is we had a different race car … It created a different wear mechanism, and the wear debris was smaller and never settled in the groove and rubbered in."
But things are looking much better, Stucker said, adding, "We feel good right now."
Driver Tony Stewart, a vocal Goodyear critic, asked to be part of this test, and Stucker said that is fine with him.
"This is the first time Tony has tested here since last year's race, and we welcome his input," Stucker said. "It's safe to say, we all want the same thing."
Please enable JavaScript to view this content.