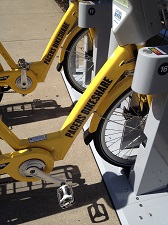 Who knew that a bike share program would boost the Indiana Pacers' marketing and community relations?
Well, it has.
Simon Family Foundation is a primary funder of the program, which features bike racks and Pacers' gold clad bikes downtown. The bikes are emblazoned with "PACERS BIKESHARE" on the down tube.
The program was launched April 22 by Indianapolis Cultural Trail Inc., and Pacers officials said the positive response has been fast and furious. The bikeshare program features 250 bikes and 25 stations along the downtown Cultural Trail.
The idea of a bike share program as a marketing tool is as new as it has been amazing, said Pacers' sales boss Todd Taylor. The Pacers are the only NBA team, and quite possibly the only one in all of professional sports, involved in such a bike share program.
"It's much like people wearing Pacers shirts and hats around town," Taylor said. "The bikes seem to be everywhere and they've given us a great presence in the community."
The program has also been "a visible sign that we're a community partner," said Bill Benner, Pacers senior vice president of corporate, community and public relations.
"You come out here some days and this rack is completely empty," Benner said referring to the bike share rack on Pennsylvania Street in front of Banker's Life Fieldhouse. "They're especially popular on weekends when we have activities downtown. They've become a real popular way to get around."
Pacers officials agreed that the big bump in public relations has been somewhat unexpected.
"It's been tremendous to see," Taylor said. "And it's great because the bikes are so visible."
Pacers owner Herb Simon, and his son, Steve, a team executive, didn't hesitate to get involved in the program.
"The Simons are very environmentally conscious," Benner said. "They are really interested in going green."
Please enable JavaScript to view this content.