David Boudia, Steele Johnson, Amy Cozad and the others who qualified for Rio 2016 weren't the only winners at last month's U.S. Olympic Diving Trials at the IUPUI Natatorium.
The staffs of the Nat and Indiana Sports Corp., which put on the event, also came out winners. Although it was in a category that had nothing to do with taking a dive, they did make quite the splash.
Heading into the event, a group headed up by Jessica Davis, director of IUPUI's Office of Sustainability, set out to make this year's diving trials the first zero-waste sporting event in Indiana and one of the few nationally. The event ran June 18-26,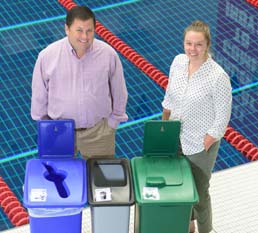 Rich Lord, left, and Jessica Davis of IUPUI took the lead in keeping Natatorium trash out of the waste stream. (IBJ Photo/ Eric Learned)
Davis' team might not have earned a perfect "10," but it sure was a "9.5."
Her crew diverted from landfills 94 percent of 2,800 pounds of total waste generated by the event. That's 4 percentage points ahead of the ambitious goal Davis and Rich Lord, business development manager for the Natatorium, set heading into the event.
Of the mound of garbage generated by about 10,000 spectators at the event, 1,875 pounds was recycled by Ray's Recycling Material Recovery Facility in Indianapolis, 740 pounds went to industrial composter GreenCycle Indy, and only 175 pounds went to the garbage heap.
The diving trials is the first U.S. Olympic event to accomplish such a feat, Davis said.
"Hopefully this acts as an impetus to get other sports facilities online," Davis said.
Though she wouldn't reveal which ones, Davis said two local sports entities already have contacted her as they consider waste diversion programs of their own.
"We've proved we don't have to wait for the East Coast or the West Coast to introduce us to an initiative like this. The coasts are usually 10 years ahead of us on programs like this. But we're out in front on this," Davis said.
She's convinced that waste diversion programs like the one at the Nat could help venues draw more events, some of which are beginning to add waste diversion to bid specifications.
The diversion of waste at the Natatorium didn't just happen on its own.
The Natatorium's $20 million renovation, the major portion of which was completed June 1, wove in changes that made the initiative possible,
Special waste, recycling and compost containers were placed throughout the facility, and a massive on-site education initiative helped tell fans where to put what. The Natatorium concession stand was outfitted with recycling-friendly items, containers and even compostable forks, knives and spoons.
Davis admits there were a few bobbles. For instance, athletes were served food on non-recyclable plastic plates the first day. That, she said, was corrected on day two. Fans had to be convinced that popcorn boxes and coffee cups could be recycled.
"We saw some of those in the trash," Davis said. "People still think if it touches food, it can't be recycled. Due to advances in technology, that's not always the case anymore."
Overall, however, there was palpable interest in the program at the event, and most spectators were eager to help meet the diversion goal, Davis said,
"People at the event kept asking us how we were doing," Davis said. "Visually, early on and throughout the event, what I saw looked really, really good. And that was borne out when we weighed all the various forms of waste.
"There's a real interest in this type of program in the sports community, among the fans and athletes."
The zero-waste initiative will continue at the Natatorium during regular operation and at future events.
Now all Davis has to do is get more event organizers and venue operators on board. With the added expenses and logistical headaches a zero-waste campaign can entail, that's likely to be a more difficult mound of garbage to scale.
Please enable JavaScript to view this content.