Robots, start your engines. 
That's right, robots.
The Indianapolis Motor Speedway this year is dropping the green flag on automated security robots.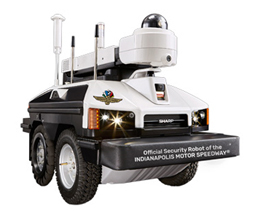 This week, the Sharp Intellos Automated Unmanned Ground Vehicle (A-UGV) was named the official security robot of the Indianapolis Motor Speedway (see image at right).
Speedway President Doug Boles said the four-wheeled robotic vehicle with a telescoping arm will provide an added layer of safety and security at the massive race track on the west side of Indianapolis.
The first A-UGV, which is about the size of a small garden tractor, is expected to arrive at the Speedway in May, just in time to work the Grand Prix and Indianapolis 500. It will work at all major events at the Speedway, track officials told IBJ on Wednesday.
It's not clear how much the units cost. A press release on Sharp's website indicated that many customers prefer to lease the units and fund the cost through their security budgets.
It appears the new security robot's primary task at IMS will be surveillance.
"It will use multiple high-tech tools to complete both mobile and stationary surveillance," said Alex Damron, the Speedway's director of communications. "It does have the capacity to monitor vital areas by patrolling a route, a capability we will use to provide information back to our command center."
Here's how Sharp officials describe A-UGV's attributes: "A multi-terrain, mobile sensor, data-gathering robot that can capture video, audio, and environmental information, while providing a visible deterrent without the aid of a human driver."
The unit weighs about 450 pounds. It dimensions are 4.8 feet long, 2.9 feet wide and 4.2 feet high.
"Technological innovation is in our DNA," Boles said in a media statement. "Dating back to the very first Indy 500 where the rearview mirror was pioneered, IMS values, invests, and nurtures high-tech advancements in all aspects of our operations. Evolving our security force to include automated, robotic integration enables us to better safeguard patrons, drivers and staff."
The robot is ideally suited to help safeguard the Indianapolis Motor Speedway's expansive, fenced property, according to Cliff Quiroga, vice president for Sharp Robotics business development.
"It utilizes a navigation surveillance platform to patrol predefined routes, extending the property coverage and impact of a traditional security force, while keeping manpower safely protected from direct threats," Quiroga said. "[It also acts] as a sentry, monitoring in a stationary position, for an extra layer of protection and has a semi-autonomous mode for incident response."
Please enable JavaScript to view this content.