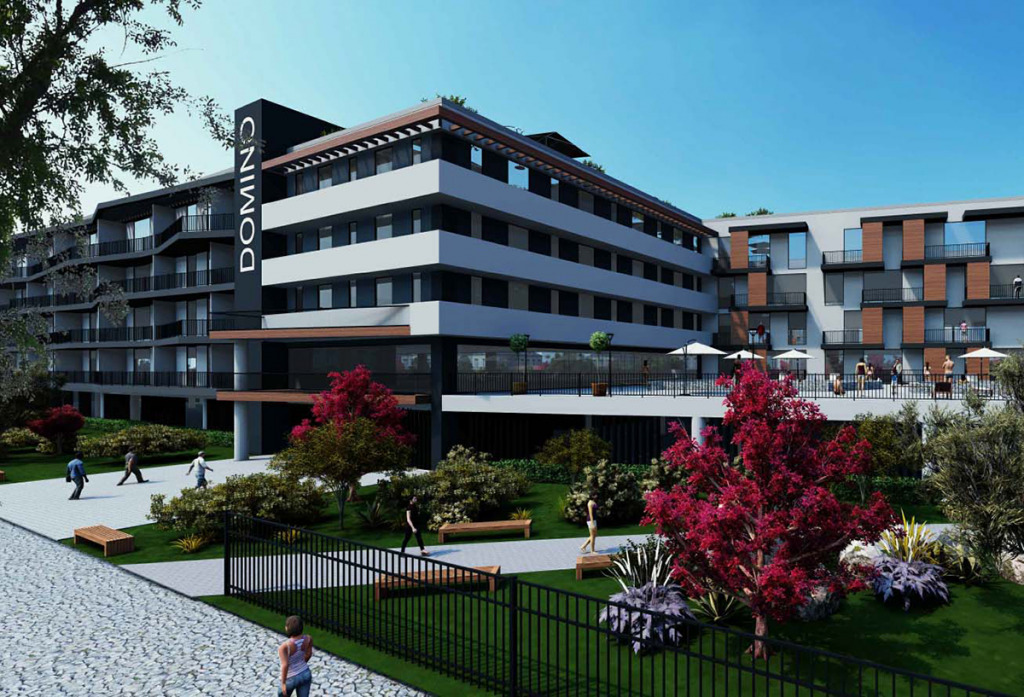 Eight local firms are collaborating on a $100 million effort to revitalize a portion of a near-north-side neighborhood along the Monon Trail that would include apartments, townhouses and retail uses such as a 25,000-square-foot grocery store.
The 14.5-acre development, known as Monon 30, would straddle a four-block section of the trail north of 30th Street, with commercial and housing elements on both sides. It also would include a 1.3-acre parcel with commercial uses south of 30th Street on the east side of the trail.
Located in the long-struggling Martindale Brightwood neighborhood, the Monon 30 parcels are zoned for industrial uses and contain the remnants of defunct businesses.
The partners already have received approval from the city to rezone the property, pending final approval from the City-County Council. The project would include the remediation of a brownfield property within Monon 30's footprint.
Initial plans filed with the city call for an expansive master-planned project including of 220 apartments in a five-story building—mostly market-rate, with some affordable units—along with 120 townhouse-style apartments on a private drive and a 25,000-square-foot neighborhood grocery store.
The project also calls for multiple restaurants and retailers, green space, and an outdoor plaza that could be home to a farmer's market. It also could offer space for other commercial uses, as well as space for public and community use.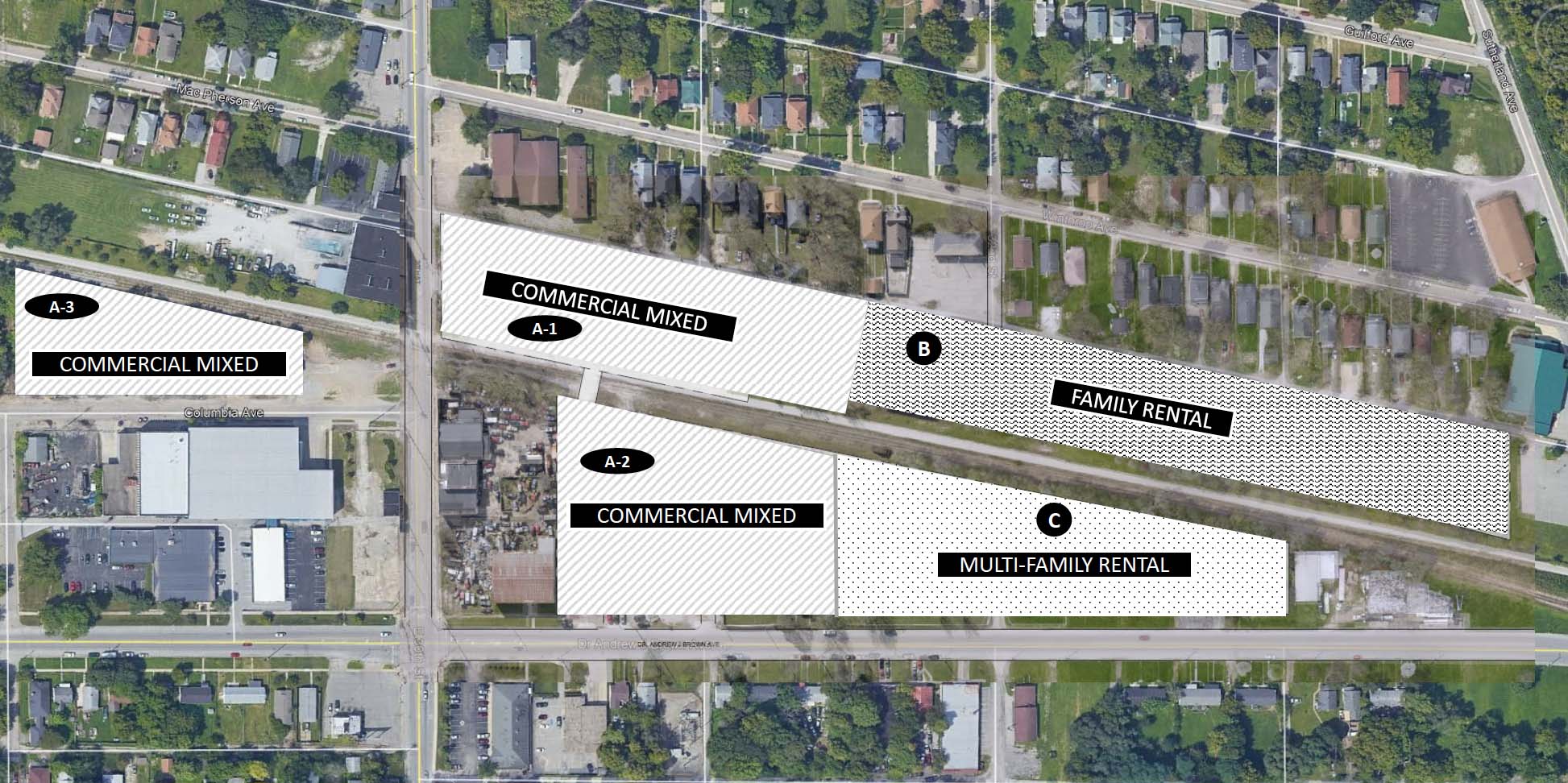 Monon 30 is being developed by Monon Development Group LLC, a firm composed of eight local firms and property owners: The Monon 30 Group, The Ridge Group, DMJR Development, Mojave Ghost Blackhawk Assets Management, Premier Commercial Real Estate Services, Architects Forum, Gilliatte General Contractors and Gradison Design and Build.
Andi Metzel, an attorney at Taft Law who represents Monon Development, said the developers see the project as an opportunity to boost an area that has largely gone without new development in recent years, despite strong activity in surrounding neighborhoods.
"It's a shame that there have been areas that have been left out, and this is one of them," she said. "You cannot create a city that has these gaps and still expect to lift the entire community. They wanted to make sure that as long someone is investing a lot of money in the downtown corridor … that you also include the neighborhoods in-between."
While the project is expected to be largely privately funded, Metzel said the development team is working with city officials on the possibility of establishing a site-specific tax-increment financing district to offset some of the costs.
In a statement, Indianapolis Department of Metropolitan Development Director Scarlett Andrews lauded efforts to bring the project to life, and said it aligns with city priorities that include public infrastructure, affordable housing and economic development.
"We are in the early stages of reviewing the financial needs of the Monon 30 project and look forward to collaborating with the community and the developer to bring it to fruition," Andrews said.
During a City-County Council meeting on Nov. 8, city officials separately introduced a proposal to create a designated redevelopment area for Martindale Brightwood and a new Hillside Housing tax-increment financing district.
Neighborhood groups have largely been supportive of the project, including the Martindale Brightwood Community Development Corp. and the United Northeast Community Development Corp.
The Ralston Hovey Arsenal Andrew J. Brown Neighborhood Association is also generally supportive of the project, although Charles Knight, vice president for the group, said during a Nov. 3 meeting of the Metropolitan Development Commission that some residents were concerned that the amount of investment in the neighborhood could price them out due to increased property taxes and gentrification. The developer is expected to address those concerns in a project agreement with the city.
As part of the project, the developer plans to set aside dozens of housing units that will be available to those making less than the area's median income, both at the 30% and 50% thresholds.
"They're working with neighborhood groups and are committed to prioritizing and exceeding the expectations from the city of Indianapolis as far as offering units that will be affordable," Metzel said. "They've been very thoughtful about the size of units and the type of units that are going to be offered so that it doesn't price out the neighborhood."
The property was once home to a pickle factory and lumber yard. Monon Development received approval to rezone the property to the C-S, special commercial, designation during the Metropolitan Development Commission hearing on Nov. 3. The City-County Council is expected to consider final approval of the rezoning on Dec. 6.
Monon Development has the 14.5 acres for the project under contract. It also has options to purchase several properties between 33rd Street and 38th Street over the next several years, which could be incorporated into future development phases.
Metzel said construction could begin as early as spring 2022, with plans for concurrent construction on most of the project's components.
"It's not intended to be phased in over eight to 10 years, but instead be a simultaneous execution," she said. "In other words, the single-family, the multi-family and the commercial properties all being developed at one time, which is a pretty tremendous amount of development. They all have to happen in the same time frame in order for them to be successful."
Please enable JavaScript to view this content.