PickyList
Service: social networking, online brand development
Address: home-based
Phone: 417-5453
Web site: pickylist.com
Founded: January

Owners: Mark Anderson, Brandon Corbin
Owners' backgrounds:
Anderson, 37, graduated from Indiana University with a degree in marketing. Since then, he's
remained in the marketing field and is the director of business development at the Bernard HODES Group.
In December 2006, Anderson and Corbin opened their own marketing firm, Appendent Marketing,
which folded in May 2008.
Corbin, 33, attended Columbus College of Art and Design in Ohio
for two years before he left to pursue his career in Web development and design. He returned home to
Indiana and landed at TruStar Solutions (now First Advantage Recruiting Solutions), where he met Anderson.
He is a "product evangelist" for local e-commerce software company Sigma-Micro.
Why started
business: Anderson and Corbin wanted to localize the philosophy behind Craigslist, only make it more comprehensive
and searchable. After working at large marketing firms and learning how easy it is to build a basic Web
site, they'd like to share that knowledge with small companies that think a Web site is out of
the budget or just too complicated to do themselves.
Competitive advantage:
Price and know-how. PickyList is like a local Twitter or Craigslist, full of streaming content from bloggers,
small businesses and people with a lot of free time.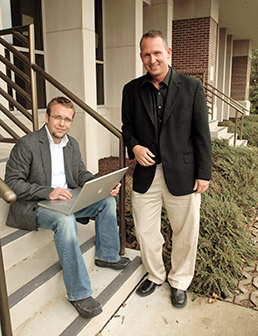 Brandon Corbin, left, and Mark Anderson
of Picky List. (IBJ Photo/Robin Jerstad)
"It's so easy, we could teach a monkey to
make a landing page," he said. "We're the experts and we want
to give away the knowledge. When something can be copied so easily, it can't be commercialized.
Once we help someone set up their main page, we can charge minimal fees on building from there."
PickyList will host a platform from which clients can post coupons, menus or anything else relating to their business.
Startup cost: None. Anderson's and Corbin's only investment has been their time, since
they already had the equipment.
Projected first-year revenue: "We
don't really have a specific number in mind," Anderson said. "It's taken us six
months just to get ready to make money."

Potential problem and contingency
plan: The partners' biggest fear is losing the PickyList brand among the sea of new ones that will pop
up on their site, but they hope that won't happen. "If it does," Anderson said, shrugging his shoulders,
"we'll just focus on selling enough advertising to sustain operating costs."
First-year
goal: Anderson likens his newest exploit to a part-time gig waiting tables. "It's
fun, it keeps us busy at night, but I can't quit my day job," he said. "At least not
yet." Within the first year, the partners hope to be approached by an investor rather than vice
versa.
Five-year vision: Anderson and Corbin would like to take the site
beyond the social-networking realm and build it as an easy branding generator for companies, so users will be able
to produce coupons and a logo, and even send e-mail blasts through PickyList. That would all be free, if they already know
how to do such things. If not, Anderson and Corbin would teach clients, for a fee.•
—Gabrielle
Poshadlo
Please enable JavaScript to view this content.