Naming his first downtown project Allen Plaza wasn't just about pride for builder and developer J. Greg Allen.
He sees the $14 million renovation as a message to city leaders that he intends to build well and leave a lasting
mark on downtown. Leaders already know as much on the south side, where Allen has been building some combination of homes,
offices and retail centers for 30 years.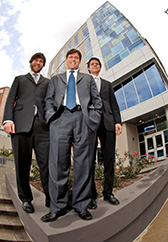 Greg W. Allen, J. Greg Allen, and John Cunningham of Allen Commercial Group pose in front of Allen Plaza at Virginia
Avenue and Pennsylvania Street downtown. (IBJ Photo/Robin Jerstad)
In a rare interview, Allen talked with IBJ
about how he has managed to keep Allen Plaza on track during a nasty market for real estate development—a time when
similar projects like 707 E. North St. are either in foreclosure or on ice. Most of Allen Plaza's retail and office
space is spoken for, and the first seven condos of a planned 31 will hit the market this month.
And Allen isn't
giving up on Penn Centre, a $135 million mix of hotels, condos and restaurants he proposed in 2007 for a stretch of surface
parking lots along Pennsylvania Street across from Conseco Fieldhouse. He still owns the land and is working on a phasing
plan that would have about half the development done in time for the Super Bowl in 2012.
"We're disappointed
the capital markets tanked on us and the project isn't 70-percent complete already," he said of Penn Centre. "We
had 12 firms looking at a financing package in November 2007, and three months later no one would touch it."
If Allen, 54, has proven anything with his namesake mixed-use building at 1 Virginia Ave., it's that he may
take a few years, but he can deliver.
Allen bought the sleepy Jefferson Plaza office building
out of foreclosure in February 2005. Two years later, his team began gutting the outdated nine-story
building and installing a modern glass façade. Local staple Scotty's Brewhouse signed on
to take the entire 12,000-square-foot first-floor space, giving the project an early boost.
"It's one of those properties—if you're a visitor, it's a memory point,"
Allen said. "That's what we tried to do—building something we could be proud of."
The
three floors of office space already are about 70-percent leased. One of Allen's companies, Allen Commercial
Group, has moved its headquarters from Greenwood to about 8,000 square feet on the second floor. And Noble Roman's Inc.,
the only tenant to stick around during the remodel, occupies another 8,000 square feet.
The project includes
five floors of condos, including three ninth-floor penthouses. The first floor of condos is just about move-in ready. When
Allen is ready to build out the penthouses, he'll also add a planned "tower feature" atop the building's
northwest corner.
The residential entrance lobby features refinished African walnut from the former seventh-floor
offices of Jefferson Life Insurance Co., along with a facial-recognition security system and a touch-screen building directory.
The condos have a variety of high-end flourishes including California sliding doors, recessed lighting, custom cabinets and
stainless-steel tile backsplashes.
Two units already are spoken for: Allen is taking one with an impressive corner
view of Pennsylvania Street, and leasing director John Cunningham is taking another.
Prices range from $219,000
up to $489,000. An open house is tentatively scheduled for Nov. 19.
Allen is building out only one floor of
condos at a time—a luxury he enjoys in part because he worked out a loan with no presale requirement with Columbus,
Ohio-based Huntington Bank. He didn't want to face the same fate as a failed condo development on the former home of
Market Square Arena.
Revenue coming in from the building's office and restaurant components also gives
the company time to let the market absorb the condos.
"It's a lot easier to sit on a building with
income coming in," said Cunningham, one of two leasing directors, along with Allen's son, Greg W. Allen.
Completing the project in such a rough real estate market is a success story for both Allen and the neighborhood, said
Ersal Ozdemir, CEO of locally based Keystone Construction, which owns the Majestic Building next door and is finishing up
work on the 3Mass condo project with Halakar Real Estate.
Allen chooses projects carefully, is well-diversified
and works hard, Ozdemir said.
"He's done it all, and he understands the business well," he
said.
Timing also was a factor in the success of both Allen Plaza and 3Mass: The respective developers closed
financing deals just before credit markets froze early last year. About 60 percent of 44 units in 3Mass have sold.
As for Penn Centre, Ozdemir won't be betting against Allen.
"I wouldn't mind looking at
a nice building from my office instead of a parking lot," he said. "I'm a believer if you have a lot of
parking lots in a downtown, that can't be a great sign."
The Penn Centre plan still calls for two
new high-rises with a 150-room Aloft hotel, a 240-room Le Meridien hotel, a 550-space parking garage, 60 condos, and up to
six restaurants.
But Allen now is looking at building the project in phases, starting with the affordably hip
Aloft hotel, which he said would be a hit with attendees of the FFA convention. The swankier Le Meridien brand would have
to compete in a more crowded high-end category with the arrival of the new JW Marriott.
The area around Allen
Plaza has been a hotbed of activity the last few years. The former Junior Achievement building at 21 Virginia Ave. got a major
revamp and a new anchor tenant, the 500 Festival. Adobo Grill, Dunkin Donuts and Pita Pit took over vacant spaces. And locally
based The Broadbent Co. revitalized the old Zipper Building and landed first-floor anchor Fogo de Chao.
In times
like these, small and lean developers such as Allen and Broadbent can be more nimble with decisions, said Jeff Roberts, a
Broadbent senior leasing representative.
Of course, the climate isn't easy for anyone.
"There's
no easy way to deal with this economy, whether you're Simon or Broadbent or Greg Allen," Roberts said.•
Please enable JavaScript to view this content.