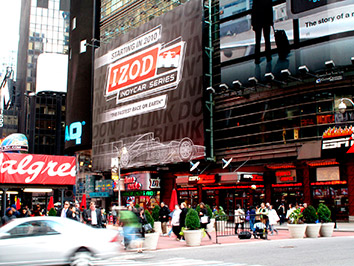 The Indy Racing League will have Izod as a title sponsor next season, an agreement the IRL hopes will expand its fan base and take the series to a "new level."
The six-year deal could be extended, Michael Kelly, executive vice president of marketing for the clothing maker's parent company, Phillips-Van Heusen, said Thursday. He did not say how much money was involved or how it would be spent. Izod will remain the IRL's official apparel partner.
Brian Barnhart, president of the Indy Racing League, called Izod the league's first legitimate title sponsor. Jeff Belskus, CEO of the Indianapolis Motor Speedway, called it "one of the most significant announcements in the history of the IndyCar series."
"Today, we're taking our partnership to a new level," Belskus said.
The agreement comes at a time when many companies are trimming advertising budgets. Izod became the IRL's apparel sponsor IRL in 2008 and sponsored driver Ryan Hunter-Reay. He won at Watkins Glen in July 2008 to give Izod its first taste of victory.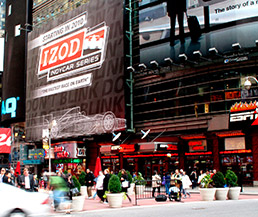 Izod has signed on as Indy Racing League's title sponsor beginning next season. (Photo courtesy Izod)
"On that day, we saw nothing but growth and opportunity in the league," Kelly said. "What goes on here is absolutely amazing."
The deal includes programs and brand-building efforts designed to attract fans beyond the IRL's traditional audience.
"Anybody who was around in '09 saw that as a brand, we were committed, even as the apparel sponsor, in our activation," Kelly said. "What we spent … was certainly well into the millions."
Hunter-Reay said the move gives the league stability and visibility.
"Looking at it from a driver's perspective, this is what we've been waiting for," he said. "This is it. I feel like this is a really fresh start for the IndyCar series."
The move comes amid speculation that Danica Patrick, the series' most popular driver, is considering leaving.
"Indications are that she's going to remain in this series for at least a few more years to come," Barnhart said. "She may be doing some other racing when she's not conflicting with the IndyCar series, but I think for the next couple years at least, she's going to be a dedicated and committed full-time IndyCar driver, and what she does in her free time or off weekends, from that standpoint, is her choice to do so."
Barnhart said Patrick's status won't affect the deal.
"This relationship isn't built around one driver or anything along those lines," he said.
For more on the IRL-Izod deal, see IBJ sports blog, The Score.
 
Please enable JavaScript to view this content.