The cash-strapped, half-vacant City Market is playing legal hardball with five current or former tenants that are behind on rent, a move that's led to the imminent eviction of anchor Constantino's Market Place.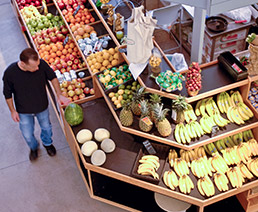 A customer at Constantino's, which faces imminent eviction. (IBJ Photo/Robin Jerstad)
On Nov. 6, Marion Superior Court Judge David Shaheed ruled City Market can oust Constantino's in 10 days over $27,000 in unpaid rent. The market first must post a $100,000 bond—money the city, which owns the market, is expected to provide—in case Constantino's wins when the case goes to full trial.

"It's unfortunate, because it's the kind of stand we need there," said Indianapolis architect Wayne Schmidt, who serves as board president for Indianapolis City Market Corp., the not-for-profit that runs the venue. "But when people don't pay their rent, they have no right to be there."

The market also is pushing to negotiate rent settlements with other stands in arrears, like Berkshire Florist and Lucia's Italian Restaurant, which both have departed. To avoid lawsuits, current tenants Haleigh's Harvest and Jumbo's have both agreed to payment plans.

The tough tactics come at an awkward crossroads for the 123-year-old market. Mayor Greg Ballard wants to cut off city subsidies and therefore needs tenants to pay every cent possible. This year, Ballard reduced its annual utility subsidy from $250,000 to $156,000, and next year the subsidy is scheduled for elimination.

On the other hand, the pressure could accelerate the market's decline. Entrepreneurs aren't clamoring to open new stands, and pushing existing vendors out of business might only worsen the historic market's declining foot traffic.

City officials believe the solution lies in a new vision for the facility. Ballard this fall rejected a City Market board proposal to shutter the market for three years of reorganization and repair. Instead, he issued a public request for information, soliciting business proposals to redevelop City Market's mostly vacant east and west wings.

The wings could end up as homes for a bicycle locker facility, a day care or an arts center, said David Wu, Ballard's policy director. At the same time, the city wants to reshuffle food vendors inside the main hall into smaller spaces.

"Changing one or two vendors is not going to make it sustainable. It's not going to draw the traffic. So our first hope is the RFI," Wu said. "It's not heading down the right slope if left as it is."

Meanwhile, City Market has quietly offered the Grecian Garden the opportunity to break its lease. City Market Executive Director Jim Reilly says he'll tender the same deal to any vendor that believes it can't operate profitably.

"It's a gesture of good will," Reilly said. "Why would I want anyone to stay here and lose their family business just to keep them here five more years?"

Skeptical tenants

Frustrated proprietors are skeptical Ballard's privatization RFI will change anything.

"This is the same thing we go through every couple of years," said John Mavrikis, owner of the Grecian Garden, who successfully sued City Market over lost sales stemming from a $2.7 million renovation of the main hall that wrapped up two years ago. The $42,000 ruling against the market was upheld on appeal this month.
"You get board members that say they want to make it better. And at the end of the day, nothing happens."

Reilly, brought in last year to promote the market on a shoestring, is frustrated, too. He now spends much of his time begging suppliers for leniency. He's six months behind or more on bills from the private companies that service City Market's elevators, provide its heat and electricity—even the firm that sprays pesticide to keep rats and insects at bay.

"I have some patient vendors, but even the Irish charm and blarney only goes so far," Reilly said. "We're barely keeping our heads above water."

The same could be said for most of the 25 small businesses still operating inside the downtown lunch spot. But there's a key difference: City Market is offering them no clemency.

Constantino's ties to the market date to 1911. Its owners, the Mascari family, closed the stand in 1996 but reopened two years ago at the urging of market officials, who were eager for a stand selling fresh meats, cheese and produce. Officials expected the renovation would bring back crowds, but that hasn't happened.

"If [Constantino's owners] don't remove themselves voluntarily and peacefully, the sheriff has been ordered to remove them from the property," said Riley Bennett and Egloff partner Bryce Bennett, who represents City Market in its suit against the food stand.

The Mascaris invested $250,000 to $300,000 to build their 1,217-square-foot stand and install refrigerated display cases, said their attorney, Cliff Rubenstein of Maurer Rifkin and Hill PC.

Constantino's stopped paying rent 13 months ago. After a hiatus, it made partial payments in recent months. Even so, Rubenstein said, it doesn't owe anything because City Market breached a provision of the lease giving it the exclusive rights to sell fresh fruits, vegetables and gift baskets at the market.

Rubenstein argues sales at the market's popular farmers' market and sales at Lucia's and Taste of Indiana breached it, thus lowering Constantino's rent 50 percent. Under those terms, he said, the Mascaris are current.

"The only explanation City Market gives is, 'We can't have our tenants not paying rent,' and that they need the space, which is the most outrageous argument they could make," Rubenstein said. "When they're 50-percent vacant, the last thing they need is another 1,200 square feet of vacant space."

Long slide

Although it's an Indianapolis institution, City Market has long been in decline. Turning over three executive directors in the last four years hasn't helped. But its main problems are rooted in downtown's evolution. Restaurant competition increased even as City Market's natural foot traffic evaporated.

Nearby Market Square Arena, formerly home of the Indiana Pacers, was demolished in 2001, and plans for a mixed-use condo and retail development there haven't materialized.

Busloads of schoolchildren used to stop by City Market for lunch after visiting the old city hall, which housed the Indiana State Museum from 1962 to 2002, then the interim Central Library until 2008. Now the limestone landmark is vacant.

Buoyed by the 2007 renovation, Berkshire Florist opened a shop inside City Market in November 2007, but had little business. Some days, it sold as little as a single $1.50 greeting card, said state Rep. Bob Behning, its owner.

He closed the location and moved to Zionsville, but market officials say the shop still owes $12,000. Bennett, the market's attorney, is pursuing a settlement with Berkshire and with Lucia's, which is in the same situation.

"When we moved in, we were supposed to have a beer and wine dealer move in, a bakery," Behning said. "What they had envisioned was, it would be very similar to the old City Market in that it would be a destination point for people who live in the downtown community, where they could come and buy their groceries. And it just never came together."

Double standard?

Constantino's is riled about the city's aggressive rent-collection efforts in part because one tenant pays nothing.

"Jim Reilly testified [in Constantino's eviction hearing] that one of the vendors, Taste of Indiana, doesn't pay any rent," Rubenstein said. "It's an interesting business model that when you're losing a couple hundred thousand dollars a year, you have tenants who don't pay any rent."

Reilly explained that he offered Taste of Indiana the opportunity to operate a two-wheeled wooden cart in the market—directly across the aisle from Constantino's—for free on a trial basis, in the hopes of securing a permanent lease.

It's Taste of Indiana's first expansion from its northeast-side anchor store. Owner Mark Kolbus said he's open to signing a lease, but hasn't been able to because City Market froze all leasing while attempting to sort out its plans.

"We came on board there last November. It did really well during the holiday season last year, so we decided to stick around."

Schmidt, the new board president who took over when predecessor Bob Whitt resigned last month, said the lease freeze is over, and City Market is once again actively pursuing new stands.

But they won't get Taste of Indiana's terms.

"No rent won't be one of the choices," Schmidt said. "People will have to pay rent for the opportunity to be there."•