This week, thoughts on exhibitions at Evan Lurie Gallery in Carmel and a new revue at the Cabaret at the Connoisseur Room.

__________

I don't see myself as an arts snob. My taste ranges wide, and I'm just as likely to be frustrated by pompous artspeak as I am to be charmed by the simple and unpretentious.

But I have to admit that I cringe when walking down Carmel's Art & Design District because of the J. Seward Johnson Jr. sculptures scattered along the otherwise lovely street. Whether it's "Holding Out" (featuring a woman hauling grocery bags) or "Unconditional Surrender" (a bastardization of the famed WWII sailor-kisses-nurse photo), the fact that these are permanent parts of the streetscape create an uphill battle for those trying to make Carmel an interesting arts and design destination.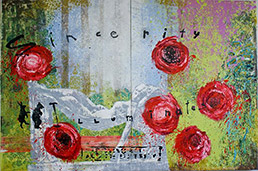 Walter Knabe's "Sincerity, Illuminated" combines his recurring elements in interesting ways. (Photo Courtesy Walter Knabe)
Suffer through the gauntlet of Normal Rockwell-wannabees, though, and there are rewards in Carmel. Case in point: the shows currently running at Evan Lurie Gallery.

The headliner is Walter Knabe, a local arts legend best known for his original wallpaper. His show of recent work, "A Shift in the Paradigm" (through Dec. 5), features large canvases where recurring images (a dancing bear and rabbit, Asian figures) are often splashed with abstract splotches, making the artist himself a constant presence. There's a mythological component to much of the work, most successfully pulled off in "Sincerity, Illuminated," which includes the aforementioned bear and rabbit along with a reclining nude and six rose-ish swirls. You can feel the fusion of time and memory.

Although there are no overt connections, Knabe's work fits nicely with that of other artists still featured in the gallery from past shows. Like Knabe, Peter Drake has worked of late on a large scale, offering oversized images of decaying toys that somehow hold their dignity. In "Parade," a marching trombonist toy is accompanied by a pack of dogs, oblivious to the fire raging past the green lawn behind it.

Also on display on my visit (go soon and you may be able to see them before they are shipped off), were L'Oriano Galloni's long-limbed figure sculptures and Ted Gall's intense, sad bronzes. With particular impact: the haunting "Arrivals-Departures" depicting an aged would-be angel with strapped-on wings and a stray fallen feather.

__________

Most theatrical musical revues are built on pre-existing, repurposed material.

For instance, "Side by Side by Sondheim," a touchstone in the genre, took tunes from the then-underappreciated songwriter and presented them in a new way. Similarly, "The World Goes Round" lifted Kander and Ebb songs and gave them new spins.

Sometimes, a revue of new or totally unfamiliar material will come around and achieve some level of success—I'm thinking of Jason Robert Brown's "Songs for a New World"—but they are few and far between.

Why?

Because original revues are deceptively difficult to create. The lesser-known the songs, the stronger a first impression those songs have to make.

Even if a composer has a quality song list, there's more to consider. A through-line (overt or not), characters (overt or not) and structure (overt or not) are often necessary to turn a set of songs into a satisfying evening.

Why am I going on about the difficulty of creating a musical revue? Because it pains me to report that "Enter Love," a revue of songs by Lynn L. Lupold, didn't rise to the very large challenge. (It premiered at the Cabaret at the Connoisseur Room Nov. 6-7.)

Presented under the Composer's Stage Project moniker—a series I sincerely hope continues—"Enter Love" started with an awkward "Just for Tonight" (songwriters should just stop trying to generically pump up an audience) followed by an unfocused, gimmick song "Babbling Voices." The show progressed from number to number without insight or wit and only rarely with an emotional connection. Verse three seemed no further along an emotional or humorous arc than verse one, and no overall vision emerged. Vagueness about the core theme wouldn't have been a problem, though, if the songs had been individually or collectively stronger.

Cast highlights Deb Mullins, Ronald Hellems and Shannon Forsell tried gamely to inject passion into the work. But as song after song failed to build, I found myself shifting into "foreign language" mode—trying to distance myself from the words and, instead, hear pure sound. In that difficult-to-sustain mode (and with outstanding support from musical director David Duncan and his trio), the songs were far more engaging, leading me to conclude that Lupold the lyricist may be getting in the way of Lupold the composer. Or that more attention should be focused on the former as the revue continues to evolve.•

__________

Visit ibj.com/arts for additional reviews, previews and arts discussion. Twitter: IBJarts