Millinery is something virtually no one knows how to do. Along with cobblery and silver smithing, the highly specialized
art of hat making has gone the way of the Indianapolis street car.
In 1896, "Indianapolis of To-day,"
a sort of Victorian city guide, regarded Miss A. Quigley as the city's premier milliner. Her store, located on the current
site of Ruth's Chris Steak House on Illinois Street, was "commodious and elegantly equipped and in the assortment
[were] the latest modes in trimmed and untrimmed hats and bonnets, also ribbons, plumes, flowers, silks, satins, velvets,
and the latest styles of trimmings."
At that time, demand for hats was such that Miss A. Quigley employed
some 20 milliners.
In 1951, Roy Halston Frowick began a millinery career at Indiana University that would lead
him to design Jacqueline Kennedy's inauguration hat.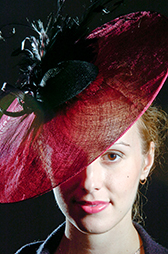 Milliner Emily Clark wears a cocktail hat she crafted out
of sinamay, a material popularized in 1980s Europe. (IBJ Photo/Robin Jerstad)
Now it seems the average Hoosier scarcely
owns a hat that doesn't have a Colts horseshoe or other logo on it.
That presents a challenge for Emily
Clark, 28, founder of the brand new company Emilliner. Clark, who wants to resurrect millinery in the Midwest, is confronted
with a consumer base that's changed drastically in the half century since hats turned heads.
Her Web store
on Etsy.com is a far cry from Miss A. Quigley's accessory wonderland of feathers and ribbons. She employs only herself
and works out of the Irvington house she recently purchased with her fiancé.
An old kitchen table is
littered with the trappings of the hat trade. A shopping bag brimming with every color of horsehair braid is lodged beneath,
while the sinamay, Clark's favorite material (a straw-like woven fabric) makes an unruly heap atop an enormous drum
case turned hat transporter.
"The world is full of really great vintage hats because there used to be
so many milliners. For every little town there were three or four independent craftsmen. Now the few that are left tend to
be the only names people know," Clark said.
While Clark isn't sure why her accessory of choice has
been elbowed out of daily attire, she's positive it's not for lack of hat appreciation.
"Hats
attract a lot of attention. Whenever I wear one, everyone wants to know where I got it or at least make a comment,"
she said. "You even have to be careful when you wear a hat to a wedding, since you don't want to upstage the bride."
Clark learned the trade as an apprentice under the famous London milliner Phillip Treacy, who designed hats
for Chanel, Givenchy, and Valentino. In Europe, demand isn't as much of a problem as it is here. But finding the proper
accoutrements is.
"Millinery suppliers are even scarcer than milliners," she said.
Things like fine silk netting and the brushed silk once used on formal top hats aren't even made anymore. And the tools
of the trade such as a hat block—the form a milliner uses to fashion the crown of a hat—need to be custom made
and are very expensive. Clark is still on the lookout for an American supplier for a proper fabric stiffener.
"Even when you're at the top in millinery, like Phillip, sometimes you have to settle for materials that are inferior
to what you know used to exist," she said. "It's sad."
Clark introduced her line of chapeaux
at this fall's Midwest Fashion Week in collaboration with designer Bernie Martin and said response has been overwhelming.
But a strong response doesn't always equal strong sales.
"Everyone recognizes my hats are better
than anything you can get at H&M, but convincing someone a hat is worth $300 is a different story," she said.
Clark was born into a generation that often doesn't know the difference between a one-size-fits-all $20 fedora
and one with a band size that fits the wearer. And the modern woman doesn't think about a cocktail hat to match her
little black dress.
But with hats like Clark's at our fingertips, who knows? All that could change.
Heck, I have one already.•
__________
If you'd like to share your own style
ideas or know anyone who's making waves in the fashion community, contact Gabrielle at gposhadlo@ibj.com. This column
appears monthly.
Please enable JavaScript to view this content.