An outstanding memory from my childhood was exploring St. Augustine, Fla., with my slightly older brother. On a long-promised, budget-minded trip to Disney World with our mother, we spent a night in the East Coast town, blissfully unaware of the meaning of the term "tourist trap."

St. Augustine didn't have one major attraction. There were no equivalents to our Children's Museum or Conner Prairie. Instead, there were (or, at least, seemed to be) tons of small attractions—a sub-Tussaud's Potter's Wax Museum, an old jail, an alligator farm and the alleged Fountain of Youth. I don't remember how many of these my brother and I actually visited, but I remember the feeling of being overwhelmed by St. Augustine's densely packed offerings.

The lesson: It's easy to forget that it's not just the big attractions that help define a city for visitors. The smaller ones—the places that lend themselves to hour or two-hour visits—can also make a big difference.
IBJ.COM EXTRA
For a video tour of the Rhythm! Discovery Center,
click here
.
What's the downtown Indy equivalent? The National Art Museum of Sport is just out of easy reach. The Soldiers and Sailors Monument certainly qualifies. I'll confess to having yet to visit the NCAA Hall of Champions (but it's on my list). And I'll also confess to still having a soft spot in my heart for the briefly here and now gone American Super Heroes Museum.

But while we'll have to wait until March to see how the technologically upgraded Indiana History Center does as a ticketed attraction, we do now have another modest-but-appealing spot to add to the brochure racks.

I'm talking about the Percussive Arts Society's Rhythm! Discovery Center now housed on the lower level of Claypool Court.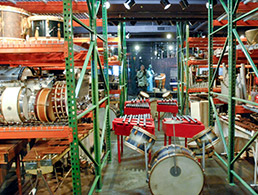 The Percussive Arts Society's collection is on display at the Rhythm! Discovery Center, but that part of the exhibit is behind glass. (IBJ Photo/Robin Jerstad)
Conveniently connected to Circle Centre mall, its 15,000 square feet of exhibition space includes a fair-share of don't-touch displays and behind-glass historical objects. But it wisely also features something bangable around just about every turn, including a massive drum head that, when struck, seems to cause your internal organs to shake. There's a display explaining how the multi-level music for the musical "Wicked" was created and a movie-music area that examines the John Williams music for an Indiana Jones film (a loose local connection, but give them points for the effort). An open central area—in a drum-head circular shape, of course—is suitable for lectures, demonstrations and parties.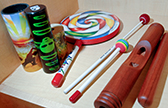 Many of the instruments you'll find at the new Rhythm! Discovery Center are hands-on. (Ear plugs not provided) (IBJ Photo/Robin Jerstad)
One wing of the space is entirely devoted to percussion instruments from around the world that visitors can play. Plus, there are two glass-enclosed studio spaces where would-be Keith Moons can play, record and replay. Better yet, the acoustics can be set for different performance environments, including arena and cathedral. Surely a generation trained on Rock Band will be lining up … once they are aware of the place and chaperoned there by an earplug-wearing adult.
How all of this will sound when there are busloads of children present has yet to be seen (or heard). But it does seem an ideal destination for school groups or parents to pair with a trip to the Indianapolis Symphony Orchestra or the Indiana Repertory Theatre. And it's no surprise that its soft opening coincided with the Bands of America Grand National Championships at Lucas Oil Stadium (Nov. 11-14).

__________

Speaking of Bands of America, I did catch some of the championship performances and, as a first-timer, was fascinated and a bit awed. Without a first and second half of football to bookend the performance—and without a home school to root for—I let myself get caught up in the epic scale, the odd fluidity, and the specialized musicianship that took these squads this far.

Having seen only half of the finalist performances, I won't attempt to label anything "best of show." But I am curious if Oklahoma's Broken Arrow High School had trouble getting administration approval for its very creepy, compelling, "Night of the Raptors" routine—with its "Alien"-like dancers capturing and infecting the musicians.

Carmel High School had a terrific but distracting gimmick in its giant teeter-totter with a pianist playing in the middle as bandmates climbed on and off. Yes, he truly rocked. The Texans from L.D. Bell High School brought a breath of brightness with their white and yellow color scheme and flute-driven pastoral music while Center Grove High School effectively worked a violin and ballet into its music-box-themed mix.

Alas, I missed Avon High School's top-prize performance. But I'm already looking forward to seeing next year's iteration defend the title. I'm hooked.•

__________

This column appears weekly. Send information on upcoming arts and entertainment events to lharry@ibj.com