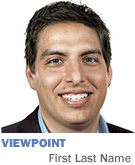 6 a.m.: I turn on the TV and check for recorded shows from last night. I almost buy an entire season of "Law
& Order" after an offer pops up on the screen.
7 a.m.: As I sync my iPod for the drive into work, I
notice the Apple "Genius" recommendations. Genius, indeed: I buy two albums—and like them.
8
a.m.: I go to Staples to pick up office supplies. I use coupons I received as a "Staples Rewards" member. It just
so happens the coupons are for the items I need.
10 a.m.: I head to Starbucks to get a free drink for my birthday.
That's right: If you go to the Starbucks site and register your gift card, you get a free coffee.
11 a.m.:
Back at the office, I'm making flight arrangements for a client visit in Chicago. I search for the dates and flight
times, but the options I find are a little pricey, so I call it quits. But wait! Later I get an e-mail from Orbitz—the
price for the flights I was considering just went down. I book my flight.
noon to 5 p.m.: I have a client meeting.
(I do more than shop.)
6 p.m.: At home after work, I find my wife on a Web site of a favorite retailer. "Guess
what?" she says. "You get 20 percent off if you fill out a survey—that's like free money." I
agree.
What a day. I'm exhausted from all the deals I've received. Of course, none of those deals were
accidents, nor were the buying decisions they prompted. They were the result of information that companies collected about
me and the way they put that information to work. They tailored content for me and made it easy for me to buy.
Certainly,
the first part of that equation—understanding the customer and his or her motivation—is priceless, but it's
old-school and just half of the solution. The other half, the half that has really come of age recently, is making it easy
for the customer to engage. And that's what sets growing organizations apart from stagnant ones.
But, wait,
you say: Not all of us have the high-tech weaponry those companies used. That's OK. This engagement isn't all
about tools. It's about an approach to customer/donor understanding that's available to just about all of us if
we're willing to embrace it.
• Go beyond numbers. Create a profile of your customer, patron or donor
that's about more than demographics. Track people's progress through your Web site and your locations. Track their
decision-making process. Create a way to gather data that rewards those who participate.
• Meet people. Sometimes,
we get so caught up in number-crunching that we fail to have actual conversations with prospects. Visit with them to understand
how they make decisions.
• Be specific. The companies mentioned above did not say, "Come in and shop
around." They offered specific deals based on my interests. If you want engagement, be specific and make it easy. Use
language that lets the customer or donor know exactly what you want him or her to do.
• Think action, not
money. This is about engagement first and revenue second. As you send targeted messages, find opportunities for engagement;
think about the companies above—they put customer interests first and the purchasing of a product second.
Every time you use your rewards card or customer-loyalty shopping pass, you're helping a company meet your needs.
How are you doing that for the people you serve?•
__________
Feldmann is CEO of Achieve, an
Indianapolis consulting firm for not-for-profits. He can be reached at dfeldmann@achieveguidance.com.
Please enable JavaScript to view this content.