Indianapolis Power & Light faces potential fines and capital expenditures after allegedly updating three generating
plants over 23 years without adding the most modern pollution controls.
The U.S. Environmental Protection Agency
sent a 16-page notice of violation to IPL President and CEO Ann Murtlow Sept. 29 involving numerous plant modifications made
since 1986.
The EPA notice cites all three of IPL's big coal-fired generating plants: Harding Street, in
Indianapolis; Eagle Valley, in Martinsville; and IPL's largest generating unit, near Petersburg.
One of
the changes involved a 2006 upgrade to a boiler in Indianapolis that resulted in an increase in generating capacity and in
hourly emissions of sulfur dioxide, nitrogen dioxide and particulates, alleges the EPA.
"IPL violated and
continues to violate [federal law] by modifying the … facility without installing the necessary pollution control technology,"
said the EPA letter obtained by IBJ.
The case is similar to others the EPA has raised with coal-fired
power plant operators around the country under so-called New Source Review, said IPL spokeswoman Crystal Livers-Powers.
NSR requires utilities to undergo a pre-construction review for new plants and whenever existing plants are modified
in a way that involves "non-routine" physical changes resulting in a significant increase in emissions, she noted.
"At issue is whether the maintenance projects were routine," which is IPL's position, Livers-Powers
said, "or major modifications to the plants" as EPA alleges.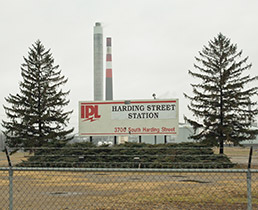 IPL made $9 million in repairs to this plant in
1991-2006. EPA says more was required. (IBJ File Photo)
Environmental groups for years have alleged utilities
often sidestep the EPA's New Source Review process by masking major upgrades as routine repairs.
EPA
on prowl
Industry observers say the EPA under the new administration is returning to the vigorous enforcement
of environmental rules that was typical in the Clinton era.
Last February, the EPA and Justice Department filed
suit against Kansas-based Westar Energy, making similar allegations as those against IPL.
The federal government's
enforcement record in this area is a mixed bag.
In May, a federal jury in Indianapolis ruled in favor of Duke
Energy in four of six plant upgrade projects the EPA first alleged in the late 1990s were made in Indiana and Ohio without
installing modern pollution controls.
But the court ordered Duke to shut down three units of its aging Wabash
River generating plant in Terre Haute. The government argued that Cinergy, the Cincinnati utility Duke bought in 2006, had
made major modifications at the plant without installing so-called best-available pollution control technology.
Not so fortunate was Columbus, Ohio-based American Electric Power.
In 2007, it reached an agreement with
the EPA over similar Clean Air Act allegations at 15 plants, including one in Rockport. AEP agreed to pay a $15 million civil
penalty, spend $36 million on environmental projects, and pay states $24 million.
Among those party to the case
against AEP were Citizens Action Coalition and Hoosier Environmental Council, both based in Indianapolis.
Tim
Maloney, senior policy adviser at HEC, said he wasn't fully familiar with the recent notice of violation the EPA issued
to IPL. But, he added, "the alleged violations at IPL are apparently somewhat comparable to violations at Duke's
Wabash River plant," noting the EPA had listed similar pieces of equipment that had been modified such as boilers and
piping.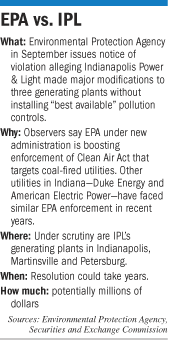 Maloney said IPL has made a number of pollution control investments in recent years in response to
federal and state regulations concerning sulfur dioxide and nitrogen dioxide.
IPL said previously
that a $60 million pollution control upgrade at Harding Street reduced nitrogen dioxide emissions 87
percent. It's been on a 10-year, $600 million pollution control campaign that also includes adding
flue-gas desulfurization equipment at its coal-fired plants.
By contrast, the modifications cited by the EPA,
IPL argues, amount to routine maintenance, and were relatively modest in cost. The EPA cited five modifications
at the Harding Street plant between 1991 and 2006 totaling $9.2 million.
The most extensive upgrades cited involved
the largest plant—Petersburg—totaling $16.2 million from 1986 to 2004.
IPL's
Harding Street station has been the single biggest air polluter in the nine-county metro area, discharging
more than 2 million pounds per year of pollutants including hydrochloric and sulfuric acid, according
to EPA records.
The Martinsville generating plant, IPL's smallest and oldest coal-fired plant, is the second-largest
air polluter in the region.
"We see this as an opportunity to take a pretty old, small plant offline,"
said Grant Smith, executive director of Citizens Action Coalition, of Eagle Valley. "We shouldn't think in terms
of sustaining these obsolete plants."
Rather then spend ratepayers' money on upgrading Eagle Valley
to comply with EPA rules, IPL could look instead at further diversifying its electric supply with cleaner power. Earlier this
month, IPL began buying power from a 106-megawatt wind farm in east central Indiana operated by French company enXco, and
has plans for additional wind power purchases.
"The opportunity now is to look at other ways to comply.
It's a more positive investment" than coal generation, which likely will subject ratepayers to future carbon dioxide
legislation liabilities, Smith added.
Too early to gauge
In its most recent financials
filed with the Securities and Exchange Commission, IPL parent IPALCO Enterprises said IPL plans to meet soon with the EPA
to discuss the violations. Such cases can take months or years to resolve, either through administrative settlement or through
federal courts.
"IPL believes it has meritorious defenses to the allegations described in the notice,"
stated the 10-Q filing with the SEC.
"However, it is possible that IPL may face fines or be required to
make capital expenditures in connection with the alleged violations, which could be material to our results of operations,
financial condition or cash flows."
IPALCO was bought in 2001 by Virginia-based utility conglomerate AES
Corp. for about $3 billion.•
Please enable JavaScript to view this content.