Not being an Indiana University graduate, I wasn't overwhelmed with collegiate nostalgia when I entered the new downtown Indy location for Kilroy's Bar n' Grill (201 S. Meridian St.). Nor, as a rare drinker without an overwhelming passion for sports, was I knocked out by the nearly floor-to-ceiling chalkboard list of Long Islands or the fact that there seemed to be more flat-screen televisions here than in an H.H. Gregg showroom.

So what really impressed me about Kilroy's? What makes it stand out among downtown lunch options, and what is the main reason I will likely return in the near future?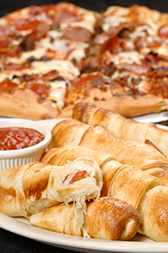 Kilroy's Meat-lovers Pizza is good, but it's upstaged by the rolled, stuffed breadsticks. (IBJ Photo/Robin Jerstad)
Simple. In the small, back-of-the-house game area, Kilroy's has its very own shuffleboard table—the sandy-topped kind that stretches across a room. The kind where the pucks require a special kind of finesse to keep them from dropping off the side. The kind where challenges are made. The kind I remember from … .

OK, so this is a dining review column. You're wondering about the food. Fine. But the fact that a lunch visit to Kilroy's can include a $2 shuffle game should be factored into all of my comments.

My companion/competition and I started with the obligatory Kilroy's Stuffed Breadsticks ($3.99 for an order of two). Wrapped crescent-like in a shiny, chewy dough, these hand-rolled appetizers provide an appealing alternative to standard dough logs. A word of warning: The sticks are huge. One or two are plenty unless you're ordering 'em as a meal. And if you want anything but pepperoni, better call early in the morning and ask nicely.

On the soup front, the Roasted Red Pepper and Gouda Soup proved more successful than the thick Chili (each $3.99). Our friendly but not overbearing waitress confided she hadn't tried the chunky-textured red pepper and gouda creation because it's been selling out. There's good reason.

Tachos ($9.49) sounded like another fun spin on a classic. Here, tator tots replace the traditional chips in a nacho-like platter. The massive mound that arrived on our table, though, wore out its welcome fairly quickly. One of the big plusses of nachos is that they carry the weight of guacamole, peppers, cheese (the liquid food-service variety, in this case), chicken, etc., in a way that tots just can't. Tortilla chips work whether hot or not. Plus, given the lettuce in the mix, reheating leftovers isn't an option. So if you order, make sure you have enough hungry people at the table to devour them quickly.

Pizzas only come in one size, so while the Meat-lovers Pizza ($16.99) found a nice balance of toppings, sauce and puffy crust (albeit with some of the bacon and sausage overly scorched), most of it needed to take a trip home afterwards. Unlike, the tots, it made it successfully through reheating.

Another Kilroy's staple is barbecue, which was the marquee attraction for the previous occupant of the spacious first-floor space, Smokey Bones. But Kilroy's BBQ should better stand the test of time. The pulled-pork sandwich, sampled during a previous visit, was moist and flavorful and generously served. The half order ate like a whole.

We didn't order dessert. After all, there was a shuffle game to play and eight quarters burning a hole in my pocket.•

—Lou Harry

__________

First in a month-long series of visits to downtown newcomers and reopenings.