This week, the ISO over-wraps its holiday show and Beef & Boards offers exactly what one would expect.
__________

When this year's edition of "Yuletide Celebration" maintains its focus on the Indianapolis Symphony Orchestra, guest host Maureen McGovern, and such returning bits as the tap-dancing Santas, it's as comforting as the show has ever been. Maestro Jack Everly and company even get away with incorporating a dog act into the proceedings, which helps warm it up even further.

Unfortunately, when it attempts to amortize the sign from its Vegas pops show—and find a place for a Liberace impersonator—it hits a snow bank.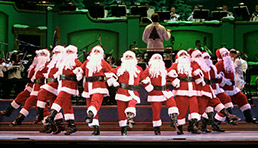 The dancing Santas are back at this year's "Yuletide Celebration." (Photo Courtesy Indianapolis Symphony Orchestra)
Meaningless to anyone under 40 and dubious to anyone under 50, a pseudo-Liberace is just the kind of act that the symphony should avoid if it wants to seem remotely relevant to contemporary audiences. One could easily argue that having a dog act as part of the Yuletide Celebration doesn't make a lot of sense either, but at least New Castle's Tony Hoard and his pups—popularized on "America's Got Talent"—bring a playfulness to the show. And, unlike Liberace-wannabe, Hoard knows a little something about the show biz axiom of leaving the audience wanting more.

McGovern proves an able host, playing to her vocal strengths and avoiding pandering with her best-known hits "The Morning After" and "We May Never Love This Way Again" or plugging songs from her most recent recording. Instead, she scats neatly into a snow-song medley and gives a heartfelt intro to a lovely version of "Mary, Did You Know?" A knowing, wise "Have Yourself a Merry Little Christmas" is another show highlight.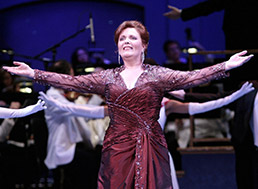 Maureen McGovern serves as this year's "Yuletide" hostess. (Photo Courtesy Indianapolis Symphony Orchestra)
Supporting singers are strong throughout, with some of the cloying of previous years seemingly turned down. A driven, almost cinematically western, arrangement of "I Saw Three Ships" gets a passionate read from the ISO players, and the company's straight-ahead presentations of sacred songs "O Holy Night" and "The First Noel" remind us of the power of voice and song and heart. An appearance by the ISO's new Wurlitzer organ doesn't make a convincing case that it's an addition to be celebrated—it comes off as an annoying sibling who insists on singing along with the record you enjoy. But here's hoping better uses will be found for it in the new year.
__________

"A Beef and Boards Christmas" isn't quite "The Lawrence Welk Show," but if you—as I did—experience a little déjà vu and flashback to the 1970s variety shows you watched on your Zenith, then so be it.
"A Beef & Boards Christmas" includes dancers and words of wisdom from Santa. (Photo Courtesy Beef & Boards Dinner Theatre)
Here, leggy chorus girls arrive right on the heels of religious songs, costumes seem to be changed between every performer's exit and entrance, and hoofing snowmen aren't out of the question.

Most surreal is a sequence involving a flying Rudolph (looking a bit like he's being hoisted onto a cargo ship) and a group of reindeer dancers who appear to come from a bizarre universe where Hugh Hefner and Santa merged their companies.

Kenny Shepard and Deb Wims are the amiable Fred and Ginger for the proceedings. Beef & Board's boss Doug Stark is a friendly uncle of a Santa Claus, and operatic Chris Dickerson booms an "O Holy Night" that surely could be heard from the Pyramids.
It's all in good fun, of course, and the spirited cast buys in completely. Santa even gets in some inspiring words, speaking of the time of year when "the world seems a little more filled with joy and hope." When he addressed the audience as "my dear friends," I believed him.•

__________

This column appears weekly. Send information on upcoming arts and entertainment events to lharry@ibj.com.