It's not on purpose, but I don't find myself discussing menswear here very often. That's probably because
men's clothes tend to be boring; shirt, pants, jacket (maybe) and you're done.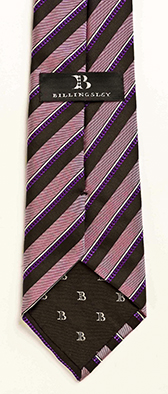 The "Stars and Stripes"
pattern is available in four color combinations, all chosen by Billingsley and Diemer. (Photo Courtesy Birk Billingsley)
Except for the necktie, of course, which is usually the only wardrobe fun a guy gets. Thick, skinny, long, short, bow,
cravat, it goes on and on. I want to buy one whenever I stroll through the men's department at Nordstrom, because they
look so pretty arranged in vibrant silk pinwheels of color. And soon we may see a locally connected tie on that highly desired
table.
Birk Billingsley, a Krieg DeVault LLP attorney who specializes in intellectual property, is a designer
of high-end neckties, and is in negotiations to sell them at Nordstrom.
Law by day and neckwear design by night
seems like a stretch, but tie making is serious business (especially at $130 a pop) and who could understand that better than
an attorney? It involves several layers of silk, all cut on the bias (diagonally) and sewn together in the back where the
pattern should match at the seam. A poorly made necktie will twist awkwardly when draped across the arm, which translates
into a less impressive knot and a skewed pattern as it lies on the wearer's shirt.
That's why Billingsley
ties are all handmade. Not that Billingsley himself is sitting crouched over a worktable with a needle and thread. That part
is left to his partner, Wallaya Diemer, who teaches theatre sewing instruction at IU.
While many quality ties
say "handmade" on the label, the duo's collection of dissected specimens proves the fuzziness of that term.
Many ties that boast of being "handmade" are merely slip stitched up the back. The tipping, or lining, is clearly
done on a machine. But the average tie buyer doesn't have any reason not to believe a label that says "handmade,"
which is why Billingsley admits it will be tough for his to stand out.
Other differences are a little more obvious.
On a Billingsley tie, the keeper—the label in the back of the tie that holds the skinny end—is higher than normal,
so that pesky tail won't slip out as easily. And Diemer takes great care in matching the pattern at the seam.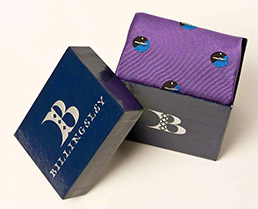 The "Attitude Indicator" pattern was Billingsley's first design. (Photo Courtesy Birk Billingsley)
The
label's three patterns are all designed by Billingsley and digitized by a design student at the Pratt Institute. The
fabric is produced at a British silk mill, the same one used by Ralph Lauren and Robert Talbott.
Billingsley
named the first design Attitude Indicator, offering a spin on the aeronautical instrument he became familiar with during his
pre-law-school days as an air force pilot. The look of the instrument, a round dial with different colored hemispheres, translates
well to a necktie pattern; a sort of whimsical polka dot.
The next pattern, Billingsley hopes, will depict tiny
Chinese lucky cats.
So far the company Web site has attracted sales from all over the country and Billingsley
and Diemer have been sending samples to celebrities such as Peyton Manning and Ellen DeGeneres.
The homegrown
business aspect is appealing, and I admire Billingsley's confidence in expressing an interest in fashion, but these
only go so far. The best part of Billingsley's products is that they're gorgeous. If my dad still wore ties, there'd
be one in his stocking this week.•
__________
If you'd like to share your own style
ideas or know anyone who's making waves in the fashion community, contact Gabrielle at [email protected] This column
appears monthly.

Please enable JavaScript to view this content.