Since he took office in 2003, Marion County Prosecutor Carl Brizzi has participated in more real estate deals than some full-time developers.
Records show he partnered in 2005 to develop a new Key Bank branch in Broad Ripple, and in 2008 he took an ownership interest in an office building in Elkhart that has the state as a major tenant.
He bought a 10-percent stake in downtown's Harry & Izzy's restaurant in 2007, flipped two condos in Broad Ripple's Reserve development between 2004 and 2009, and joined local real estate heavyweights in an attempt to launch a $30 million vulture real estate fund in 2007.

Brizzi
And this year, the Republican prosecutor considered buying a minority interest in a retail building anchored by the restaurant Café Patachou at 49th and Pennsylvania streets before ultimately passing on the deal.
Brizzi, 41, has come under fire in recent months for investing in public companies connected to his friend and largest donor, embattled businessman Tim Durham. But Brizzi's next headache could involve questions about his real estate dabbling—much of it done in partnership with another friend, Venture Cos. President John Bales, who last year won a no-bid contract to handle the sale of surplus city property.
Neither Brizzi nor Bales returned phone messages from IBJ, but a review of dozens of public records show their business relationship runs deep.
Bales led the effort to find new office space for the Prosecutor's Office in 2003, settling on 72,000 square feet at 251 E. Ohio St.
He also handles lease deals for state agencies and has a knack for buying buildings where the state (a reliable and lucrative tenant) eventually leases space.
One such building is at 1659 Mishawaka St. in Elkhart, where the Department of Child Services agreed in July 2008 to lease 13,000 square feet for $19.12 per square foot, or $248,500, per year. It's one of the highest per-square-foot rates for a state agency, and well above the $6-$10 range for available Elkhart office space listed on LoopNet. Other state agencies pay less for space in downtown Indianapolis.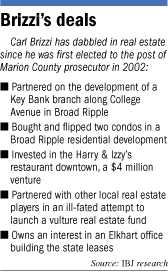 Brizzi has a stake in the building's owner, L & BAB LLC, that's worth $50,000 to $100,000, according to a federal disclosure he filed in May in preparation for a possible run for the 5th District U.S. House seat now held by Dan Burton.
He also disclosed an interest in Curtailing Investments LLC, which developed the Key Bank branch at 6410 N. College Ave. Records show the developer took out a loan for $1.15 million, secured by a long-term land lease with Key Bank, when it bought the property. Bales led the effort.
The investments are perplexing to Republican blogger Paul Ogden, who worries whether Brizzi's business interests make him less likely to go after white-collar criminals. He also questions how Brizzi can afford such investments.
"He's putting himself in a situation where he could have a conflict of interest should he have a need to prosecute anything related to these properties," Ogden said. "The prosecutor more than any other office has to have his financial dealings above board."
Company you keep
Brizzi has managed to build his real estate portfolio without a lot of money or extensive assets. He earns $125,000 per year as prosecutor, and he's still paying student loans. A divorce settlement filed in February shows Brizzi and his wife had three residences, each with first and second mortgages. He pays about $1,000 per month in child support for his four children.
The common thread in Brizzi's deals, with the exception of Harry & Izzy's, is a connection to Bales. The building at 49th and Pennsylvania is owned by a partnership led by Bales.
And while Brizzi turned to Bales for real estate advice, he may have turned to Durham for stock ideas. Brizzi invested in two Durham-affiliated firms—Red Rock Pictures Holdings Inc. and CLST Holdings Inc.—both of which have drawn recent scrutiny from federal investigators.
Brizzi also briefly served on the board of Akron, Ohio-based Fair Finance Co., a company the U.S. Attorney's Office says operated as a Ponzi scheme. FBI agents on Nov. 24 raided Durham's Indianapolis office and Fair's headquarters.
Durham, 47, has not been charged with a crime, and through his attorney he has denied doing anything wrong.
The disclosure statements said Brizzi also has held stakes in real estate holding companies called Vergina LLC and CJB Management LLC, although it wasn't clear what assets they hold. Both companies were registered with the Secretary of State's Office by attorney Patrick Dietrick, a former private-practice partner of Brizzi's who said he doesn't know anything about the companies.
Let's make a deal
In his most ambitious real estate undertaking, Brizzi in 2007 joined a group led by Bales and Venture in an attempt to raise $30 million to buy up distressed commercial and residential properties. But the effort, dubbed Venture Value Fund I, fizzled with just a few million dollars in commitments.
That same year, Brizzi took out a loan from Kansas City, Mo.-based Commerce Bank so he could buy the stake in Harry & Izzy's, which now is worth between $100,000 and $250,000. Brizzi was one of five shareholders, along with Peyton Manning and the owners of St. Elmo Steak House.
Brizzi's first deal as prosecutor came in 2004, when he borrowed $325,000 to buy two units in The Reserve in Broad Ripple, a condo project developed by Bales and several partners, including Steve Pittman and Barnes & Thornburg partner Ben Pecar.
The developers did not file sales disclosures for the units Brizzi bought, but loan documents show The National Bank of Indianapolis valued the condos at roughly $161,000 and $156,000. Brizzi sold one condo for $185,000 in 2006, landing a $24,000 profit. He sold the other in June 2009, but did not file a sales disclosure.
The investments don't appear to violate local ethics guidelines, said Robert Wechsler, director of research for CityEthics.org in Jacksonville, Fla.
"If not an ethical issue, it could be an appearance and political issue," Wechsler said. "It's a matter of judgment."•
Please enable JavaScript to view this content.