It started with a bursting bubble and ended with a bursting bubble. In between, the decade witnessed a massive terrorist attack, two wars, and a building-and-buyout boom fueled by easy credit.

The city skyline added an airport terminal, a football stadium, a library expansion, a massive downtown hotel, three shopping malls, four hospitals and myriad medical buildings, as well as countless condos and housing developments. It also watched two downtown stadiums come down.

Homebuilders soared and then swooned when Wall Street's bundling of subprime mortgages created a credit crisis throughout the world. C.P. Morgan and Davis Homes went the way of Bear Stearns and Lehman Brothers. A deluge of debt created a similar boom-bust cycle at local commercial developers Premier Properties (gone) and Lauth Property Group (bankrupt).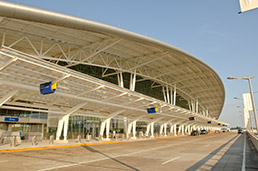 The midfield terminal at Indianapolis International Airport was the biggest of a slew of new building projects to rise on the local skyline. (IBJ File Photo)
Acquisitions and sales reshaped the corporate landscape. Anthem became WellPoint Inc. as it rolled up one health plan after another until it covered more people than any other health insurer in the country. Mall owner Simon Property Group Inc., which built a new headquarters downtown, failed in a hostile bid for one rival but snagged three outlet operators and is grappling for more.

Insurer Conseco Inc. succumbed to its debt and limped out of bankruptcy, then chased down Steve Hilbert and other former brass for unpaid loans. Medical-device maker Guidant Corp. called off its purchase of Bloomington's Cook Group only to become the prize in a bidding war ultimately won by Massachusetts-based Boston Scientific Inc.

Guidant's was one of several prominent corporate names to disappear, along with Bindley Western, First Indiana, Union Federal and ATA. Marsh Supermarkets Inc. sold itself to a private equity firm but retained its local presence and name—so far.

The buyout game took local financier Tim Durham to new heights, the top of the Bank One—er, Chase—Tower, but then to deep lows. The FBI raided his offices to probe his use of investor money to give loans to himself and his friends.

Eli Lilly and Co. continued to pooh-pooh the mega-merger chase, even under new CEO John Lechleiter, but then spent $6.5 billion on ImClone Systems—its largest acquisition ever. The company had its star drug Prozac taken away early by a surprising court decision, but survived by launching a raft of new drugs. It needs a similar performance now as it faces patent expirations on five blockbusters in the next five years.

While Lilly has shed jobs to cut costs, a local life sciences initiative has attracted millions in out-of-state venture capital to feed startup companies. Indiana and Purdue universities refashioned themselves as economic development engines capable of turning science into business.

Former Lilly executive Mitch Daniels became governor—the first Republican in 16 years. He brought with him a bevy of business honchos to run state government, pushing Indiana into daylight-saving time and pulling in new investments from Toyota and Honda.

The domestic automakers fared far worse, however, as soaring gas prices ended the boom in SUVs, and retiree health care costs sapped the competitiveness of General Motors Corp. and Ford Co. Both decided to close major plants in Indianapolis.

The city's professional sports teams traded fortunes, with the Indianapolis Colts soaring to a Super Bowl win in 2007 while the Indiana Pacers fell from a runner-up finish in the NBA Finals in 2000 to a perennially losing team known best for fighting with fans in Detroit.

Indianapolis Motor Speedway chief Tony George finally won the bitter battle between rival IndyCar leagues, but lost the Formula One race and ultimately lost his CEO job. His little-known successor is counting on female sensation Danica Patrick and new league sponsor Izod to help regain the Speedway's cachet.

Local leaders are struggling to maintain the sports venues that were the foundation of Indianapolis' downtown rebirth. The tennis, track and swim stadiums are stressing IUPUI, just as Lucas Oil Stadium and Conseco Fieldhouse are straining city government. Mayor Greg Ballard—who ousted Bart Peterson in a shocking upset fueled by voter ire over rising taxes—is still searching for a solution.

The new decade dawns on an economic downbeat: One in 10 Hoosiers is searching for work.•