The word "nuclear" isn't even mentioned, but Senate Bill 69 is a virtual launch code for reviving attempts
at commercial nuclear power in Indiana.
The bill filed by Rep. Phil
Boots, R-Crawfordsville, would allow a utility to recover from ratepayers certain
preconstruction costs for a "low carbon-dioxide-emitting or noncarbon-dioxide-emitting"
generating plant.
Otherwise, those costs could be recovered only after
the plant is commissiojned. Forcing a utility and its shareholders to cover all
costs during the years-long permitting and construction phase is a major disincentive to plant
construction.
SB 69 would expand a state law passed a few years ago
that allowed utilities to recoup preconstruction costs for so-called clean coal
projects—notably Duke Energy's coal-gasification-generating plant under construction
in Edwardsport.
There's not a single commercial nuclear power
plant operating in Indiana.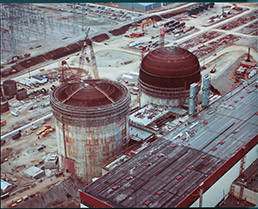 Work was abandoned on the Marble Hill nuclear power plant, near Madison, in 1984, amid construction problems and
cost overruns approaching $7 billion. (IBJ File Photo)
The last attempt, Public Service Indiana's
Marble Hill nuclear plant near Madison, was abandoned in 1984. Costs for what was
to have been an $800 million plant swelled to $2.8 billion with only about one-quarter
of the facility completed. Towering reactor buildings still stand at the abandoned site like a
symbolic tombstone for nuclear power in Indiana.
The Marble Hill spectacle,
which nearly drove PSI—now owned by Duke—into bankruptcy, has made nuclear
power in Indiana seem unimaginable ever since. But times change, with Congress now considering
so-called cap-and-trade legislation intended to penalize carbon dioxide emissions. Likely to be hurt
the most are Midwestern electric utilities that generate nearly all their power by burning coal.
Boots said coal-fired plants also contribute to air quality problems that
put several counties into nonattainment status with federal air pollution rules.
That status can stifle industrial development.
While utilities in
the United States balked at developing the industry after the Three Mile Island accident
in the 1970s, countries such as France have moved on to design more modern and reliable nuclear reactors.
"We need a myriad of things to generate power other than coal,"
Boots said.
The senator, who offered a similar
measure last year to provide cost incentives for utilities to pursue other forms of
generation, said SB 69 hasn't gathered much support so far.
But he argues that it's necessary legislation to help clear the way should a utility pursue nuclear
power. The permitting process for a plant can take a decade.
"We need to start having the conversation," Boots said. "This seems to be the easy
way to do it for right now … . It's just something I've thought about for a long time."
The version last year passed out of a Senate committee but did not advance. Opposing it was Rep.
Win Moses, D-Fort Wayne, chairman of the House Committee on Commerce, Energy, Technology and Utilities.
Moses has cited cost and safety concerns.
But is there even any interest among utilities in trying to fight the
specter of Marble Hill that still haunts Indiana?
Perhaps. There are rumors of interest in building a nuclear-generating plant at or
near the former federal chemical weapons depot in Newport, said one utility source.
It's also possible SB 69 could benefit Columbus, Ohio-based American
Electric Power, which operates a nuclear plant in southern Michigan that serves
customers in Michigan and northern Indiana.
Meanwhile, Charlotte,
N.C.-based Duke is exploring a nuclear-generating plant in Piketon, Ohio, teaming
with French nuclear power company Areva.
Among supporters of nuclear
power is Ohio Gov. Ted Strickland, who no doubt sees job potential: more than 10,000
construction jobs and 400 permanent jobs if the plant is built.
Such jobs potential could also interest Gov. Mitch Daniels, suggests Kerwin Olson, policy coordinator
for Indianapolis-based Citizens Action Coalition.
A plant could also
be a trophy for Daniels if he backs away from his insistence he isn't interested
in pursuing national office.
The Indiana Energy Association, a
trade group representing the state's big electric utilities, said it's not advocating for
the Boots bill this session. IEA's executive director, Ed Simcox, noted the
short legislative session makes such issues challenging to address.
Simcox said he suspects Boots' SB 69 "is purely his own interest" at this stage.
Marble Hill had a number of issues going against it. Construction began in 1977, with the Three
Mile Island accident two years later casting a magnifying glass on the safety of nuclear power.
Also, some workers came forward alleging they were pressured to sign off
on shoddy concrete work on Marble Hill's containment buildings.
At its peak, Marble Hill had about 8,000 construction workers who had erected
most of the major structures. But with cost overrun projections approaching $7 billion,
then-Gov. Robert Orr pressured the utility to cease work, worried that the project could bankrupt
PSI and burden its customers. The plant was abandoned in 1984.
Environmental groups argue that cost overruns would likely be an issue if a nuclear plant were built
today, noting that the estimated cost of even Duke's comparatively lower-tech coal-gasification
plant under construction in Edwardsport has jumped to $2.4 billion from $1.5 billion.•
Please enable JavaScript to view this content.