United Hospital Services LLC knows how to put an interesting spin on the typically mundane chore of doing the laundry.
The massive, 116,000-square-foot facility on the far-east side annually processes more than 36 million pounds of
linen for 30 hospitals and 400 clinics in Indiana, with a turnaround time as quick as four hours.
It's the largest laundry location in the state and operates as a cooperative owned by
11 hospitals, including local players Clarian Health, St. Vincent Health, Community Health Network and
St. Francis Medical Group.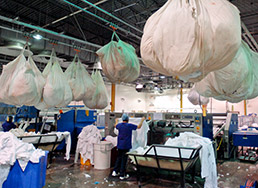 United Hospital Services handles more than 36 million pounds of laundry annually for its members, which includes
30 hospitals and 400 clinics. (IBJ Photo/Robin Jerstad)
The cooperative generates $19 million
in annual revenue for the owners, which collectively reinvests much of the modest profits in new equipment.
Founded in 1964, the intent is to reduce hospital operating costs by sharing laundry
expenses instead of making a load of money.
Yet, UHS President Ed McCauley, who arrived
in 2002, thinks the operation is ripe for expansion.
It boasts a market share of 70 percent
within an 80-mile radius of Indianapolis, providing an incentive to broaden perhaps even to the entire
state.
Creating the expansion opportunity is the dwindling number of hospitals performing laundry duties in-house.
In fact, Modern Healthcare magazine this year again said laundry topped the list of services most-often outsourced
by hospitals.
Moreover,
just a handful of small cooperatives exist in Indiana, offering
little competition for an expansion that could be accommodated by adding a second shift. The
plant runs from 7 a.m. to 3:30 p.m. six days a week.

A stellar reputation doesn't
hurt, either. Bill Mann, director of industry affairs at the Alexandria,
Va.-based Textile Rental Services Association, lauded
UHS as an industry leader.
"It just impresses me the way that
plant operates," said Mann, who paid a visit in early December.
"It's clean, it's orderly, it's productive and
the work looks great."
Officials of the operation are reluctant to discuss details of the
potential expansion, but they're quick to boast about its efficiency. UHS board member Debra Uhl,
the chief operating officer at Indiana University Hospital, preferred talking about
recent cost reductions directors negotiated with suppliers of the garments and linens members
rent from UHS.
"How many companies can say, 'Hey, we're going
to lower our costs by 5 percent,'" Uhl said. "As a board, we're extremely proud
of that."
Labyrinth of machinery
UHS owners built the plant near 30th
Street and Mitthoeffer Road in 1994, vacating the original location downtown. The former building, a
century-old brick structure on South Street donated by Eli Lilly and Co., has been demolished.
Visitors are greeted by signs in English and Spanish notifying job-seekers that the company isn't
hiring. Turnover among the 220 mostly Hispanic workers is minimal—roughly 1 percent a month, McCauley
said. He attributed the low rate to the attractive benefits offered by a union shop coupled with a progressive management
style.
Inside the plant, the beehive of activity is amplified by the constant humming from the labyrinth of conveyor
belts and mammoth machinery.
Laundry delivered by UHS trucks is sorted by workers into bags as large as a compact
car. The bags are placed on a conveyer that hoists them to an overhead rail that in turn transports them to washers the size
of a semi trailer.
Extractors at the end of the washers squeeze out excess water and shape the linens into nearly
flat, circular "cakes." Robotic shuttles dump two cakes at a time into each dryer.
Dried linens then
are fed through a press for ironing, and are folded, stacked, tied and bagged for processing.
Each hospital's
laundry is washed at the same time, so workers know where to return any misplaced items.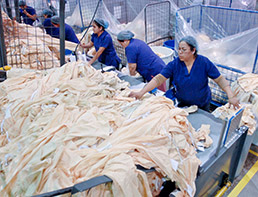 Workers sort laundry at
the facility, located on the far east side between Fort Benjamin Harrison and Interstate 70. (IBJ Photo/Robin Jerstad)
"If you find a doctor's wedding ring in a pocket, or whenever we
find a needle—something that shouldn't be in there—we can give
feedback to that particular hospital," McCauley said.
The latest addition is a $1.5 million tunnel washing,
drying and extracting system that provides the flexibility of loading by hand or by overhead rail.
Linen gowns 'green'
The cooperative owns a fleet
of trucks and employs drivers to pick up and deliver hospital laundry. Clean and
soiled linens are never together in the same truck.
UHS' inventory includes 350
items ranging from physician gowns to bedsheets to washcloths. UHS charges a rental fee for each article
every time it is used. A bedsheet is 38 cents, for instance.
Physician scrubs that
must look particularly presentable are placed on hangers and led through a steam tunnel to rid them of
wrinkles. Surgical gowns and linens are given even more preferential treatment and are packed in a separate,
climate-controlled room to help reduce transfer of bacteria.
Linens with tears or other
faults are examined to determine whether they can be repaired. UHS keeps $1 million of new linen, or three
months of inventory, on site.
Disposable isolation gowns made of paper are considered a competitor. McCauley,
of course, argues in favor of cloth gowns and touts their "greenness."
Said
McCauley: "Would you rather use a sheet 50 times or use 50 paper sheets?"•
Please enable JavaScript to view this content.