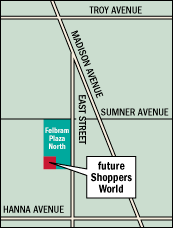 Discount department-store chain Shoppers World has signed a deal to take over a shuttered Target store on the south side.

The New York-based chain agreed to lease the 85,000-square-foot space in Felbram Plaza North shopping center along U.S. 31 South from New York-based Nassimi Realty. Target closed the store when its lease expired in January 2009.

The Shoppers World store is scheduled to open in March, said Andrew Levian, a leasing agent with Nassimi.

Shoppers World has one other location in Indianapolis, in Lafayette Square Mall. That store opened in 2008, taking a 100,000-square-foot space formerly occupied by J.C. Penney. It was the first outpost in the Midwest for the chain, which operates 10 stores in New York and New Jersey.