TV-news investigation into the Salvation Army's real estate holdings in Massachusetts has brought to light the organization's
nationwide practice of providing housing to officers.
In Indiana, the Salvation Army owns 34 residences, including
10 in Indianapolis with a combined value of $1.6 million.
The Salvation Army is a church, and it justifies providing
houses to officers because they're members of the clergy who must relocate every few years.
The real estate
holdings may come as a surprise to outsiders, who see the Salvation Army as a human-services charity with a religious mission.
"Salvation Army doesn't present itself publicly as a church," said Jay Geshay, senior vice president
of community planning at United Way of Central Indiana.
Most people know the Salvation Army for its trademark
red kettle drives around Christmas. The Indiana division had more than $10 million in revenue in 2009, according to its annual
report, and 39 percent of that came from the public. Another 8.8 percent came from the United Way.
For buying and
maintaining officers' residences, however, the Salvation Army relies on a separate capital fund managed in Chicago,
said Jeff Stanger, director of development in Indianapolis.
"It's really important to know that the
money that's used to purchase those homes does not come from kettle money," Stanger said. "It does not come
from public appeals."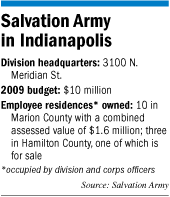 The capital fund is fed by donor bequests, Stanger said. Salvation Army officials would not provide further
details about the capital fund or how much is spent maintaining houses for officers.
Although
United Way vets all its agencies' finances and programs, Geshay said he didn't know about
Salvation Army officers' houses until he read about a New England Cable News exposé.
That piece, which aired Jan. 4, focused on a $799,000 home, purchased in 2007 at the urging of
Massachusetts division leader Major William Bode. The Salvation Army sold two less expensive homes to
buy the large house in the Boston suburb of Needham.
Geshay said he has no quibble with Salvation Army officers
getting free housing.
"I viewed this like a parsonage," he said. "It was not something that alarmed
me."
The Salvation Army owns 13 tax-exempt residences in the Indianapolis area. Three are in Hamilton County.
The five divisional officers or officer-couples, who work at the Meridian Street headquarters, receive housing
and vehicles. The benefit extends to officers who run neighborhood-based "corps" and specialized service centers,
such as Harbor Light for addiction treatment.
The vehicles provided to local officers are usually vans, so they
can give rides to others, Stanger added.
Indiana divisional commander Major Dick Amick and his wife, Major Vicki
Amick, live in a house near 86th Street and Township Line Road that's worth $229,900, assessment records show.
Dick Amick drives a 2007 Toyota Camry, and the couple's combined salary is just under $30,000 a year, Stanger said.
"That's the top guy," he said. "It's not like piles and piles of donations are going
into that type of overhead."
The charity watchdog American Institute of Philanthropy frowns on not-for-profits
that pay for executive housing.
"It's cleaner to just pay somebody a salary for the work they perform,"
AIP President Daniel Borochoff said.
Other Indianapolis not-for-profit executives who enjoy free housing include
Maxwell Anderson, CEO of the Indianapolis Museum of Art.
Anderson lives at Westerley, a mansion the Allen Whitehill
Clowes estate donated in 2001. Museum spokeswoman Katie Zarich said the Clowes estate also gave money for a renovation, but
maintenance is part of the IMA's operating budget. The IMA did not disclose how much it spends maintaining Westerley,
but Zarich said the house is used to host museum events.
Two more donated mansions—former Lilly residences
in Crow's Nest—provide part-time and full-time residences for the president of Indiana University and chancellor
of IUPUI.
AIP's Borochoff gives the Salvation Army high marks for financial transparency. As a church, the
organization doesn't have to file a federal tax return, but it disclosed the information requested.
The Salvation
Army's weak point is governance, Borochoff said. The organization has local advisory boards, but no independent board
of directors that could have prevented the questionable real estate transactions in Massachusetts, he said.
Diane
Nichols, chairwoman of Salvation Army's Indianapolis advisory board, said local leaders take suggestions seriously.
Nichols said Amick recently agreed to put off much-needed repairs to the headquarters' limestone façade.
Nichols said the board and Salvation Army officers didn't want to give the impression that donations were being diverted
from people in need. "These economic times, we're concerned about the people we serve," Nichols said. "All
that money you receive needs to go to help the people."•
Please enable JavaScript to view this content.