Developer J.C. Hart Co. is making a $100 million bet that luxury apartment communities will continue to thrive in Hamilton
County, particularly along 146th Street.
The 33-year-old company, based in Carmel, plans to open more than 800
apartments at Saxony in Noblesville, Legacy in Carmel, and Symphony in Westfield in the next few years. The privately held
company already owns and manages almost 700 units in Hamilton County—a sizable chunk of its 3,000-unit portfolio.

Hart
The
$28 million, 287-unit Legacy Towns & Flats along 146th Street west of River Road opens this month,
and the $23 million, 269-unit District at Saxony at 146th Street and Interstate 69 near Hamilton Town Center is scheduled
to open in May.
Next up are two projects in Westfield: a $21 million, 238-unit community at Grand Junction, and
a $30 million, roughly 300-unit project at the entrance to Symphony, a 1,400-acre community Estridge Co. is developing north
of 146th Street at Ditch Road.
The company also is adding 28 apartments at its Waverley project along East Street
downtown and 125 units at StoneBridge along Banta Road next to Southport High School, and hopes to build more than 200 apartments
as part of the redevelopment of the old Fort Benjamin Harrison.
But the primary focus for J.C. Hart is north
of 96th Street.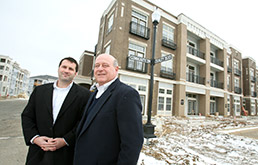 Todd May, left, and John C. Hart Jr. on the site of JC Hart's apartment community at the Legacy on East 146th
Street in Carmel. Three-bedrooms cost about $1,200 per month. (IBJ Photo/ Perry Reichanadter)
"Hamilton County
is our platform—we expect it to continue to be the center of growth," said John C. Hart Jr., the company's
president.
Apartment resurgence
J.C. Hart Co. formed in 1976 when
Hart went into business with his father, who had built more than 10,000 homes in the Indianapolis area starting in the early
1950s. In the 1980s, around the time John Sr. retired, the company began focusing on upscale apartments.
The
company has spent $227 million to develop more than 4,600 units.
The housing boom in the mid-2000s was a bust
for J.C. Hart; just about anyone with a pulse could get a home loan.
"We literally had people who didn't
have the credit to rent from us going out to buy homes," said Todd May, Hart's vice president of development.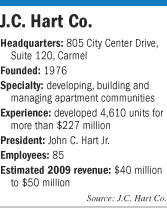 Of course, that has changed. As the single-family housing market cratered, multi-family stepped in. Annual revenue
for J.C. Hart grew 20 percent in 2008 and 2 percent in 2009, to roughly $50 million.
Vacancies
and discounting are down. And Hart, which has 85 employees and plans to hire about 10 more this year,
expects revenue to grow about 2.5 percent in 2010.
The long-term outlook for apartments
is strong, but there are near-term challenges. Financing remains tough for developers. And weakness in
the single-family market has conspired to squeeze apartments from multiple directions: More condos and
homes are being offered for rent, thanks in part to a rash of foreclosures, and incentives for first-time
homebuyers also have lured away reliable renters.
In the Indianapolis area, the apartment vacancy rate stood
at 10.7 percent at the end of 2009, up from 9.1 percent a year earlier and 9.8 percent in 2007, and Tikijian Associates Multihousing
Investment Advisors predicts it will jump to 11.1 percent this year.
A bullish sign for apartments is falling
homeownership rates. The nationwide rate peaked at just above 69 percent in 2004 and has been steadily dropping since, to
67.6 percent as of Oct. 31, Census Bureau data shows. In Indianapolis, homeownership peaked in 2006 at about 76 percent and
has since fallen to 71.8 percent.
The under-35 set registered the steepest homeownership drop, falling to 39.8
percent, down almost 8 percent from the same period in 2008.
Target market
J.C. Hart apartments feature contemporary, appealing layouts designed to draw the attention of so-called echo
boomers, the children of baby boomers, who are expected to feel less urgent about buying homes and more content with nice
apartments, said George Tikijian, principal of Tikijian Associates.
Not many apartment developers include indoor
basketball courts in their apartment communities, or rooftop swimming pools with skyline views and clubrooms with pool tables
like those at downtown's The Waverley.
For J.C. Hart, the first design principle is: There's no
template. The company starts each project with a clean sheet of paper.
At the project in Carmel's Legacy,
first-floor apartment units are designed for eventual conversion into retail space if demand warrants, and each building has
a different design. The units start at $700 per month for a studio and three-bedrooms cost in the $1,200 range.
"Apartments can be very boxy, but Hart has done a nice job designing cool units," said Tikijian, who in the
past brokered J.C. Hart deals to sell the 314-unit Buffalo Creek community in Indianapolis and the 252-unit Sand Creek Woods
in Fishers. "I would assume residents like living there and like working there."
Of course, the echo
boom demographic group—which is 5 million people larger than the baby boom generation—won't provide much
of a housing-market boost if more of them don't find jobs, said David Flaherty, CEO of locally based Flaherty &
Collins Properties, which developed the iconic $33 million Cosmopolitan on the Canal apartments downtown.
"The
outlook for apartment demand looks really good," said Flaherty, who builds both affordable and market-rate apartments.
"It's just tough now because of so many job losses. If you don't have a job, you probably aren't going
to be renting an apartment."
Field of dreams
J.C. Hart is betting the jobs
will come. The company is easily the most active conventional apartment developer in Indianapolis, thanks both to its confidence
the market will come back, and a little luck.
The company closed on several financing deals late in 2008, when
the debt market was just showing signs of a deep freeze. New deals will require the company to find new financing sources,
possibly including private-equity firms.
Hart was able to build its apartment projects at Legacy and Saxony,
but other components of the master-planned communities stalled.
Flaherty & Collins is facing a similar dilemma
for its apartment community in Duke Realty Corp's Anson. New-urbanist apartment buildings look particularly odd all
alone in the middle of cornfields.
"Apartment guys can get things done when others can't,"
Flaherty said. "We're not thrilled with the activity at Anson, and would love to have more going on out there.
It will come."
The principals of J.C. Hart say they aren't worried about the non-apartment portions
of Legacy and Saxony. Eventually, the market for those product types will improve, and the land will be developed.
On the bright side, the apartments now are more visible to potential customers.
"We make sure our communities
can stand alone if need be," Hart said. "We build all our own amenities so the properties are attractive to live
in."•
Please enable JavaScript to view this content.