This week, Cincinnati's Playhouse in the Park launches novelist Walter Mosley's first play, and a Broadway
star shares the wealth of her talent in Muncie.
__________
As busy as Indy's own arts and entertainment offerings keep me, I'm a big believer in the
occasional cultural road trip. Such jaunts, whether to museums in Chicago, theater and music in New York,
or whatever wherever serve to freshen my perspective, deepen my knowledge and, in one of this week's
cases, remind me that central Indiana isn't the only place knee-jerk standing ovations are given for undeserving
productions.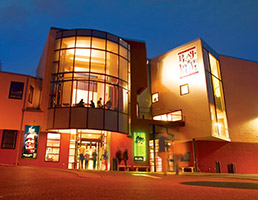 Cincinnati's Tony-winning Playhouse in the Park includes two theaters and a restaurant. (Photo Courtesy Cincinnati's
Playhouse in the Park)
Let's put that play aside for a moment, though, and praise the theater itself.
Why it's taken me this long to visit Cincinnati's Playhouse in the Park, I'm not sure. The company
regularly garners national attention and an impressive lineup of actors, including Scott Bakula, Anthony Perkins, Lynn Redgrave,
Cicely Tyson (in a color-blind production of "Pygmalion"—in 1970!) and Swoosie Kurtz, have appeared on its
stages. A revival of Stephen Sondheim's "Company" transferred from the Playhouse to Broadway in 2006, winning
the Tony Award for Best Revival of a Musical. That award is showcased in the Playhouse lobby, where you can also find its
2005 Regional Theatre Tony.
There's plenty more to see and do if you arrive early—which we did, in part to find nearby
street parking (which is scarce) and avoid paying the $10 lot charge. Playhouse in the Park houses Karlo's
Bistro at the Playhouse, offering a $27 fixed price full-course dinner (reservations should be made before noon
on the day of the show). There's also the cash-only Karlo's Casual Fair for soups, salads and sandwiches in the
lobby.
Not hungry? How about a pre-curtain art show? The Playhouse in the Park lobby walls are decorated with
works by local artists all inspired by the theater and its productions. Rather play a game? Look up and you'll see that
props, one from each of the Playhouse's 50 seasons, dangle from the ceiling. Contest entry sheets are available if you
want to try to guess the shows they came from (the winner gets tickets to future shows).
And there's a bar, of course.
If it seems like I've been avoiding discussing the show itself, well, you might be right.
I'm second to none in my admiration for its writer, Walter Mosley. I may have read more of his books than
I have any other contemporary novelist. His "Always Outnumbered, Always Outgunned" is on my short list of books
I reread every few years. It's that good.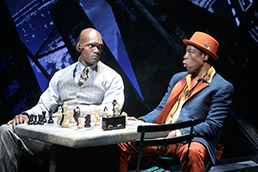 Matters of life and death are debated by an angel and a mortal in Walter Mosley's "The
Fall of Heaven." (Photo Courtesy Cincinnati's Playhouse in the Park)
Unfortunately, the elliptic nature of his novels, coupled with their philosophical conversations and short-story-like structure,
are not clearly suited for the stage. Adaptation has to happen, and Mosley hasn't gone far enough in turning his book
"The Tempest Tales" into the play "The Fall of Heaven."
Both concern a Harlem man, Tempest Landry, mistakenly shot and killed by police. Stubbornly insisting
to St. Peter that his sins aren't truly sins, he's sent back to Earth in another body while
an angel attempts to show him the error of his ways. What's at stake? The divine loophole Landry
has stumbled into will lead to the collapse of heaven unless he accepts that hell is his rightful place to
spend eternity. Acceptance of your true nature, it seems, is required before arriving at your final destination.
All of this works in Mosley's novel. On stage, though, it's a rambling mess—not helped by a lead actor
who, on opening night, seemed in a constant struggle not with the divine but with remembering his next lines. Information
is repeated. Scenes don't build—and arbitrarily end. And the arrival of the devil in the second act feels like
(forgive me) a Hail Mary pass.
Mosley hasn't done himself any favors by picking a book that is largely grounded in conversations
that take place months apart. For all its talk of heaven and hell and life and death, "The Fall
of Heaven" is oddly nonchalant. It's a play desperately in need of focus and urgency. Every scene—every
speech—seems three times longer than it needs to be.
Bright spot? The heavy-hitter production team—set designer David Gallo (Broadway's "The
Drowsy Chaperone"), ably abetted by "The Lion King" Lighting Designer Donald Holder—provided
a stunningly skewered New York streetscape.
Here's hoping Mosley isn't won over by the aforementioned standing ovation and goes back
into rewrite to shape a play worthy of the setting. That said, I'm still hoping to get back to
the theater in March for the world-premiere musical "Daddy Long Legs," with book and direction
by John "Les Miserables" Caird. Playhouse in the Park is clearly a theater that isn't
afraid to swing for the fences, which can mean an occasional strikeout, but also makes home runs possible. For more details
on the theater, visit www.cincyplay.com.
__________
Over the past few years, I've avoided writing about arts events that aren't open to the general
public. But in this case, I'm going to make an exception.
On a recent Friday, I spent the day at Ball State University, where the theater department was graced with the presence
of Sutton Foster, star of such Broadway shows as "Thoroughly Modern Millie,' "Young Frankenstein,"
and "Shrek." Foster was spending an intensive few days working with Ball State University undergrads—including
seniors prepping for a trip to showcase their monologues, scenes and songs for agents in NYC—and it was a thrill and
a pleasure to be a fly on the wall for those intensive sessions.
Many Ball State students now have a Facebook photo with a Broadway star thanks to a visit from Sutton
Foster. (Photo Courtesy Ball State University)
Forgive me if some or all of these are unfamiliar, but I have to mention some specifics.
"Tell Me on a Sunday" from Andrew Lloyd-Webber's "Song and Dance" became
even more heartbreaking when Foster convinced the singer not to show off her vocals and, instead, lie
down on stage and sing the song to a partner. "Come to Your Senses" from "Tic-Tic-Boom"—a
song I was ready to dismiss on a lackluster first hearing—became a compelling one-woman show …
when sung from the back wall of the stage. And the cryptic "Sailing" from William Finn's
"A New Brain" was revealed as a miraculously moving confession of guilt, sadness and intense love as Foster guided
sophomore Matt Glasner deeper and deeper into its emotional core.
Patient, humble and constantly searching, Foster inspired students to find the heart in their performances.
"What's going on?" "What do you want?" "What are you trying to do?"
Simple questions, yes, but she used them effectively to help break down the "I'm acting"
and "I'm singing" crutches and anchor each student in the moment. These were sessions
not about hitting notes but about hitting truths.
I'm sure much of what she was doing echoed the work of the theater faculty. But coming from a woman
who has premiered more major musical roles than just about anyone since Ethel Merman, the guidance energized
the students in remarkable ways. I'd gladly go to an evening of cabaret showcasing their talents.
And I honestly expect a few to beat the odds and make it onto major stages.
I already know what teacher will be thanked in their Playbill bios.
For more information about Ball State Theatre, visit www.bsu.edu/theatre.•
__________
This column appears weekly. Send information on upcoming arts and entertainment events to lharry@ibj.com.


Please enable JavaScript to view this content.