Bruce Flanagan had been searching for work for so long, he decided to make a career out of it.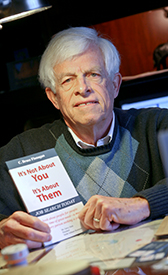 Bruce Flanagan wrote the book "It's Not About You; It's About Them." (IBJ Photo/ Perry Reichanadter)
The Indianapolis salesman stopped his two-year job hunt a year ago to launch his own consulting business, offering to help churches set up support groups for job-seekers.

He even wrote a book about job hunting, titled, "It's Not About You; It's About Them," which was published March 1.

"It's an ideal time to write a book on unemployment," said Flanagan, 69, wearing a sweater and khakis, and seated at a corner table in a Starbucks coffee shop.

Indeed, it is. Unemployment in Indiana hovers near 10 percent, with more than 300,000 people looking unsuccessfully for work.

The situation is slightly better in the Indianapolis area, where unemployment is 8.5 percent. Still, 73,000 people who want jobs can't find them. And thousands more want them but have given up looking.



Out of six professionals IBJ profiled a year ago, three have found jobs, although all have accepted lower pay than they were getting before. One could not be reached, but she still lists herself as looking for work on LinkedIn.com. Two tried to start their own businesses, with one giving up and one, Flanagan, still trying.

Flanagan, who remains in touch with job seekers through local chapters of the Business and Professional Exchange, says it's taking increasingly long for white-collar business professionals to find new positions, even longer than he saw in the early 1980s.

"It's the length of time it's taking to become employed," Flanagan said. "I know some people approaching the two-year mark."

Since the recession hit in December 2007, white-collar workers haven't faced as many job losses as their blue-collar counterparts. Indiana's manufacturing sector has hemorrhaged 104,000 jobs. Another 38,000 disappeared from trade, transportation and utility companies. And 29,000 vanished in the construction trade.
But predominantly white-collar sectors, such as business and professional services, and finance and insurance, have shed nearly 23,000 positions. The only bright spots have been in education and health care, which have added more than 13,000 jobs in the past two years.

The government sector, which offers a mix of white- and blue-collar jobs, has tacked on more than 5,000 jobs, buoyed in part by the federal stimulus spending approved last year.

Jerry Conover, an economist at Indiana University, says his forecasting models predict slightly positive growth for the predominantly white-collar sectors this year. But he doesn't expect a return to normal anytime soon.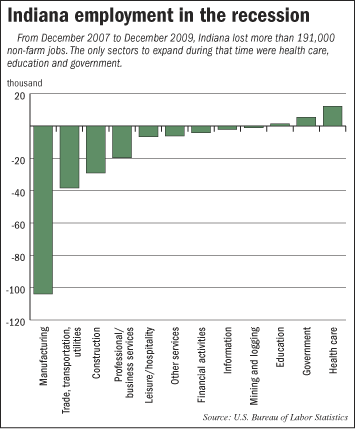 "It's going to be painfully slow because 8 million Americans are out of jobs now who had them a few years ago," he said.

Making connections

Lou Begnel found a job in the health care industry after 10 months of searching. The former manufacturing project manager at Eli Lilly and Co. took a voluntary buyout offer in 2008, then had a harder time than expected landing a new position.

His breakthrough came in a surprising way. As a four-year veteran of Toastmasters clubs at Lilly, Begnel answered a request from Toastmasters to start up a chapter at Covance Central Labs in Indianapolis.

Covance, which oversees clinical trials for pharmaceutical companies, is in a rapid growth mode as companies like Lilly cut staff and outsource more work.

During the Tuesday lunch meetings of Toastmasters, Begnel met a couple of Covance project managers, one of whom had hiring authority. He said he was looking for project management work.

The next day, a Covance human resource person called him to schedule an interview. Two days after that, Covance offered him a job. The job paid nearly $5,000 a year less than his Lilly job had, but Begnel liked that it would lead him into the field he wanted and provide him extensive formal training.

"It went very quickly," said Begnel, 34. He was all the more surprised since he had applied to a Covance online job posting several months before and heard nothing.

Volunteering has been a popular way of meeting people for the job hunters interviewed by IBJ.

After losing her job as an administrative assistant at Woolpert Inc., an architectural and engineering firm in Indianapolis, Norma Jean Graves helped with a clothing ministry for the poor at her church, Mount Pleasant Christian, as well as attended numerous networking and job-matching group meetings.

"My unemployed period was one of the best times of my life," said Graves, 63, although she admitted the lack of income put her behind on bills. "We just got our credit score hit," she said.

At a job seminar last June at Carmel Lutheran Church, Graves had her resume rewritten by Kim Lane, a branch manager at Creative Financial Staffing. Within a month, Graves said, she secured a slew of interviews and eight job offers.

She took one in the education field, but left after five months, saying it just wasn't the right fit. When she changed her LinkedIn profile to say she was looking for work, Lane saw it and pointed her to another job at Heritage Environmental Services LLC.

Graves started as an administrative assistant there last month.

"I've landed what I think is a great job," she said. "It all worked out."

Getting by

Sharon Gatlin-Chambers, who did not return messages from IBJ for this story, also has been volunteering while she looks for a job. The former sales executive for metals and plastics giant Alcoa Inc. has spent time volunteering for Girls Inc. in Indianapolis and lists herself on her LinkedIn profile as a loaned executive to the United Way.

Jená Hartman, a former commercial recipe developer, thought she had landed a job last summer with a food laboratory. But a week before her 90-day probationary period was up, the company let her go.

When Hartman, 60, took the job, she put on hold her attempt to start her own nutrition education and food preparation service. She hasn't restarted it but instead searched for food service jobs at nursing homes and hospitals.

They won't hire her, she said, because they think she is overqualified and fear she would leave for a better job.

"It's true," she said. "If a wonderful job would have come up the next week, I would have left. From a business standpoint side of it, I understand their point of view."

Meanwhile, Hartman and her husband, who lost his job in 2008 as a nursing home administrator, are making ends meet by spending some retirement savings, turning down the thermostat, buying groceries at ALDI, and shopping around for the best price on her husband's insulin.

Dale Hartman receives Social Security payments and also has started working part time at a convenience store.

Jená Hartman fills her time volunteering at Birthline, a Catholic clothing ministry for poor mothers, and crochets blankets while she and Dale watch TV at nights. But every day, she's on the Web searching for jobs.

"I'm convinced there must be some place here in Indianapolis that has an entire room wallpapered with all the resumes and cover letters I've sent out," she said.

Leaving town

Scott Sigman found a job after six months of searching—but it took him out of state. He is now director of research and marketing at the Greater Memphis Chamber in Tennessee.

Because Memphis is the global headquarters for FedEx Corp., as well as a hub for interstate, rail and river transport, Sigman is glad his new job furthers his career-long focus on trade and transportation analysis.

But it pays about a third less than Sigman was making at his previous job.

"Took a huge step back. That remains a frustration," said Sigman, 47, in relation to his pay.

Sigman said the stress of his job search also fell hard on his family. They had moved from Carmel to Boston in 2008, then moved back after Sigman's company was acquired and he was laid off.

When Sigman wanted to take the job in Memphis, his family didn't want to go along, he said. He and his wife are now going through divorce proceedings.

"It was the straw that broke the camel's back," Sigman said of unemployment on his marriage.

It's those kind of family and emotional issues that Flanagan wants to address by getting churches to start job-search support groups, which would operate similarly to divorce support or grief support groups. Two area churches have hired him to do just that.

"Unemployment is a very difficult time for the whole family," he said. It also can lead to very serious crises in a person's self-esteem. "When I lose my job, it really creates an identity crisis."•