FRANKLIN—The city of Franklin is using the post-flood era to push for comprehensive redevelopment in and around downtown.

The cornerstone of the plan is a flood plain southwest of the Johnson County Courthouse. Today it's occupied by a wrecking company and other back-lot businesses. Mayor Fred Paris wants to buy out those businesses and invite new residential development.

At the same time, the city is using federal grants to buy and demolish 68 flood-damaged homes south of Youngs Creek. The neighborhood, which is largely vacant since the June 2008 flood, would become a 12-acre green space. (For a video tour of the redevelopment areas, see video below.)

(Story continues below.)



Also on the drawing board: two city-owned buildings might soon get new retail or public uses, and the Johnson County library system is considering downtown for its next Franklin branch.

Fred Paris
If Paris is successful in even half the projects he envisions, the city will look much different in the next five years.

"I think what you'll see in Franklin, it hasn't been done haphazardly, that's the important thing," he said.

Franklin, population 23,000, always has had a small-town charm. It's known for its collection of historic homes and Franklin College. The landmark courthouse overlooks downtown, and to the south a well-used jogging path meanders along with the creek.



Now Paris wants to put his city on par with Broad Ripple Village or Zionsville—at least in terms of drawing new residents and commercial real estate investment.

"We don't want to copycat anyone else," Paris said. "We're creating a place where middle America can live, and enjoy living."

Paris, 54, was elected in November 2007 as an independent and plans to run again in 2011. Before taking office, he'd been a farmer, basketball coach and real estate developer.

The flood of June 2008 caused an estimated $180 million in damage to Johnson County homes and businesses, many of them in Franklin. In the aftermath, the Franklin Redevelopment Commission expanded its tax-increment financing area to include downtown. It also hired consultants to draw up conceptual plans.

Last year, the city created a private, not-for-profit entity, the Franklin Development Corp., and gave it $3 million in TIF-district revenue. Executive Director Craig Wells said the FDC's role is to coordinate efforts and help market the city. It will also be the entity that deals with landowners within the redevelopment zone, which is southwest of Jefferson and Main streets all the way to the creek.

One of the landowners in that area is Paris' brother Daniel Paris, who owns an auto-parts salvage yard. The mayor is the original champion of the buyout and redevelopment plan, but he doesn't see a conflict of interest in its potential benefit to his brother, who owns 2.8 acres in the area.

Paris reasoned that he won't have a direct role in the negotiations or approve of any land purchases. The mayor added that his brother is "frustrated," and told him, "If you're going to buy me out, why don't you do it before I spend all this money fixing my place up?"

Chicago-based consultant Real Estate Planning Group, working with Remenschneider Associates in Indianapolis, early this year presented a concept plan for the 23-acre southwest quadrant. The plan calls for a creekside park, new retail, townhouses, and some sort of public venue.

None of that can happen, however, unless Franklin can prevent Youngs Creek from flooding the area. The city hopes to get permission to divert the creek and has applied for a U.S. Army Corps of Engineering study grant.

Paris said the city will proceed one way or another. He noted that the TIF district is expected to generate another $5 million to $6 million over the next five years.

"We fully intend to redevelop that area," he said.

Ravaged neighborhood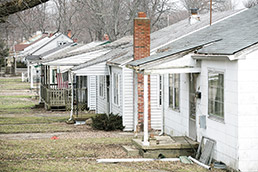 This flood-damaged area along Hemphill Street just south of Greenlawn Cemetery is slated for demolition. (IBJ Photo/ Perry Reichanadter)
South of the creek, the city is slowly working its way through $6.6 million in grants from the state and Federal Emergency Management Agency to buy out 75 homeowners—68 of them in the neighborhood south of Greenlawn Cemetery.

The FEMA grant for flood-hazard mitigation doesn't allow rebuilding in the flood plain, but officials are looking forward to expanding their park system.

"We're trying to bring more amenities to Franklin," Wells said. "Parks and outdoor recreation spaces are an important amenity that people want."

Restaurant owner Richard Goss said he welcomes any newcomer to the often-overlooked south side of downtown.

"Anything new going on down here that would bring notice to South Main Street is positive," said Goss, owner of Richard's Kitchen, an upscale steakhouse.

Goss also is keeping an eye on plans for a new Johnson County library branch downtown, which could help draw more customers to his establishment. The existing branch, east of downtown, saw about 170,700 visits last year.

The few retailers south of downtown also might get a lift from the city's re-use of the former police headquarters, a brick building south of the creek that backs up to Province Park. The department moved after the flood turned squad cars into virtual bath toys.

Among the options on the table, Paris said, are moving the city's senior center and banquet hall.

The flood created a game of musical chairs for other city offices. Bids are due by March 16 on the former city hall at 55 W. Madison St. and the former planning offices at 44 N. Jackson St.

The old city hall building, which is a block from the Artcraft Theatre, has drawn at least one early bid. Stone sculptor Steven Wilson offered $120,000 for the building, which has been appraised at $225,000 to $275,000. Wilson is hoping to open a gallery, artist studios and café.

A new library might have the greatest potential to boost traffic downtown, Larry Lund of Real Estate Planning Group said in his market study.

Franklin already ranks surprisingly high in "walkability," Lund said. He plugged the intersection of East Court and Main streets into Walkscore.com, which returned a 91 out of 100, making Franklin a "walker's paradise."

The Web site, which is becoming a popular gadget for real estate sales, spits out ratings for any location based on the proximity, number and variety of retail establishments.

Walkability, programming at the Artcraft Theatre, Franklin College and existing restaurants are all assets the city could market to new residents and businesses, Lund said.

"A lot of the county seats in other Indiana areas did not have very exciting downtowns," he said. "They're sort of suffering."

At the same time, Lund does not expect Franklin to go upscale. He noted that average household income in a six-mile ring around the city is $58,000.

In a quarter-mile ring around downtown, the average household income drops to about $44,000. In addition, the population density is relatively low.

"You have to target this to a more middle income," Lund said.•