To hear Ray Skillman tell it, his auto sales success is strictly a matter of persistence and passion. But after four decades
in the business, Skillman also clearly knows how to spot a bargain and negotiate a deal.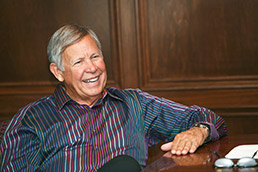 Skillman
got his start as a used-car salesman in Owensboro, Ky. (IBJ Photo/ Perry Reichanadter)
That's how Skillman has managed to buy five car lots in the last 12 months from other dealers who have struggled during
the recession. Thanks to the aggressive expansion, Skillman now ranks among the five largest dealers in the area. And his
chain is poised for even more growth.
Ray Skillman Automotive Group today boasts 13 showrooms at seven locations around Indianapolis. The business has nearly 600
employees, booked $240 million in revenue last year, and is projecting $356 million for 2010.
Not bad for a self-described hillbilly from Owensboro, Ky.

"You know, it's no trouble to buy dealerships. That isn't a big deal,"
Skillman said. "The big deal is finding the good people and the right people that can run it."
At 68, Skillman loves cars as much as ever, and spends many of his evenings restoring classics by hand. He smiles remembering
the first vehicle he ever owned: a 1950 Ford Businessman Coupe with no back seat. The 16-year-old Skillman souped it up by
dropping in a Chevrolet V8 engine. Two years later, straight out of high school, he opened his first used car lot in Owensboro,
a couple of hours down the Ohio River from Louisville.
"If you don't know any better, you can do anything," Skillman said.
Skillman, known for his heavy TV advertising in which he pledges to "stack 'em deep and sell 'em cheap,"
is thriving during one of the most tumultuous periods in auto industry history. The recession has seen brands like Saturn
and Hummer disappear. U.S. auto sales plunged 35 percent in the recession, to 10.4 million last year.
Lessons Skillman learned during the last deep recession in the early 1980s are serving him well now: Operate debt-free, or
as nearly as possible. Plow nearly all your profits back into your business. And share your success with a few trusted partners.
Deal-making dealer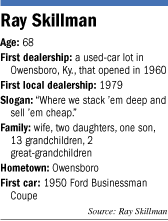 In 1979, Skillman moved to Indianapolis. He'd been buying used cars here
from Oldsmobile dealer Charlie Stuart for years. Stuart used to let Skillman pay after he'd sold them. Even more generously,
Stuart helped his son Chuck partner with Skillman and borrow the money to establish their own dealership just north of Greenwood
on U.S. 31.
Skillman bought out Chuck in 1987, and since then, he's expanded every few years, adding property and car brands. The
buying spree of the past 12 months was a product of opportunity, much of it stemming from Detroit automakers' accelerating
their push to thin their roster of dealer franchises.
Since 1989, the number of U.S. dealers has fallen from more than 25,000 to 20,000, according to the National Association
of Auto Dealers.
Partner and controller Dennis Vanemon said Skillman has been able to pounce on opportunity because he maintains a high working
capital ratio and a strong banking relationship with Chase.
Skillman has borrowed to fund recent acquisitions. But he said all five purchases came at bargain prices and that commercial
real estate—particularly empty automotive showrooms—are worth far less than they were two years ago.
Last year, Skillman bought a dealership across the street from his Mazda store on Pike Plaza Road from the Hare family after
General Motors shuttered it. He did the same with a Chrysler dealership formerly owned by the Palmer family. Both have been
incorporated into Ray Skillman's Westside Auto Mall.
On the south side, Skillman bought Bill Reeves' former Buick-Pontiac dealership, which was across from his Ford lot.
Skillman has since moved Ford into the property and added a Hyundai dealership to the empty space.
Skillman's acquisitions also include a Kia dealership he bought from Tom Wood last year. And last month, Skillman bought
a former Tom Wood Pontiac dealership—which most recently operated as Mike's Superstore—on East Washington
Street. He wouldn't disclose terms of the purchases.
"It's not really confusing," Skillman joked. "It's just a whole bunch going on in a short period
of time."
For the next year or two, Skillman said, he'll focus on digestion, although he's willing to consider more expansion
if a good deal comes along.
Last month alone, Skillman sold 1,400 new or used cars. He said he'd hire additional salespeople and sell even more
if he could find the right people. He said it's tough to find employees with the passion for cars and other skills to
be successful long term.
Growing market share
Skillman's piece of the pie may have grown, but the Indianapolis auto market has shriveled in the recession.
Dealers sold 42,677 new and 135,839 used cars last year, down from 59,013 new and 154,065 used cars in 2007, according to
Kentucky-based auto research firm Cross-Sell.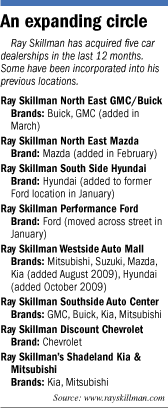 With only 10.4 million new cars sold nationally last year, there wasn't enough business
to go around, said Jessica Caldwell, a senior analyst for Edmunds.com.
"In an industry used to selling 16 million, from that alone you have to expect some casualties," she said.
To cope, dealers increasingly are leaning on service for revenue. That's a big part of Skillman's business model,
accounting for about 40 percent of revenue.
Tom O'Brien Jr., vice president of the O'Brien Automotive Family, said parts and tune-ups also have helped his
business weather the downturn.
But running auto dealerships is a tough business that's sure to see additional consolidation. To keep up with growing
chains like Skillman's, O'Brien said everyone else in the market has to step up, or see their customers gravitate
elsewhere.
"Our business is fraught with peaks and valleys," he said. "You have to be able to weather the valleys
to enjoy the peaks, and some just weren't prepared to do it."
Many dealers these days break even or worse on new car sales, said Alan Baum, principal of West Bloomfield, Mich.-based automotive
industry consultancy Baum and Associates. That means dealers have no choice but to grow and diversify.
Spreading back-office costs over a larger operation makes sense in major metro areas like Indianapolis, Baum said. But even
for larger players, lining up credit is challenging.
"Over the past couple of years, the banks, when they see anything automotive, they close the door," he said.
Succession planning
Skillman is gradually passing on his knowledge to seven partners who each own a minority stake in his business.
All but Vanemon started as car salesmen. He's trying to give them the same break he once got from Charlie Stuart.
"There's no such thing as a self-made business or a self-made entrepreneur," Skillman said. "He or
she has had some help along the way, a tremendous amount of help."
Skillman has three children, 13 grandchildren and two great-grandchildren. His two adult daughters live in Atlanta. One day
Skillman plans to turn everything over to his son Bill, but won't consider retirement anytime soon.
Skillman's still having too much fun checking out next year's new models, taking an occasional turn in the service
bay, and interacting with customers who visit his lots.
"I'm very blessed," he said. "I've been well taken care of with a job. If somebody would've
fed me, I probably would have done it for nothing."•
Please enable JavaScript to view this content.