If I'd been planning an evening of drinking and dancing, I might have had a problem with the amount of food I was wearing
after my meal at the Monon Food Co. (6420 Cornell Ave., 722-0176). Instead, my soiled shirt was simply a reminder of the best
fish tacos I've had outside my dad's kitchen.
Monon Food Co. set up shop a stone's throw from the titular trail on the north edge of Broad Ripple, in space that
housed Hogshead BBQ. The front deck provides plenty of outdoor seating, and the interior features ample bug-free options.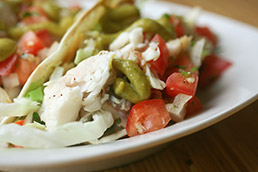 Tim's
Chipotle Fish Tacos feature lightly grilled tortillas, seasoned tilapia and chipotle mayo. (IBJ Photo/ Perry Reichanadter)
Diners order and pay at the counter, then are free to peruse the paintings hung throughout the restaurant while they wait
for their food to be served. Owner Tim Williams says his mission is to promote art through food, music and paint. I can't
speak to the last two, but the grub is darn good. (Two other perks: off-street parking and an impressive beer selection.)
We checked out the menu online (www.mononfood.com) and were glad we did, since the chalkboard version at the register doesn't
include everything—including appetizers. But we wanted to start with the BBQ Chicken Mini Rolls ($4.95). These warm,
tasty dinner rolls adorned with pulled chicken coated in the eatery's signature barbecue sauce and topped with shredded
cheddar cheese were our first clue that we'd be doing laundry when we got home.
All of our food was served in plastic baskets lined with paper, keeping dish-washing needs to a minimum but making it difficult
for patrons to maneuver a knife and fork. In fact, it took me at least a minute to even figure out how to attack the all-but-overflowing
basket of Tim's Chipotle Fish Tacos ($5.95). Finally, I just dove in (as my shirt later showed).
They're billed as soft tacos, but the tortillas are grilled briefly, giving them a slight crunch—and some structure.
My two tacos were literally stuffed with seasoned tilapia topped with shredded cabbage, chipotle mayonnaise, Monon salsa and
a creamy, almost sauce-like guacamole. The flavors practically exploded in my mouth.
My husband was similarly impressed by his State Fair Sausage Sub ($8.95), a grilled Polish sausage paired with onions, peppers
and marinara sauce. Although initially skeptical about such a Mediterranean treatment of Eastern European meat, he enjoyed
every messy bite.
As we've come to expect with good sausage, the casing provided a nice snap when he bit into it—but the recoil
put the bun through its paces. My grillmaster's solution: Butterflying the sausage to reduce its mobility. Luckily for
me, he didn't have that brainstorm until he also was splattered with food. At least I didn't look like the only
slob.•
–Andrea Muirragui Davis
__________
Third in our month-long series of visits to new Broad Ripple area dining spots.
Please enable JavaScript to view this content.