Senior Vice President, Chief Financial Officer
Indiana University Health
Major achievements during tenure
Jennifer Alvey leads the financial fortunes of the largest health care system in the state, which serves more than 1 million patients every year and employs 34,000. The 3,000 people who work for her—representing patient financial services, financial operations, real estate and treasury—know Alvey for both her financial acumen and her holistic approach to the job. Since becoming CFO in 2016, she and her team have worked to closely manage the system's expenses, reducing them as a percentage of revenue from 92% in 2016 to 89% in 2019. Since Alvey joined IU Health in 2011, revenue has grown from just over $4 billion to more than $6 billion, and IU Health has received credit rating upgrades across the board. Last year, the health care system's operating margin grew from 4% to 10%.
Alvey's colleagues appreciate her financial leadership but also applaud the compassion she demonstrates not just for IU Health employees but also for the patients the system serves. At Alvey's direction, IU Health adopted a policy of waiving outstanding financial burdens for the parents of deceased children. The system also began offering individualized patient cost estimates to support patients in making informed decisions regarding their care.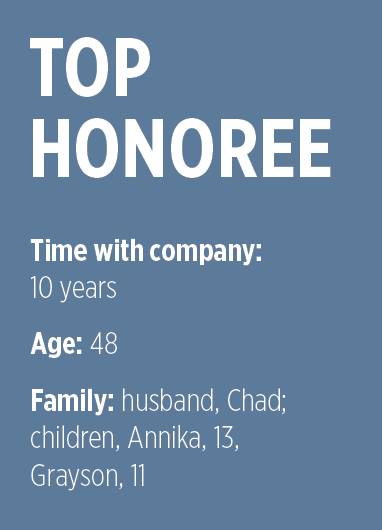 Career path
Alvey has a bachelor's in accounting from Indiana University, where she started her career, doing accounting work for Riley Hospital for Children and University hospitals when they were owned by the university. After earning her law degree at the Indiana University Robert H. McKinney School of Law at IUPUI, she worked at Ice Miller, where she specialized in bond work for higher education and health care organizations. Among her clients were IU and IU Health's predecessor, Clarian Health. She left Ice Miller to join the administration of Gov. Mitch Daniels and became the state's public finance director and CEO of the Indiana Finance Authority. From her first job through her work for the Daniels administration, the common thread in Alvey's career was her work for IU and IU Health. Accepting a job at IU Health a decade ago was an easy decision. "I felt the stars had aligned because I could still work in a role that combined my passions in higher education and helping Hoosiers in … an area of great public need, health care. …  I get to wake up every morning and help improve the health of Hoosiers at a place whose vision is to make Indiana a healthier state."
Challenges met
When the pandemic hit, Alvey spearheaded the creation of IU Health's resource command center, which redeployed employees whose work had been discontinued or slowed by the pandemic. Alvey was also instrumental in the implementation of free day care for clinicians who needed help with children in order to be able to keep working. Her team partnered with human resources to make sure IU Health administrative and clinical employees continued to get paid, set up payment grace periods for patients, accelerated payments to Indiana vendors and businesses to help them make ends meet, set up cost-free housing options for team members whose pandemic-fueled workloads didn't allow time to go home, arranged drop-off sites for personal protective equipment donations and set up dorms to house employees who needed to quarantine. "I'm particularly proud of how I was able to be part of an incredible group of people to ensure our health care system did everything in its power to support our patients, community and our own employees during this pandemic."
Givebacks
Alvey has been a volunteer at The Children's Museum of Indianapolis for the last decade. As a member of the board, she has served on the executive committee and in a variety of financial positions, including chairing the board's investment and finance committees. She previously served on the boards of the following organizations: Indiana State Lottery, Indiana Housing & Community Development Authority, Indiana Bond Bank, The HealthCare Group LLC, Indiana University Robert H. McKinney School of Law Alumni Board, MDwise Inc. and MDwise Medicaid Network Inc.
Downtime
Alvey spends a lot of free time supporting the football, basketball, cheerleading, volleyball and equestrian interests of her children. She also likes to entertain and has a special place in her heart for gardening. "Playing in the dirt plays to my southern Indiana farm-girl roots," she says. "I truly love it when I find time to go back home to our family farm in Perry County and get to spend time with my amazing parents and brother and the rest of my big family clan."
My job would be easier if …
"I could add several more hours to each day."•
Check out more CFO honorees.
Please enable JavaScript to view this content.