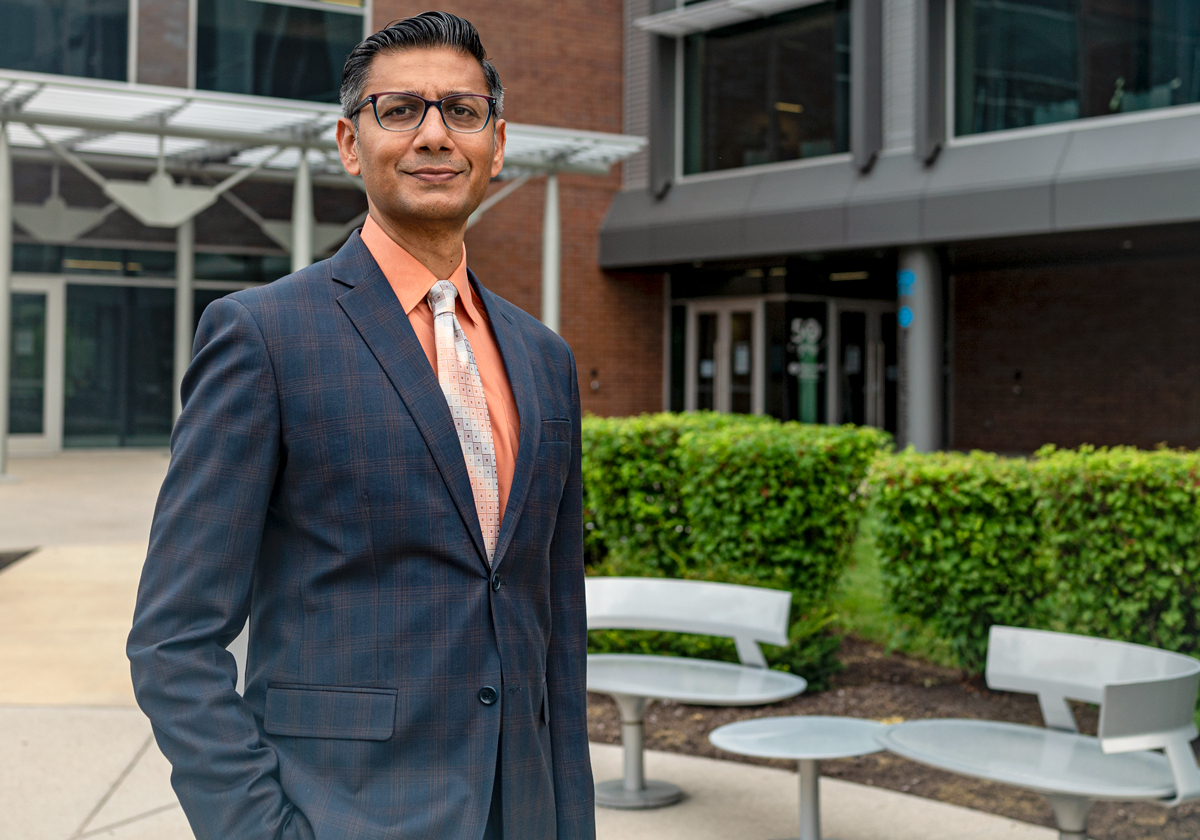 Honoree, Physician
Dr. Babar Khan
Regenstrief Institute
Research scientist,
Indiana University Center for Aging Research at Regenstrief
Associate director
Before COVID-19, Dr. Babar Khan spent about 75% of his time studying the prevalence and severity of delirium in intensive care units and how it was affecting patients in the long run. The rest he spent as a bedside physician.
The pandemic flipped those numbers. ICUs filled up with COVID-19 patients—many of them delirious—making Khan a front-line combatant in the fight to save lives but also elevating the importance of his leading-edge research.
"I didn't realize how my clinical life and research life would get intermarried so tightly," said Khan, 45, whose initial medical training in Pakistan eventually led to what is now an almost two-decades-long career at Indiana University Health.
Khan has been working in ICUs in Indianapolis since 2008. He remembers speculating with colleagues one evening about what happened to ICU patients with delirium after they were discharged. Khan did some research and discovered they weren't faring well. Data was coming out about long-term complications, but not much work was being done to address it.
Khan has been a giant in filling that void. "When I started as an ICU physician, I thought my job was just to help people survive the ICU," he said, but his work over the last decade has been devoted largely to what happens when they leave.
In 2011, Khan started the nation's first post-ICU outpatient clinic, specifically to address the physical and mental deficits often experienced by ICU patients. Since the pandemic, the number of such clinics across the country has doubled, to about 24, which includes Khan's first clinic, at Eskenazi Health, and a second one he started at IU Health Methodist Hospital.
Now associate director of the Indiana University Center for Aging Research at the Regenstrief Institute, Khan is investigating biomarkers linked to delirium, exploring the use of music to lessen it and evaluating alternatives to commonly used drugs linked to delirium.
Khan is known for his research, but his colleagues admire how he delivers bedside care.
Heidi Lindroth, a nurse scientist at the Mayo Clinic, in Rochester, Minnesota, saw Khan in action at the height of the pandemic.
"Many clinicians would minimize time spent in patient rooms because of the virus, but not Dr. Khan," said Lindroth, who appreciated not only his thorough explanations but also his compassion. "He provided a bright spot of social interaction in an overwhelming environment of social isolation."
Anything Khan can do to reduce the incidence and severity of delirium improves the odds of full recovery, which is his and his colleagues' ultimate goal.
"The best moments of my life are when I'm sitting in my clinic and a family comes in with a patient, and the patient and family recognize me. I can talk to them and help them get back to their normal lives," Khan said.
Giving patients their lives back is—or should be—the goal of all physicians, he said. "We need to treat our patient as a person and not as a disease entity. We need to move beyond syndromes and diagnoses and think about the patient as a person."•
Please enable JavaScript to view this content.