Indianapolis-based Republic Airways Holdings Inc. announced Sept. 21 that it will move its corporate headquarters to Carmel and consolidate its training programs there as part of a mixed-use development project along what the city calls the Meridian Corporate Corridor.
Republic, which provides passenger flights that operate under the flags of major airlines, plans to move about 1,900 jobs to what is now the site of Hamilton Crossing, a commercial strip at the southeast corner of Meridian Street and Carmel Drive that has been all but abandoned by retailers.
Republic's headquarters is now at 8909 Purdue Road on the northwest side of Indianapolis.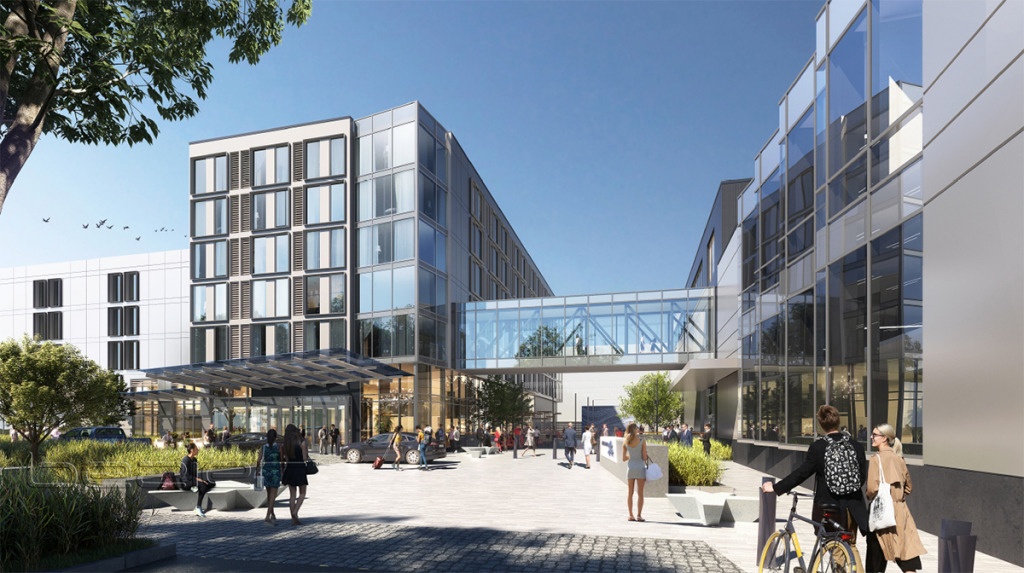 Carmel officials said the Republic project will "breathe new life into a commercial development that was impacted by upgrades made to U.S. 31." The changes cut off direct access to the site from the highway.
The city approved up to $49.5 million in tax-increment-financing bonds for infrastructure for the project, including upgrades in parking, streets and other infrastructure. The bonds will be backed solely by Republic Airways, the city said.
The project will include a high-tech training facility for pilots, technicians, flight attendants and other positions within the airline, the expansion of an adjacent hotel, and a new parking garage with commercial amenities on the first floor and multifamily living above. The move consolidates training programs now in Cincinnati, St. Louis, Indianapolis and several other locations.
The project will be constructed in phases, the city said. It will start with the 105,000-square-foot training facility, which will be three stories tall and visible to travelers on U.S. 31. It will include 20 classrooms, 94 workstations, two cabin trainers and eight flight simulators.
The city said the building will provide a "passersby with a unique view of pilot-training simulators through large bay windows that will face the highway." It also said an "eagles nest" viewing deck will allow visitors, school students and other aviation partners to view the training.
The headquarters will be built next, followed by an additional four classrooms and two more flight simulators. A hotel adjacent to the training center will be expanded to 274 rooms and used exclusively as accommodations for trainees, visiting instructors, business partners and colleagues traveling to the aviation campus.
The city said Kite Realty Group would be master developer of the Republic HQ project, along with Pure Development.•
Check out more year-in-review stories from 2021.
Please enable JavaScript to view this content.