Two sought-after national retail concepts are poised to open their first Indianapolis stores in a shopping center near Lake Clearwater.

Kite Realty Group Trust has recruited Nordstrom Rack and The Container Store as likely anchors of a redevelopment of Shops at Rivers Edge along 82nd Street at Dean Road.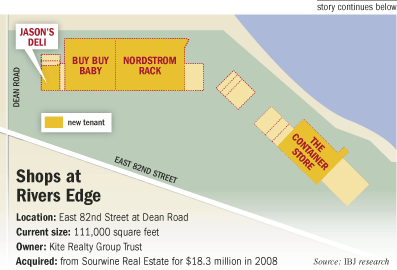 The locally based developer shared plans for an expansion of the 111,000-square-foot center with retailers at the International Council of Shopping Centers convention in Las Vegas May 23-25. The project would expand the center's existing footprint and give it an exterior face-lift.

A site plan shows a 35,000-square-foot Nordstrom Rack, a 22,000-square-foot The Container Store, and a 26,000-square-foot Buy Buy Baby. Buy Buy Baby, a subsidiary of New Jersey-based Bed Bath & Beyond Inc., already has a local store in Greenwood, but the other two stores would be their chains' first in Indiana.

Kite said in a March regulatory filing that it plans to spend $2.5 million on the center's makeover. No timetable was available.

The center holds a prime spot along the city's most attractive retail corridor. About 180,000 people live within a five-mile radius of the property and boast an average household income of more than $85,000.

Rivers Edge sits between the top-performing Fashion Mall at Keystone and Castleton Square Mall, both owned by Simon Property Group Inc. The Fashion Mall has Nordstrom as an anchor—a key selling point for Rivers Edge since Seattle-based Nordstrom prefers to open its discount-priced Rack stores close to its traditional stores.

"Landing Nordstrom Rack and Container Store would be tremendous—a nice complement to Keystone at the Crossing," said Steve Delaney, a principal in locally based Sitehawk Retail Real Estate and a fan of the Rack concept.

Nordstrom Rack carries merchandise from Nordstrom stores at a minimum 50 percent off original prices, along with apparel, accessories and shoes bought specifically for the discount stores. It has 75 locations in 21 states and has announced plans to add more than 30 stores by 2012.


McGowan
Kite President Tom McGowan said there are no "definitive deals" yet for Rivers Edge, and the plans still could evolve from the site plan presented in Las Vegas.

Developers often show names of retailers on site plans at the ICSC show before deals are done. But Kite, the owner of Glendale Town Center and Traders Point, doesn't typically show names unless executives have a high level of confidence deals will close. In addition to the Rivers Edge site plan, Kite lists Nordstrom Rack, The Container Store and Buy Buy Baby as new tenants in a property portfolio handout.

"Those are great tenants who would make a good market even stronger," said Connie Niessink, principal of locally based Niessink Commercial Real Estate. "It's a great lineup if they can pull it off."

To make room for the expansion of Rivers Edge, an existing Office Depot with an expiring lease would have to close, and a few smaller tenants would have to relocate. The site plans show Bicycle Garage Indy and Wild Birds Unlimited would remain, along with the restaurants Sangiovese and Taki.

The plans would not incorporate the vacant former AMC Clearwater movie theater, which sits behind part of Rivers Edge. The former theater is owned by locally based The Broadbent Co., which is marketing the property for sale.

Nordstrom has not yet announced plans for an Indianapolis Rack store, and a spokesman said the company does not discuss new stores until deals are signed.

The Container Store, a privately held Texas-based chain specializing in household storage solutions, also has not announced plans to open an Indianapolis store. But spokeswoman Audrey Robertson confirmed the chain's interest in an e-mail.

"We are excited to be looking at the market for a store location that would have a projected Fall 2011 opening, but we don't have a lease signed as of right now," she wrote. "As you can imagine Indianapolis has a dense population of our targeted customer base."

The Container Store expects a single location in the Indianapolis market for the foreseeable future, said Bridget Farren, principal of Farren Real Estate Services, who represents the chain.

Farren said no announcement is planned until the company signs a lease.

"The Rivers Edge rebirth appears to anticipate some new additions to the market," Farren wrote in an e-mail. "Kite is turning a good center into a dynamic landmark, placing a significant retail dot between the Fashion Mall and Castleton bookends."

Kite acquired the Rivers Edge center from Sourwine Real Estate Services for $18.3 million in 2008. At the time, it was one of several major retail redevelopments proposed for the 82nd/86th Street corridor.

The two largest proposals—for a $100 million expansion of The Fashion Mall and a new $700 million mixed-use project called Venu—fell through, leaving more potential tenants available for Kite's Rivers Edge redevelopment.•