Outside, it's a gloomy, rain-splattered May afternoon. But inside the second-story shop on Bloomington's famed Kirkwood Avenue, the vibrant green floor and multicolored merchandise displays provide a welcome antidote to the dreariness.

Within a few minutes, Campus Candy is full of customers looking for a mood brightener.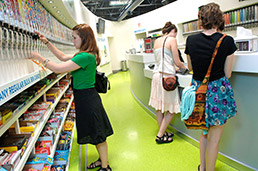 Lauren Schaefer, left, picks out some candy at Campus Candy, a new store in Bloomington. (IBJ Photo/ Perry Reichanadter)
"Look," co-owner Mark Tarnofsky said, gesturing to the crowd, "everyone's smiling."

That includes Tarnofsky and his partner, Jason Tynan. Although he would not share financial details because of competitive concerns, Tarnofsky said Campus Candy has sold four times more in its first two months than he expected.

Now the co-owners hope to replicate that success, rolling out an ambitious expansion strategy that calls for opening 50 stores across the country in the next 18 months and a total of 125 within five years.

"We have a very aggressive plan," said Tarnofsky, 48.

It certainly is a growth industry. The U.S. confectionery market did about $29.3 billion in retail sales in 2009, according to the National Confectioners Association, up 3.6 percent from the previous year. Nationwide sales have increased by $3.5 billion since 2005.

"It is a recession-proof business," said Amanda Weiss, owner of Mandy's Candys in Bloomington's Fountain Square Mall, about five blocks from Campus Candy.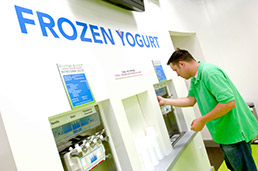 Jerremy Deckard, a manager of Campus Candy since it opened in March, cleans the frozen yogurt machine. (IBJ Photo/ Perry Reichanadter)
Still, growing so far so fast won't be easy.

"If you don't have vision and faith, you don't advance," said Thomas Hustad, a marketing professor at Indiana University's Johnson Center for Entrepreneurship & Innovation. "But [Campus Candy's growth plan] could be a bit unrealistic."

Maybe so, but business so far is better than Tarnofsky initially predicted. A New York City native who owns car washes and a school supply company, he decided to open the store after visiting his daughter at IU and making one too many treks to the drugstore for candy.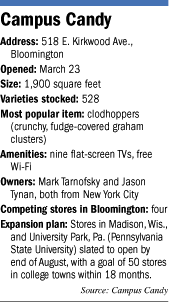 He contacted Tynan, a fellow New Yorker he met more than two decades ago. Before investing in Campus Candy, Tynan, 58, was chairman and CEO of Finity Apparel Group, which was sold to China Ting Group Holdings Limited.

The partners have invested more than $3 million in Campus Candy so far, which Tarnofsky said should fund the expanding business until mid-2011.

Campus Candy has signed leases in Madison, Wis., near the University of Wisconsin, and University Park, Pa., near Pennsylvania State University. The two new locations are set to open by Aug. 31.

From there, the company is eyeing campuses as far away as Arizona State University and the University of Florida, among others.

Such ambitious growth may not be advisable, however, said Todd Saxton, an associate professor of management at IUPUI. Although he admittedly has limited knowledge of Campus Candy, Saxton said it's usually a good idea to apply the "rule of five"—opening five stores before undertaking widespread expansion—to experiment with store size and marketing strategy to see what works.

Although it sells 528 varieties of candy—everything from chocolate-covered gummy bears to fudge-dipped graham clusters called clodhoppers—the store is true to its slogan: "We Ain't Just Candy." It also sells coffee, sandwiches and its own flavors of frozen yogurt, among other food items. The store also features nine flat-screen televisions and free Wi-Fi service.

"It's a little hipper, a little brighter and a little younger version" of hangouts like Starbucks, Tarnofsky said.

Creating a friendly environment is good, but it doesn't always equate to revenue, said Hustad, the IU professor. Starbucks is profitable, he said, because its prices far outweigh the cost of making coffee.

Campus Candy has to establish and maintain its own "unique brand promise" in order to profit, Hustad said.

The company has been doing that with help from Bloomington-based Excyte International, a marketing and brand-management company operated by three IU students. So far, the store has been using social media—mainly Facebook and Twitter—to connect with customers. It has 247 followers on Twitter and 778 Facebook fans.

"It's all about instant feedback," Tarnofsky said. "It's my responsibility to listen."

The company also is working on obtaining the domain name campuscandy.com, a former porn site that received about 100,000 daily hits, Tarnofsky said.

Campus Candy's Bloomington location above a restaurant—and across the street from a Dunkin Donuts, next to an Urban Outfitters and a block from a Starbucks—was chosen with demographics and traffic patterns in mind, he said.

"Let them do the work," Tarnofsky said. "What am I, reinventing the wheel? …You follow their lead."

Indeed, Kirkwood is ideal for a place like Campus Candy, said Talisha Coppock, executive director of Downtown Bloomington Inc., an organization that promotes downtown development.

"[Kirkwood] really cries for fun, funky, quick, really high-energy type businesses," said Coppock. "It is a very eclectic mix."

Campus Candy already is getting national recognition, including from its competitors—some of whom have sent high-level representatives to scope it out. Tarnofsky said some have asked about franchising, something the owners don't intend to pursue because they want to own—and control—all of their stores.

Expanding so broadly without franchising is risky, IU's Hustad warned. Increasing expenses, particularly rent, could have Campus Candy looking to simply break even, he said.

Even so, the struggling real estate market could allow for affordable growth, IUPUI's Saxton said.

Business likely will slow in the summer given the seasonal nature of college towns, he said, but that's not necessarily a bad thing. Since the business is so new, consumers tend to be curious and forgiving, making it a good time to experiment with products and culture, Saxton said.

"Now is a great time to be gaining some experience, building your toolkit, learning how to package it, how to interact," he said. "So when the time for expansion comes, you'll know a greater percent of what you have to do."•