Five years ago, Elizabeth Althardt taught reading in the traditional way: Develop lesson plan, teach lesson plan, write test based on lesson plan. Some kids passed, some kids failed. She moved on to the next lesson plan.

Now Althardt uses half a dozen different standardized tests—some given every other week—that produce a steady flow of computerized data for every student, every test question. She spends an extra hour a day, on average, poring over those numbers to figure out which concepts each student has and hasn't mastered and to see how each student has progressed from one test to the next.

Althardt is the new face of public schoolteachers—one part schoolmarm, one part business analyst.

That's because an avalanche of data about student performance has been piling up the past decade in public schools and, beginning next year, every teacher in Indiana will have ready access to performance metrics about each of their students.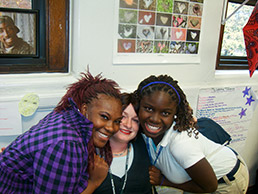 Arsenal Technical High School teacher Elizabeth Althardt congratulates two sophomores after they earned "A"s on a practice test. Althardt sees pros and cons to state's increasing emphasis on using data to guide schools. (Photo Courtesy Elizabeth Althardt)
On top of that, state education leaders are pushing teachers to constantly test students, review the data produced by those tests, then refine their instruction methods accordingly.

"It is business now. It's not apples and recess and share time. It's a business," said Althardt, 44, who teaches at Arsenal Technical High School, part of Indianapolis

Public Schools. IPS makes more data easily available to teachers than most districts do.

By business, Althardt means a focus on bottom-line results, despite the challenges students face. Her students last year included seven whose parents were murdered, one who moved 12 times during the year, and one whose mother sold him back to his dad for $60 in order to buy crack.
The bottom-line statistic for Indiana public schools will be students' yearly growth on standardized tests. Called the Indiana Growth Model, the system will be the ultimate measure of quality, not only of individual teachers, but also of the principals and school districts overseeing them and even the teachers' colleges that trained them.

The data won't just be for schools' use, either. The growth data becomes available to parents and the public a year from now via a "Learning Connection" feature on the website of the Indiana Department of Education.

Parents will be able to see whether each of their children advanced more or less than their peers—with peers being defined as students in the same grade statewide who had identical test scores at the start of the year. Also, the public at large will be able to see how well each of Indiana's 62,000 schoolteachers advances student learning—or slows it down—relative to the state average each year.

Schools and their principals will be judged the same way.

Gov. Mitch Daniels and Indiana public schools chief Tony Bennett want to link these new data to how teachers and principals are evaluated and paid, something called merit pay.

But perhaps even more significantly, parents and the public could use the data to put significant pressure on public schools and their teachers.

"I think this new data will be HUGE—and that parents from all sectors, maybe even urban parents most of all, will eat this up," Derek Redelman, an education lobbyist for the Indiana Chamber of Commerce, wrote in an e-mail.
IBJ.COM EXTRA
For a graphical explanation of the data flow,
click here
Any school or teacher not showing above-average growth rates, no matter whether they're in a poor neighborhood with low expectations or an affluent suburb filled with high achievers, could face tremendous backlash from parents, politicians or the press.

"It could turn a lot into, 'I don't want my son to have this certain teacher, because this teacher over here scored higher,'" said Steve Baker, principal of Bluffton High School near Fort Wayne, who is on a state committee to develop the Indiana Growth model and a merit-pay system based on it.

He cautioned that giving teachers and schools the equivalent of a student growth batting average could never capture all of a teacher's strengths or reflect all the challenges teachers face with their students.

"It's just not that simple to label someone and make that conclusion," said Baker, who is also president of the Indiana Association of School Principals.

But the pressure won't subside even after a student graduates from a public school. Beginning next year, each public school student will be able to be tracked as he or she heads to a state-funded university or into any job in Indiana.

Eventually, the entire Indiana public education system—teachers, principals, school districts and teachers' colleges—could be evaluated on the success (or lack thereof) their former students enjoy in college and the work force.

Data revolution hits education

The movement toward such massive data systems is happening all over the country for reasons both technological and political.

Great advances in computing power and storage capacity combined with the ease of sharing information over the Internet have made this data-driven future possible. Public schools are, in fact, just beginning to join a data revolution that has swept nearly every field—retailing, advertising, government, philanthropy. Even social communications, such as messages on Twitter, are now being cataloged, ranked and analyzed.

But the immediate catalyst for change has been President Barack Obama's decisive support for education reform even in the face of concerns from teachers' unions, a stalwart supporter of Obama's Democratic Party.

The U.S. Department of Education said states needed to build data systems in order to have a chance to win a chunk of $4.4 billion in stimulus funding in a competition known as Race to the Top.

Indiana has now withdrawn from that competition without winning any money. But Daniels and Bennett, both Republicans, are pushing forward anyway with their planned changes.

Their efforts are just the latest in a wave of attempts to use data to hold schools and teachers more publicly accountable for moving students forward.

In 1999, Indiana's Legislature passed Public Law 221, which required each school to show yearly progress in the percentage of its students passing the state's standardized ISTEP+ test. It is given every spring to students in grades 3 through 8. Ninth- and 10th-graders take a graduation qualifying exam they must pass to graduate.

Two years later, Congress passed a similar law, the No Child Left Behind Act, which demanded that 100 percent of students pass their state standardized tests by 2014. It also insists that schools show yearly progress on their scores and the percentage of students passing.

Making the pass rate the gold standard for accountability has prompted some schools to focus most effort on those students just above and below the passing line. Moving a few of the near-misses into the pass column—and not letting any of the barely passed students slip into the fail column—has been the surest way to generate a rising pass rate from year to year.

The highest- and lowest-achieving students can and do get overlooked, Bennett acknowledged. He hopes the Indiana Growth Model forces schools to focus on all students.

Teachers now give their students more and more mid-semester tests—to make sure their students are on pace to pass these year-end standardized tests.

The intense focus on testing has always been controversial. Even a self-confessed "data nerd" like Althardt admits she doesn't have time to track data from all the tests IPS requires her to give her students.

"It really is overkill," she wrote in an e-mail. "I really enjoy looking at my students' progress data, but if I'm honest, I only look at one or two of the myriad tests my kids are required to take."

Nevertheless, all this test data has produced a gold mine for education researchers. And their findings have generally confirmed early research done in Tennessee: that different teachers, even in the same school, produce wildly different results in student growth, making teacher quality the No. 1 factor in whether students advance steadily or fall behind.

Indiana's data system still has kinks and uncertainties to work out. For example, how will teachers in untested subjects, such as fine arts, be evaluated?

Also, schools would need to conduct professional development to help many teachers use data more aggressively, and teachers' colleges would need to adjust their training so their graduates knew right away how to use the Learning Connection data.

Bennett hopes that if state statisticians can present student data to teachers quickly and conveniently on a "data dashboard," it will help teachers determine what methods and practices are working with which students, and which are not.

Ideally, the data would help all teachers improve their instruction.

"It will change the way we teach. It really will be the ability to analyze data," Bennett said. "The premium was always placed on the instruction. Now we're saying there should be a premium placed on what drives the instruction."

Will numbers improve education?

Whether such a shift will transform public schools is hotly debated.

Leslie Fatum, a biology teacher at IPS' Shortridge Magnet High School for Law and Public Policy, said data reveals no more insight than what she gets by being with her students every day.

"I don't think the problem in education is that teachers don't know their students well enough. That's not the problem, that we don't have enough data," she said. "When you're down in the trenches, you know what the next battle is going to be."

Teresa Meredith, vice president of the Indiana State Teachers Association, the state's largest teachers' union, agrees.

The massive data system could make the use of data easier, but most teachers already review test data regularly to help them understand where students are struggling and whether their efforts to remediate are working.

Meredith, an elementary teacher who still works part time in the Shelbyville school system, gives weekly quizzes using a program that lets her quickly record students' verbal answers to questions into a handheld device. She then analyzes the results on her computer.

Meredith applauds the state for trying to give teachers more data to use in an easier format. But she's concerned Bennett's desire to publicize it and link it to teacher pay and promotions will have unintended consequences.

"There are so many ways it could be misused," she said, noting particular concern about linking a student's later poor performance in college or low earnings in the work world back to their education teachers.

"Are we to blame for that?" Meredith said. "How far back do they really, truly want to take it?"

For Althardt, however, Indiana's shift to student growth data gives her a chance to demonstrate her effectiveness as a teacher. Under the current pass-fail standard, she always looks bad, since many of her ninth-grade students come to her reading at a fifth-grade level.

"Before they were doing the Indiana Growth Model, it really, really upset me. I was thinking about quitting teaching," Althardt said. "You can't give me kids that are homeless, and then I get dinged when they don't pass."

She shares the growth data with her students to help motivate them to keep improving at a pace that will get them to the ultimate prize: passing their end-of-course assessment, which allows them to graduate.

When they succeed, she hugs them; when they slack off, she stands on a chair and yells at them.

"You start with the end in mind: We're going to get this kid to pass," Althardt said. "Then you can test, is that kid getting the incremental gains that they need to? And if they're not getting the gains, then we can ask [the data], why not?"•