Emmis Communications Corp. Chairman Jeff Smulyan's effort to take the media company private could be derailed by a
band of preferred stockholders who oppose the plan.
Smulyan
Texas investor Geoffrey Raynor and eight other preferred shareholders have promised to vote against changes to the company's
articles of incorporation that Smulyan would need to complete his $2.40-a-share buyout.
Emmis has scheduled an Aug. 3 shareholder meeting to garner approvals required to move forward with the deal, which values
the Indianapolis broadcasting and publishing firm at $90 million.
But Smulyan, 63, doesn't appear to have the votes required to change the articles of incorporation. The amendments
would need the OK of holders of two-thirds of the preferred shares. The dissident group owns 34 percent, according to Securities
and Exchange Commission filings.
Raynor and other members of the dissident group did not return calls, and an Emmis spokeswoman declined to comment, citing
SEC rules.
Emmis shares have swooned this month, as doubt among investors grew over whether Smulyan, Emmis' chairman and CEO,
would be successful in his bid to take the company private. Shares now fetch around $2, 17 percent less than his offer.
Industry observers say opponents apparently are holding out for a better deal.
Under Smulyan's offer, holders of preferred stock would convert those shares into bonds. They would receive just 60
cents in bonds for every $1 in preferred stock. But the bonds would pay a hefty 12-percent interest rate. That's nearly
double the rate Emmis was paying on its preferred stock before it decided to suspend payments in late 2008 because of financial
struggles.
Smulyan this spring lined up a financial backer—Alden Global Capital of New York—to fund the purchase. It would
buy $97 million of a new class of preferred stock, and would receive warrants to buy common shares at a nominal price.
Though Alden officials couldn't be reached for comment, industry observers speculate the private equity firm might
walk away if it appears opposition will delay the deal too long.
"A financer of a deal like this won't let the offer linger very long," said Robert Unmacht, principal of
IN3 Partners Inc., a Nashville, Tenn.-based media and investment banking consultancy. "This market is still somewhat
unstable so I'm sure [Smulyan] and his financer will want to get this tied off."
The dissident holders of preferred stock also appear to have the clout to block the deal by refusing to exchange their shares
for the 12-percent bonds. The deal requires holders of at least two-thirds of the preferred shares to agree to the swap.
The preferred shareholders aren't the only Emmis investors causing Smulyan headaches. Holders of common stock also
are challenging the transaction in court, though a Marion County judge on July 27 denied a request for a temporary injunction.
Smulyan's proposal also requires approval from the holders of a majority of Emmis shares, a threshold Smulyan likely
would be able to meet. Alden already is a major shareholder, and Emmis executives who plan to roll over their stakes also
would be expected to vote yes.
The wrangling is unlikely to pay off in a big way for opponents of the deal, said Mark Foster, chief investment officer of
Kirr Marbach & Co. in Columbus, Ind.
"At this point, I'm not sure what these people want," Foster said. "Many of these investors have
ridden the stock down from $25 or more per share. What are they holding out for now? Twenty or 30 cents?"
This is not Smulyan's first attempt to take the company private.
Smulyan made an offer in May 2006 to acquire all the company's stock for $15.25 per share in a deal that valued the
company at $567 million. He called off the deal a few months later after he couldn't reach terms with the board.
Not long after that, the bottom fell out of the radio-advertising market, sending Emmis stock in a downward spiral.
Smulyan's offer is about an 84-percent discount to the previous offer. Since that offer, however, the prospects for
the radio industry have dimmed substantially. The company also issued a $4-a-share cash dividend that pushed down its stock
price.
The radio industry has been besieged by a changing media landscape, with satellite radio, expanding cable television and
the iPod eating into its audience share.
"The Emmis investors have fought this fight, they've stood on their principles," Foster said. "Everyone
has taken a bath over this. At some point, you'd think they'd cut bait and move on."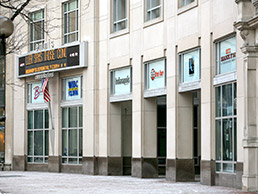 Industry
analysts think if Emmis goes private it can use cash flow to pay down debt. (IBJ File Photo)
One thing that Foster said has kept investors in opposition of Smulyan's privatization plans are the high-profile stations
Emmis owns in markets such as Los Angeles, New York and Chicago.
"The stockholders continue to think they're owed more because Emmis has this beachfront property," Foster
said. "But what the stockholders have missed is the same thing that Smulyan himself was slow to recognize. The industry
has changed, and those stations aren't worth what they used to be."
Unmacht thinks Emmis would perform better as a private company.
"As a private firm, they can take a slower growth strategy, and use their cash flow to pay down debt," Unmacht
said. "Wall Street simply doesn't reward companies that throw off a lot of cash and don't grow the top line."
Founded by Smulyan in 1981, Emmis owns 23 radio stations in the United States and publishes regional magazines in seven cities.
It also operates radio stations in Slovakia and Bulgaria.•
Please enable JavaScript to view this content.