As the CEO of a chocolate company, Curt Vander Meer is about as far from Willy Wonka as one could imagine.

An accountant by training, he doesn't want to chase such zany trends as chocolate mixed with bacon.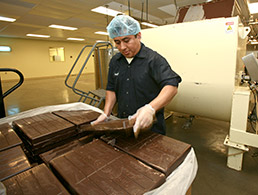 Joaquin Vicente of Endangered Species Chocolate breaks apart chocolate to be melted and turned into small candy bars. (IBJ Photo/ Perry Reichanadter)
"We're staying with what works for us—fruits and nuts," Vander Meer explained, before giving a tour of Endangered Species Chocolate's Park 100 headquarters, production and distribution hub.

Vander Meer, who joined the company in 2005 as vice president of finance, took over the top job last month from co-owner Wayne Zink. The transition was sparked by Zink's growing involvement in the company's philanthropic arm, but it seems well-timed, given the challenges facing the formerly frothy business.

Endangered Species Chocolate, which saw growth spike from 2005 through 2007, lost 20 percent of its revenue in 2009. Sales dropped from $14 million in 2008 to $11 million last year.

Endangered Species is still one of the top two purveyors of organic chocolate. With the brand on solid footing, Zink said it was time for the marketing-savvy entrepreneur to hand the reins to the numbers guy.



"He knows this business inside and out," Zink said of Vander Meer. "I need to step away and let him run it from a spreadsheet."

Endangered Species' main products are 3-ounce bars of "all-natural" or U.S. Department of Agriculture-certified organic chocolate, which is either plain or mixed with bits of fruit and nuts. Organic bars retail for about $3.49, while the non-organic sell for about $2.79.

The organic cacao comes from Ecuador, while the "all natural" crop is raised in Ivory Coast. In both cases, the New York-based Rainforest Alliance, or some other proprietary program, vets the purchase as "fair-trade," Vander Meer said.

Vander Meer blames the recession for the drop in sales.

"Premium and ethically traded chocolate didn't always win the battle when gas was near $4 a gallon," he said.

Chocolate industry analyst Curtis Vreeland thinks Endangered Species should have seen at least slight growth. Consumers are still interested in health benefits and organic and ethical practices, said Vreeland, who is the senior confectionary analyst for Package Facts, the publishing arm of Marketresearch.com.

"A lot of the organic chocolate is not all that expensive," said Vreeland, who is based in Hershey, Pa.

The "ethical" chocolate market is fast-growing, but at $100 million, it's still a minuscule segment of the $17.3 billion chocolate industry, Vreeland said.

Growth in conventional chocolate sales slowed to 2.8 percent last year, he said. He thinks the ethical segment fared slightly better.

Zink, an entrepreneur and philanthropist, and Randy Deer, who owns a Pepsi bottling plant in Logansport, bought Endangered Species Chocolate in 2005 and moved the company from Oregon to Indianapolis.

Growth under the new ownership was nearly exponential. Annual revenue went from $3 million in 2005 to $16 million by 2007.

Endangered Species is the largest independently owned organic chocolate company, competing closely with the market leader, Green & Black's, a British brand now owned by Kraft.

'Penny business'

The future hinges on the company's ability to keep pushing thousands of candy bars through as many outlets as possible. Vander Meer is hoping to land Costco as a new retailer.

"This is a penny business," he said. "I'm glad I have my financial background to help me."

The new CEO is planning to build back bar by bar.

On Aug. 9, the company will launch new gift packages in its online store.

Endangered Species recently unveiled a line of dark-chocolate-covered fruits and nuts.

In 2008, the company started packaging miniature chocolates in a pouch that's the same height as the 3-ounce bar, which means it can stand right next to the bars on store shelves. The portion-control packaging was a hit with consumers, Vander Meer said.

Fall and winter are prime time for chocolate-selling, and Vander Meer hopes those new products, plus additional retail outlets, will push sales above the 2009 level. It's a modest goal considering that, in 2007, Zink told IBJ he was shooting for $50 million in sales by 2012.

"We want to continue to have above-market growth," said Vander Meer, who owns a minority stake in the company. "That tells us we are reaching more and more people, and we are spreading our mission and our vision to more and more people."

Endangered Species promises to donate 10 percent of its profit for the benefit of species, habitat or humanity. In addition, the Endangered Species Chocolate Foundation, launched at the beginning of 2009, is working to improve the lives of cacao farmers.

Zink, 49, is now president of the foundation. After visiting the San Carlos Co-op in Ecuador, he said, "I had a real call to action, personally."

Churning out chocolate

Chocolate arrives by the pallet load at the company's 43,000-square-foot brick building on West 73rd Street near Georgetown Road, where about 40 people work.

A wholesale supplier makes the chocolate according to Endangered Species' recipes. The company's production line then melts down 10-pound blocks, mixes in special ingredients, molds and packages the finished treats. The line can produce 35,000, 3-ounce bars per shift.

Employees take turns sampling and evaluating bars that have names like "black panther" and "chimp mints." Vander Meer, 43, previously worked for the sheet-metal maker General Devices, so he relishes giving school tours and giving out chocolate samples at the end.

"This is a great, great place to work," he said.

Endangered Species' top retailers are Whole Foods and Kroger, but its roots are in independently owned health-food stores.

Good Earth Natural Food in Broad Ripple started selling Endangered Species Chocolate before it became a made-in-Indianapolis product, President Rudy Nehrling said.

"We do sell more of them than any of the other chocolate bars," he said.

Chocolate hasn't suffered the sales drop of more expensive items like shoes and supplements, he said.

Impulse buying helps retailers like Good Earth, but it helps Endangered Species only if its bars are sitting on store shelves. Hence, the company's push for more retail outlets.

"I've noticed brand loyalty has gone away a little bit," Nehrling said.•