Some unsung local school districts are better than the most glamorous districts at improving their students' academic performance, an IBJ analysis of new figures from the Indiana Department of Education suggests.

Warren Township outpaces Carmel-Clay.

Franklin Township outshines Hamilton Southeastern.

Indianapolis Public Schools upstages Zionsville.

To be clear, students in the less affluent districts do not score higher on tests than their counterparts in the prestigious districts. And not even the most enthusiastic supporters of the new "growth model" way of measuring students and schools are prepared to say, for instance, that Warren is necessarily a better district than Carmel.
IBJ.COM EXTRA
To see which Indianapolis-area districts have improved student performances the most and which districts have lost ground,
click here
.
But the 2006-2008 figures, made available to schools in January and the public a few weeks later, show that some districts facing overwhelming odds in the form of poverty and absentee parents are arguably among the best at getting the most from their students.

The progress is good news in a state where the struggle to lift educational achievement moves in fits and starts.

Parents who believe they must flee Marion County to find good schools might do as well or better by staying put, as long as the district is doing a good job of improving its students' scores, said Jonathan Plucker, who directs the Center for Evaluation and Education Policy at Indiana University.

Indiana Superintendent of Public Instruction Tony Bennett said the findings debunk "excuses" that minority and low-income children are nearly impossible to educate.

Bennett added that the figures also put affluent districts on the hook to improve their already-towering achievements. Referencing a phrase popularized by President George W. Bush, Bennett, also a Republican, said students suffer from "soft bigotry of low expectations" when educators equate top scores and other indicators of success with optimal performance.

Other experts say top-performing districts shouldn't be satisfied with measuring themselves against lower-scoring districts when hard-working students in foreign countries are rapidly entering the global economy.

Speaking of districts across the spectrum, Bennett said, "This data will be the game changer in Indiana when it comes to school accountability and teacher accountability."

Indiana's headlong plunge into data-driven education is consistent with a national trend spearheaded by U.S. Secretary of Education Arne Duncan.



In March, the Obama administration began divvying up $4.4 billion of stimulus funding in a competition that encouraged states to track student performance with data, to use that data to identify and reward the best teachers, and to help turn around low-performing schools.

Bennett withdrew Indiana's application from the Race to the Top contest after the state finished poorly in the first round, and he feuded publicly with the state's largest teachers union, the Indiana State Teachers Association, over his plans to institute performance pay for teachers.

Bennett still hopes to tie teacher and administrator compensation to test score improvement.

Indiana educators since 1988 have measured their effectiveness by the percentage of students passing the state's ISTEP test. Like other standardized tests, ISTEP has been criticized for allegedly motivating schools to focus on "bubble" students who, with a little extra remediation, could pass the test. The great emphasis on pushing bubble kids over the line diverts resources from low-and high-achievers, critics charge.

For that reason and others, the testing system is widely considered broken, said Plucker, the IU professor.

"It gives us a snapshot of how our schools and students are doing, but as with a real photo, the snapshot can be misleading, because it doesn't really account for change," he said.

Growth modeling, pioneered in Tennessee and introduced in Indiana after Bennett was elected in 2008, attempts to take a broader look at how students fare over the long term and motivate schools to improve performance of students at all ability levels.

The approach compares students across the state who test at identical academic levels. As a result, students are not necessarily viewed within the context of their own class or school.

Growth modeling zeroes in on how a student in Plainfield, for instance, fares against similar students from Gary to Vevay and from Clear Lake to Evansville. The more a student advances vs. his or her peer group, the state says, the better the job done by the teacher, principal and district.

Bennett has said repeatedly that educators should be compensated for bringing up growth model numbers, steered into professional development if their teaching skills need improvement, or pushed out of schools if they fail.

Growth modeling has its own critics. A persistent question is whether top students should be expected to grow as much as low-achievers.

Bennett acknowledged low-performing students have more room to grow. But he insisted the growth model should work for top students, too, by comparing their progress with the progress of other top students. So, he reasons, high-performing schools should demand as much growth at the top as low-income districts expect of their students at the bottom.

Plucker agrees with Bennett, but only to a point.

"It's very fair to say we should expect teachers to be pushing and challenging every kid," Plucker said. "But to expect the exact same amount of growth from every kid, depending on where they start, is probably not fair."

Progress, setbacks

The growth model data is so new that the Department of Education has yet to analyze it fully. Districts are scrambling to assess their own schools and students. The department plans to make the data available to parents beginning with results of the spring 2011 ISTEP.

Data from 2009 and 2010 will be available within the next couple of months.

Bennett cautioned against relying on the growth data without considering other information from the department, such as raw ISTEP pass rates. The growth data and the pass rates are used to determine which of four categories a particular district falls into: high growth and high achieving, high growth and low achieving, low growth and high achieving, or low growth and low achieving.

Plucker said at least two more years of collecting the same information will be needed to ensure the figures painted by the first three years are rock solid.

Still, Plucker said he is enthused by the IBJ rankings, and said several trends appear to be under way.

• Some of the most affluent districts, such as Carmel, Hamilton Southeastern and Zionsville, have room to improve.

• Many rural districts are struggling.

nAnd certain township districts in Marion County, along with IPS, are performing quite well in terms of improvement.

Plucker said he long suspected urban districts were doing a pretty good job of improving scores, but had no way of knowing for certain until now.

Recalling longtime claims by IPS Superintendent Eugene White and other urban superintendents that their districts would have better reputations if growth were emphasized over raw test scores, Plucker said, "If I were Dr. White, I would be very happy."

Of the 44 school districts in Marion County and surrounding counties, 23 saw increases in the median between their highest math growth percentiles and their lowest math growth percentiles. Twenty-four districts had increases in English.

Some districts pushed ahead or fell behind in both math and English. Avon Community School Corp. ranked high in both, while Plainfield, a district with some of the highest ISTEP passing rates, lost ground in both.

A few other districts had wildly different results. Speedway was near the top in math but near the bottom in English.

Stereotypes fell in other districts, too. Washington Township, the blueblood Marion County enclave, saw both math and English prowess slip.

All things considered, Bennett and Plucker were most impressed with the improvement in Warren and Franklin townships and IPS.

Stats-drive Warren improvement

Warren Township is by no means a wealthy district. Two-thirds of its students live below the poverty line. Yet, the district ranked at the top in math improvement, with 16 percentage points gained, and near the top in English improvement, with seven points gained.

Superintendent Peggy Hinckley attributed the success to a version of Total Quality Management, the statistically driven process used to attack errors and improve quality in manufacturing.

Teachers discuss the same material in their classes, students are tested every three weeks, then remedial or supplemental instruction is administered accordingly. Problems are caught before they get out of hand and fewer students slip through the cracks.

When Hinckley introduced the idea upon taking the position in 2001, pushback from teachers was so intense that school board members tagged along with her to show support when she explained the concept to teachers. During the exchanges with teachers, which were exacerbated by heated contract negotiations, Hinckley pointed out that the district's tests scores were dismal, and that if the teachers had a better alternative, she was all ears.

Not once was she offered an alternative, Hinckley said.

Nearly a decade later, turnover among teachers and principals has been low and buy-in to the eight-step quality process is ingrained in the culture.

"We're not supposed to have scores that are that accomplished," she said, "but we do because we follow this process."

'Good news' at IPS

White, superintendent of IPS, said he isn't particularly surprised by the district's high math growth and above-average growth in English.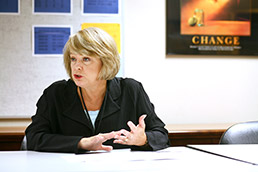 Peggy Hinckley, Warren Township superintendent, credits Total Quality Management techniques for the big strides the district's students are making on both math and English. (IBJ Photo/ Perry Reichanadter)
Internal data had shown IPS is making particularly strong inroads into improving performances of Latino and African-American students, White said.

White credited the improvements to reconfiguring curriculum to correspond with material covered on ISTEP and expanding professional development for teachers.

Scrutiny of tests showed students too often understood the first couple of steps of a math problem, but not the third or fourth functions, for example. So the district focused on teaching students how to think through the process.

The district also made its tests look like ISTEP to minimize confusion for students.

"The real change in this whole situation was, our teachers started to do a better job of teaching," White said.

Bennett stopped short of giving an opinion about whether districts like Warren and IPS are making better use of taxpayer dollars, but Plucker said it's easy to praise them.

"There's some good news there for Marion County taxpayers and parents," he said.

Washington Township struggles

Washington Township isn't the kind of district where decline would be expected, but that is precisely what Superintendent Jim Mervilde faces.

The slippage isn't severe—a tiny bit on English and slightly more on math. But the losses nevertheless happened in a district that's home to upscale neighborhoods like Meridian Hills and Williams Creek, places with the kinds of high incomes and educational attainment that typically predict high academic achievement.

Mervilde attributed the decline to an influx of students whose first language isn't English. Five to seven years typically are required to bring them up to speed, he said.

Another big change is that Washington Township isn't as affluent as it used to be. A look at the percentage of students who qualify for free or reduced price lunches sheds additional light on Washington Township's challenge of producing strong growth scores. The number qualifying for lunch assistance has risen steadily, from 10.9 percent in 1991 to 52.4 percent this year.

Like other superintendents, Mervilde said more details will emerge as the growth model data are dissected.

Former Washington Township board member Greg Wright attributed the decline in part to closing two elementary schools, a view with which Mervilde disagrees.

Resting on laurels?

Affluent districts can't rest on their lofty rates of passing ISTEP, Bennett and Plucker say.

It's commendable that wealthy districts manage to elevate already-proficient students, they allow. Though Carmel and Hamilton Southeastern were not at the top, they still placed in the upper half of growth in both math and English, and Zionsville was in the upper half in math.

But Bennett and Plucker quickly add that modest improvement isn't good enough.

White, the IPS superintendent, agreed, saying growth model scores should spur higher levels of excellence.

Accomplished students tend to compare themselves to students in lower-testing districts and assume they'll do fine in the best universities and soar to the upper echelons of their chosen professions, White said. In reality, they also will compete against students in other countries who study longer and harder than they do.

"They think they know everything they need to know," White said.

Carmel Superintendent Jeff Swensson said his district is enthusiastic about adding the growth modeling numbers to its arsenal of assessment tools.

Asked whether it's fair to expect as much growth from Carmel and other affluent districts as from low-income districts, Swensson said Carmel is straining to improve and avoid resting on its laurels.

"Our abiding, just overwhelming effort, is to set the very highest standards possible for every kid, and then meet them," he said.

Swensson added that drawing conclusions from three years of data is difficult. Comparisons will be further complicated by Indiana's adoption this month of Common Core State Standards, an initiative of governors and supported by President Obama.

Indiana will begin teaching Common Core standards in the 2011-2012 school year and replace ISTEP with a Common Core test in 2014-2015.

Not all affluent districts held their own or eked out gains.

One of the most affluent districts on the south side—Center Grove, in the mostly unincorporated area west and south of Greenwood—slipped in math and barely improved in English.

Wendy Kruger, the district's curriculum director, said district officials will try to isolate the problem by digging deeper into district data. However, she added that the district has posted strong increases in math in the past couple of years, which are too new to show up in the IBJ analysis, so the growth model scores might improve, as well.

The district has experienced a revolving door of superintendents. An interim is running the district while the board searches for what will become the fifth person to occupy the office since 2000.

However, board President Steve Gudeman said he doubts turnover is affecting student performance, because administrators at the school level have been largely stable.

Gudeman, who said the time commitment of a board seat prevents him from seeking a second term, emphasized that he welcomes the growth model data.

"It's going to make everyone more accountable," he said. "I'm glad this information is finally being gathered."•

—J.K. Wall contributed to this story.