Welcome back to IBJ's video feature "Inside Dish: The Business of Running Restaurants."

Our subject this time is Iozzo's Garden of Italy, in part an homage to a 1930s downtown Indianapolis eatery of the same name owned by Italian immigrant Fred Iozzo. His great-granddaughter Katie Harris resurrected the Iozzo's moniker in August 2009 for the white-tablecloth restaurant she developed in partnership with her husband, Greg.



Just after Iozzo's one-year anniversary, Katie sat down with IBJ to take stock of the restaurant's first 12 months. The husband and wife launched the project in April 2009 with all the forethought of a summer cloudburst. While scouting real estate on South Meridian Street for Greg's logistics firm, Backhaul Direct (he's the owner, president and CEO), they ran across an unoccupied space in a 1860s brick building that had recently housed a pizza joint.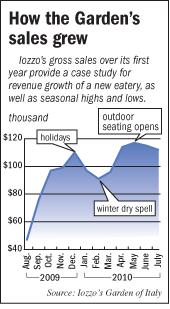 "We always had it in the back of our minds that we would do something like a restaurant or a bar," said Katie. "I looked at my husband and said, 'Do you think this could really work as a restaurant?' He said, 'Yeah, let's do it.'"

Using their own capital to bankroll the project, the couple started with a modest plan that soon ballooned into a fine-dining establishment with a completely refurbished interior. Their original budget for start-up costs was $100,000; when the restaurant opened in early August 2009, they had invested between $350,000 and $370,000.

The fledgling restaurateurs enlisted local dining consultants Steve Graham and Karl Benko to help guide development of the project and ensure a smooth start. In a bit of serendipity, they opened their doors at the beginning of the Indianapolis Colts' season, and foot traffic for nearby Lucas Oil Stadium helped fill the restaurant on Sundays. Gross sales grew steadily through the fall until hitting a peak of $110,000 in December, typically a strong month for fancy establishments due to the holidays (see graphic above). Sales dipped early in early 2010—again, typical for eateries—and then shot back up in the spring once Iozzo's was able to take advantage of its outdoor courtyard, which seats about 50.

The owners invested more than $100,000, in addition to start-up funds, over the first year of operation to cover food costs, payroll and other expenses while Iozzo's got off the ground. Although the restaurant has recouped little of their $480,000 investment to date, it now is operating day-to-day near the break-even point, Katie said.


Concept:

Old-world Italian food in an urban setting with rustic overtones.

Owners:

Katie and Greg Harris

Gross sales:

$1.17 million for the first 12 months of operation (August 2009-July 2010)

Start-up costs:

$350,000-$370,000

Seating:

56 seats in the dining room, 20 in the bar area, and about 62 between sidewalk seating and the back courtyard.

Goals:

To renovate the restaurant's facade by the end of the year, including replacing the front windows and awning; to increase revenue from catering and special events.

Good to know:

The original incarnation of Iozzo's Garden of Italy was opened in 1930 in Indianapolis as Naples Grill by Italian immigrant Fred Iozzo. After a few years, Iozzo moved the eatery to the corner of Illinois and Washington streets, giving it its current name and running it with his sons Vincent and Dominic. It closed in 1941 after a fatal shooting in the restaurant. Katie Harris is the granddaughter of Dominic Iozzo.