If you are reading this on Monday, I'm sorry to report that you've missed your chance to experience this year's
Indy Fringe. If you are reading this on Saturday (subscribing does have its advantages), there's still a chance you
can get down to Mass Ave and take part.
I say "take part" rather than simply "attend" because just going to Indy Fringe makes you a part
of the event. Besides the street performers working empty lots, there are also actors and show creators vying for sidewalk
attention (the better to get you to see their show next) and fellow patrons spotting your Fringe badge and asking, "What
have you seen that's good?" It's difficult to be a passive observer during the 10-day event.
This year's ticketed lineup included 48 shows offering 280 performances on six main stages. Nobody—not even your
trusty A&E writer here—can (or should) see all of them. Both the performers and your fellow patrons know that. So
opinions and promotion do sway ticket-buyers (both toward and away from purchases). On the second day of the show, three people
approached me, unsolicited, and warned me against going to a particular show.
Since I didn't go, I won't mention which one.
A road trip kept me from seeing as many shows as I would have liked to this year, but I would like to trumpet two winners.
Blissfully outrageous fun, "The Screw You Review" (co-created by the head of Orlando Fringe) had one foot in
the offend-everyone tradition of Don Rickles and Lisa Lampanelli and another in the world of drag review. The result was an
unexpected marriage made in a tolerant comedic heaven.
Dewey Chafee played Wayburn Sassy, an 89-year-old true-to-his-name guy with no filter between brain and mouth. His partner
was Didi Panache (played by Douglas McGeoch), a sweet songstress with great gams. Together, they brought down a sellout house
with "did-they-really-say-that?" jokes, knowing-when-to-quit audience participation, and a couple of really fun
songs.
While Sassy, if real, would be terribly offensive, the show itself wasn't because of the commitment to the character
and to the best comic timing you are likely to see at this or any other Fringe.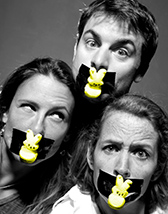 Jen Johansen, left, Ben Tebbe and Constance Macy portray a trio of office cubicle
drones in "Not a Peep," one of the winners at this year's Indy Fringe. (Photo Courtesy ShadowApe Theatre
Company)
I also fell for ShadowApe Theatre Company's "Not a Peep." It's wonderful when high expectations are
satisfied (and then some). ShadowApe, an Indy-based producer of edgy entertainment, has a reputation for good work and didn't
disappoint.
The gloriously fun "Peep" show felt like "The Office" meets "The Ernie Kovacs Show."
(If you don't remember Kovacs, do a quick YouTube search for the Nirobi Trio.) In it, a trio of cubicle drones struggle
with hunger and other human drives. I won't even attempt to describe it.
"Not a Peep" wasn't over after the extended, silent opener. The follow-up bit, in which we were privy to
what was going on in the actors' heads as they cleaned up the stage, was inspired. And while the cell-phone piece was
well-constructed, its "message" came across a bit heavy. Still, the impeccable cast (Jennifer Johansen, Constance
Macy and Ben Tebbe) were inspired throughout and the entire show set the bar very, very high for other Fringe shows.
Which is where the bar should be. Just because a show is on the fringe doesn't mean it has to be slapdash. And if you
stopped me on Mass Ave, I'd have told you the same thing.
__________
A heads-up for fans of the arts: The Sept. 6 IBJ will feature our annual A&E Season Preview section. That means
highlights of more than 40 events that are tops on my priority list for the upcoming year.
IBJ arts reporter Kathleen McLaughlin will chime in with a look at the issues that have the A&E world buzzing.
Marc Allan writes about the power of music promoters. And you'll also find our list of the largest performing arts organizations.•
__________
This column appears weekly. Send information on upcoming A&E events to lharry@ibj.com. Visit www.ibj.com/arts for
more reviews, previews and blog posts. Twitter: IBJarts
Please enable JavaScript to view this content.