It isn't fair, but here's a restaurant truth: If a patron gets poor service in a crowded eatery, the waiter or waitress is likely to get the brunt of the blame. However, if the same service is delivered in a sparsely populated restaurant, that same server is likely to evoke pity rather than anger from the customer.

Either way, the patron is distracted from what should be a carefree experience.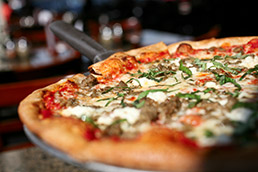 Tony Sacco's Napoli pizza features meatballs, ricotta and provolone cheeses. (IBJ Photo/ Perry Reichanadter)
The latter was the case on my first visit to Clay Terrace's latest culinary spot, Tony Sacco's Coal Oven Pizza (14405 Clay Terrace Blvd., 574-3473). The small chain was started in Florida by three guys from Michigan, including, yes, Tony Sacco. Why did he get naming rights? I'm guessing it just sounded better than George Kurajian's or Chuck Senetore's.

The offerings do include a few appetizers, a couple of salads, and some sandwiches, but the raison d'être is the titular pizza, forged in an anthracite coal-burning oven that provides high cooking temperature. (Sacco's boasts 1,000-degree heat, which I believe is a notch above the hottest temp recorded at this year's Indiana State Fair).

I didn't taste more than a hint of smokiness in the pies—we tried the four-cheese Bianco and the meatballs, ricotta and provolone Napoli (each $15.96 for a 12-inch/$18.95 for a 16-inch). Each delivered full flavors, though, straddling the line between traditional pizzerias and such gourmet Indy additions as Pizzology and Napolese, maintaining the size of the neighborhood shop with a hint of the gourmet appeal of the latter. And the leftovers reheated well the next day.

The freshness in this freezer-free, microwave-free, fryer-free chain was evident in the sweetly delicious tomato sauce, which I requested to give more flavor to the otherwise unexciting Garlic Rotoli dough balls ($5 for eight). Tony's sauce, it turns out, is made from scratch with fresh ingredients, including Italian Plu tomatoes and fresh basil. Of course, if it had arrived while our Rotoli was still hot, that would have been great. But our waitress, ping-ponging between the handful of tables that were occupied, just couldn't keep up.

The sauce, though, inspired me to want to try Tony's traditional pizza ($10.50 for a 12-inch/$14.50 for a 16-inch/toppings extra) should I find myself Clay Terracing in the near future.•

–Lou Harry

__________

Last in a month-long series of reviews of possessive restaurants.