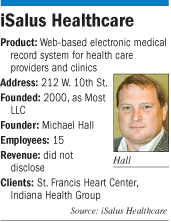 These are heady days at tiny iSalus Healthcare.
The company is seeing a rush of new sales for its Web-based electronic medical record system from doctors, who all stand
to receive bonus payments from the federal stimulus act for computerizing their patient records.
iSalus, based at the Stutz Building in downtown Indianapolis, expects to more than triple its work force by year's
end, ramping up to 50 employees.
The company already has doubled its base of health care providers, to 6,500, since Congress passed the stimulus bill in February
2009. It expects that total to grow another 50 percent in the next year.
The stimulus bill calls for the federal Medicare program, the massive insurance plan for seniors, to pay bonuses to doctors
that use electronic medical records. Those payments could top $40,000 per physician during the years 2011 to 2014.
But after that, Medicare will start docking physician payments if doctors are not using electronic medical records.
"It's definitely created a lot of energy and excitement around it," said iSalus' Michael Hall of
the stimulus. He founded the company 10 years ago as Most LLC.
To manage this rapid growth, Hall brought in a new CEO this month. Richard Noe was previously CEO of Colorado-based Managed
Business Solutions, an information technology consulting firm.
Noe's arrival will allow Hall to focus on improving iSalus' software, which can generate and swap patient records,
schedule visits, and handle billing and collections.
iSalus was selected as one of three approved vendors by Purdue University, which has been given federal funds to help small
physician practices through the complexities of switching to an electronic medical record system.
Purdue's initiative, called the Indiana Health Information Technology Extension Center, chose its vendors from an initial
pool of 200. The other two were MDLand, a small vendor based in New York City, and Boston-based Athenahealth Inc., a large
public company with $189 million in annual sales.
Hall would not disclose iSalus' sales. It charges an annual rental fee of $7,200 per physician for medical practices
to use its software.
iSalus has agreed to discount its fee for doctors working with Purdue to $4,800 per physician per year.
Since Purdue announced iSalus as one of the vendors it will work with on July 30, Hall said, iSalus' lead calls have
"skyrocketed."
iSalus is by no means the only seller of electronic medical record systems in Indiana. Others include Fort Wayne-based Medical
Informatics Engineering which makes a Web-based record system, as well as Bradley-Scott Data Corp. and RANAC Corp., Indianapolis-based
resellers of systems made by out-of-state companies.
All are enjoying boosts from the stimulus bill.
But Hall said iSalus' decision 10 years ago to build a web-based system is now helping it compete for business against
far larger companies, such as Cerner, GE Healthcare, McKesson and Siemens.
Those companies built up their business in electronic record systems in older-model client-server systems, which were expensive
and laborious to install. Only in recent years have they shifted to web-based models.
"It was a David and Goliath environment," Hall recalled of his company's founding in 2000. "Flash
forward to 2010 and it is almost the exact opposite. We are the emerging Goliath."
At least he hopes.
Most of iSalus' sales have been made out of state through 12 regional resellers. But its local clients—including
the St. Francis Heart Center and Indiana Health group—are some of its biggest fans.
Dr. Chris Bojrab, a psychiatrist at Carmel-based Indiana Health Group, chose iSalus four years ago for the seven-doctor practice.
"The problem, especially back then, almost all of the systems were infrastructure-type systems, with servers and drives,"
Bojrab said. "The costs were pretty prohibitive."
Indeed, startup costs for the old systems were about $33,000 per physician, according to the Medical Group Management Association.
Maintenance costs ran about $1,500 per month.
That's why fewer than one in three doctors had such systems in 2006.
But iSalus' nominal startup costs—which other web-based systems offer, too—make it more accessible to doctors,
Bojrab said.
"The scalability of it, it really made it accessible to individual practitioners," Bojrab said of iSalus'
electronic medical record.
Affordability and ease of implementation were the key factors that led Purdue to choose iSalus and the two other vendors,
according to a statement by Monica Arrowsmith, director of Purdue's extension service to doctors.
"Together, we will bring understandable, implementable and affordable EMR solutions to Indiana's health care
community," she said.•
Please enable JavaScript to view this content.