Close enough to the waters of the Central Canal that it should consider opening a gondola drive-through, the Left Bank Café (310 W. Michigan St., 642-3305) makes up in taste and, for Indy, originality, what it lacks in visibility.

Truth is, it took us a couple of questionable U-turns before we figured out where we should park and which steps to take to get down to the canal-side eatery at the base of the new Cosmopolitan on the Canal apartments. (I'll save you the trouble—just look for a meter spot on Michigan Street between Capitol and Indiana avenues and you'll be fine.)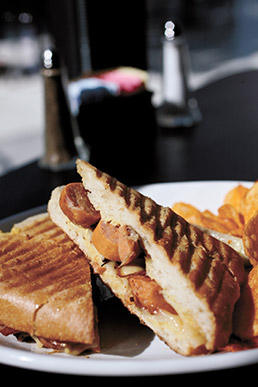 The French-accented Left Bank Café's menu includes an Andouille Panini. (IBJ Photo/ Perry Reichanadter)
The separation from street traffic works to the eatery's advantage. While there are some inside seats, the tables on the deck are the place to be. After dark, the spot is almost disturbingly peaceful. And when the paddleboats or aforementioned gondolas glide by, the French-inspired food somehow tastes even better.

We found the Left Bank Café after a Saturday evening of Indy Fringe shows (it's open weekends until 10) and debriefed over a Baked Brie appetizer ($8.95), the highlight of which was the cherry-heavy fresh fruit compote.

The core of the menu consists largely of paninis, crepes and flatbreads. In the Andouille Sausage Panini ($8.95), the meat blended nicely with the red pepper dressing, Provolone and mustard. While not packed with sausage, it stayed on the good side of that fine line between subtle and stingy.

An Apple Leek Walnut Crepe ($7.95) was more ambitious and no less successful, denser than we expected—not in a bad way but in a maybe-I-didn't-really-need-to-order-an-appetizer way. We were warned by our server—who seemed to have served surprised patrons in the past—that it would be delivered cold. No problem there. And having a taste for leeks certainly is a requisite: The crepe was filled with them.

Both sandwiches were served with unexciting chips. At a place this pleasant, you'd think there would be a more interesting choice than "regular or barbecue?" We didn't have room for dessert, but a return visit just for the Chocolate Banana Crepes ($6.49) sounds like a good idea right about now.•

–Lou Harry
__________

First in a month-long series of reviews of new, downtown-ish restaurants.